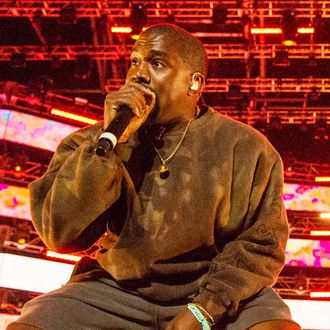 Just a month late, no biggie.
Photo: Timothy Norris/Getty Images for Coachella
The man is full of surprises. Kanye West's ninth album, Jesus Is King, is officially here, as promised over and over again. The album features 11 songs, the titles of which Kim Kardashian West revealed on Twitter two months ago but that have since changed twice. Kanye and whoever is in Wyoming spinning beats out of hay (North West?) finally came through after another month of waiting. Kanye blew right past the original album release date, September 27, first spending a weekend across the East Coast previewing the new material, then another month for funsies. Attendees at West's "Jesus Is King: A Kanye West Experience" in Detroit, Chicago, New York, and L.A. got to listen to the album and watch Kanye West's new documentary, also titled Jesus Is King: A Kanye West Experience. The film began a wide release on October 25 in IMAX theaters. Kanye has promised another album, Jesus Is Born, will come on Christmas Day 2019. Yes, that's right, he's dragging the holiday season back into it.
It feels like 80 years ago, but you may recall that last Black Friday, Kanye West promised Yandhi, a pseudo-follow-up to Yeezus that may or may not have had a Tekashi 6ix9ine collab on it. But after his SNL fiasco and a few leaks, it has yet to arrive. Last November, Kanye tweeted that the album was not ready and that he'll hit us up when it is. So while we're waiting, we get Jesus Is King, a soundtrack to his Sunday Services. One track, "Water," debuted at the first Sunday Service at Coachella earlier this year. When the shock of actually receiving a Kanye West album wears off, listen to Jesus Is King below.