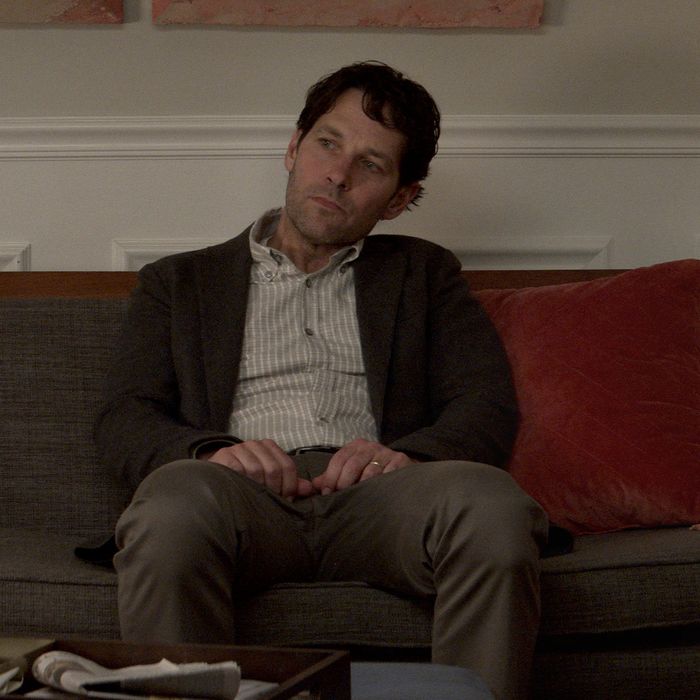 As Living With Yourself continues to the halfway point of its first season, the structural trick of circling back to past events through a different perspective — and making the perspective the primary point of view for an episode overall — has become a consistent and effective formula. Keep in mind: Though Miles 2.0 is technically in his infancy as a being, he and Miles are essentially the same person, with the clone acting as a refreshed, new-and-improved version of the original. Switching perspectives allows us to see how the same person can essentially break from himself, depending on the circumstances. Both Miles and Miles 2.0, like any human being (or clone thereof), make decisions based on context, and that context can lead to radical changes in direction.
In the last episode, we witnessed Miles, in a fit of jealousy and exasperation at his clone's success, decide to sabotage the whole secret arrangement. There was a little method to his madness, too: He presumed, reasonably, that Kate would have to choose him over Miles 2.0, despite being inferior to him in every way, because there's no getting around the fact that old, beaten-down Miles has at least been present with Kate from the beginning of their relationship. Whatever his merits, Miles's clone is just this weird thing that materialized from a strip-mall massage parlor. Kate may not want to be with any version of Miles, but it's certain that Miles 2.0 doesn't have a reasonable claim on his life.
On the other hand, it is his life. What are humans if not a repository of experience and memory? Miles 2.0 is obviously aware that he's a young, unnatural being, but that doesn't erase the fact that he's wholly composed of the experiences and memories that Miles accumulated up to the second he was created. So while Kate and Miles can rationalize kicking him out of the house — and then kicking him out of their lives once the Hillston campaign is finished — "Soul Mate" is about Miles 2.0 coming around to the idea that he deserves a lot more than he's getting. To quote a line from Miles's terrible play: "Life doesn't take courage. Life takes guts. And guts takes balls." And Miles 2.0 has the guts and the balls to stand up for himself — first by deleting that line when he's ejected from the bedroom.
The key moment in "Soul Mate" happens before the promotion party, when Kate catches Miles 2.0 (who she still understands as just Miles) in their bedroom in the middle of the afternoon, clutching a pillow to take in her smell. Miles 2.0 has spent the day reminiscing about Miles's life with Kate — the old wedding pictures, the carved-out wood of a drawer — and when she suggests that he should attend the party, something clicks in him. "You should really enjoy tonight," she says, "because you deserve it." And that's a fact: the Hillston account doesn't happen without Miles 2.0's creative inspiration and hard work, and it's unfair for Miles to draft off his achievement. He should get the praise from his co-workers and another gratifying round of laughs from the same stories he told at Kate's dinner party.
Miles's decision to blow up their arrangement puts Miles 2.0 in a miserable spot. Kate understandably does not want the clone in her house — and barely wants Miles to stay, for that matter — so he's tucked away in a Homeaway Suite apartment for the time being, where he can continue to work on the Hillston account by day and return to amenities like a fitness center and a swimming pool sans water. At night, he masturbates to the increasingly less sexy photos of Kate that are still on his phone, and his weekends are merely empty. His sole confidante has become Miles's sister, who happily welcomes "my clone brother," probably because her actual brother has been an inadequate presence in her life, just like he has in everyone else's. Miles 2.0 takes away some philosophy from her weirdo boyfriend/model that sounds like a Jerry Maguire romantic theorem: "A marriage is a union of two halves of the same soul, separated at birth. That each of us has a literal soulmate who each of our half-souls yearns to join with to form a whole. And that we are incomplete without that union."
When Miles 2.0 gets back to his sad little apartment, armed with this idea and a suggestion to look for some action, his first step is to ask Kaylyn from work for a drink, which lands him in bed with her one cut later. It's an unsatisfying experience, underscored by Kaylyn's suggestion that they strike out for a "barge dance" at three in the morning, a very young-person thing to do. ("There's a barge dance in the city. This DJ steals barges.") He then takes the much creepier step of sneaking into the Elliots' bedroom and snipping a lock of Kate's hair, with the hope of convincing the cloning parlor to manufacture him a mate. While it seems likely that more doubles are eventually coming on this show, this is not the time for that.
The episode ends with a fascinating twist, however. When Miles 2.0 gives up and creates a profile for himself on a dating site, he gets one perfect match, who turns out to be Kate. This affirms the "union of two halves" thing, but it also gives Kate a secret of her own. One of the problems with Kate on the show so far is that she's only had to react to the havoc Miles and Miles 2.0 have visited on her life, and since Living With Yourself has been sticking so rigorously to their alternating perspectives, she hasn't had much dimensionality to her character. She's been resigned to the role of the aggrieved wife, who exists only in response to her husband(s). That she's capable of creating a dating profile seems like a stretch — she hasn't seemed like the cheating kind, despite her husband's shortcomings — but it gives her something of her own. And now the clone has some leverage.
Double Yous:
• Miles's refusal to play along with the "brother from out of town" lie now has his co-workers believing that he has a twin whose name is also Miles.
• The confrontation between Kate and the two Mileses is Paul Rudd at his best, playing the miserable, hyperdefensive old Miles next to the optimistic, eager-to-please new Miles. They're a great comedy team that the show has, to some degree, broken up for the time being.
• A good rule of thumb, related to the Top Happy Spa: Never agree to a surgical procedure from a guy who peppers casual conversation with the word "dude" a lot.