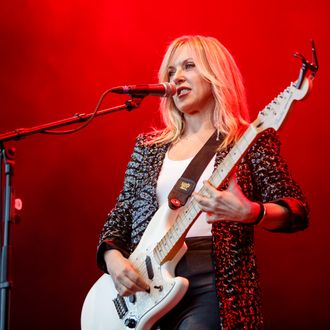 Photo: @XaviTorrent/WireImage
It is no stretch to call Liz Phair an accomplished artist: She writes rock anthems for all generations, makes striking visual art, and just published an extremely thoughtful memoir, Horror Stories. She's back to releasing music with her new single "Good Side" and a promised 2020 album and has plans for a second memoir. There can't be much she still wants to do, right? Wrong! At the New Yorker Festival on Saturday, where she talked about her new book and performed a hit-filled set with her band, Phair told the crowd about two lingering aspirations.
One: She wants to live in a period drama. "I wanna have a corset on, to have tea and wonder what the men are doing. Like, I really, really do," she told New Yorker writer Ariel Levy. "I'm so scared I'm gonna die and never have that." We can't let that happen! Is it too late to sneak Liz Phair onto this next season of The Crown? Wondering about men might seem out of place for the singer who made Exile in Guyville, but Phair has a theory. "Maybe it's because all the women were together in those movies, maybe because I was so longing to have female company in my profession," she added. "But it's stuck, it's like my comfort." And as rock royalty, Duchess Phair will only have the finest! "I call them dress movies, they have very specific standards," she explained. "They're not rom-coms. They must have sociopolitical undertones. Men have to actually react as men would. And there has to be an unnecessarily long shot of a dinner table." Tragically, she's been saving the Downton Abbey movie for when she's back home in Chicago, so we'll have to wait for her review.
Two: She wants to help cows build their own villages. (Just, uh, try to follow here.) Later in the talk, an audience member asked Phair if she believed in a hierarchy of art forms. "I have a field of things I love," she replied. "I'm like Ferdinand the Bull, I'm just sitting in the field." She went on, explaining that she doesn't understand how humans' opposable thumbs have made us significantly more developed than other creatures, and doubled down on with the cow motif. "I don't even see human beings as particularly better than animals," Phair said. "I don't understand why, like, cows haven't developed villages yet … I'm a little concerned about that." Very concerning for sure! One possible explanation? "They couldn't get it done, they couldn't get the zoning. They couldn't pass their plans in the zoning wars, I understand," Phair said. But if you are reading this and you are a cow, do not fret! She added, "I'm planning to help them with that." Well, you heard it here first! And whatever cause Liz Phair is backing, we're backing it too.
With such a busy schedule ahead, let's hope Phair gets some time to live out both her dreams. Although, probably not at the same time.