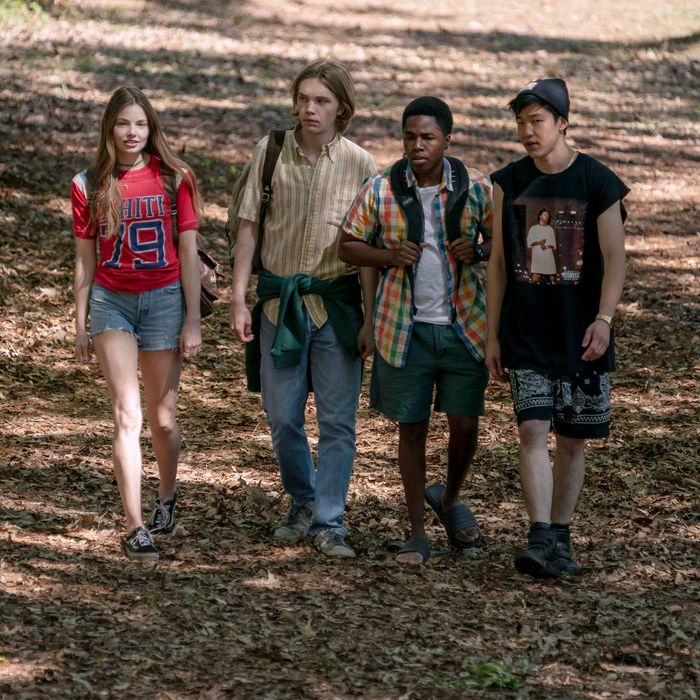 Photo: Alfonso Bresciani/Hulu
Like all first episodes of a miniseries, "Famous Last Words" has a lot of expositional work to do — introduce everyone, establish the stakes, put important plot points into motion, and season the melancholy, dramatic tone with just enough levity to keep it all enticing enough to roll right into the next episode — and meets this tall order with wit, economy, and a smattering of foreshadowing. An adaptation of the Printz Award–winning debut novel of the same name by The Fault in Our Stars author John Green (full disclosure: I have met Green several times, thanks to having been a YA librarian back when his career was first taking off), Looking for Alaska benefits greatly from the participation of showrunner Josh Schwartz, who has explored in previous series like The O.C. and Chuck many of the novel's concerns, including modes of masculinity, outsider and insider status, zippy dialogue, and male pining for a lofty lust object.
We first meet our pining male, Miles Halter (Charlie Plummer), as he's about to depart for boarding school in Alabama: nose buried in a biography of James Joyce while his mother bustles around the house fixing the décor and snacks just so for a going-away party none of his classmates will attend. As his fellow Floridian Tom Petty so memorably noted, the waiting [to get the hell out of Orlando] is the hardest part, and Miles is steadily marking the hours until he can get on with the next phase of his life.
When his parents plaintively ask him to explain why he's leaving their very comfortably middlebrow nest for new acquaintances at an unair-conditioned school in the woods, the young lover of famous, infamous, and forgotten last words summons François Rabelais's "I go to seek a great perhaps" as his rationale. Culver Creek Preparatory School seems as good a place as any to do that.
Once Miles arrives on campus and has sent his parents on their way, he meets in quick succession the people who will shape his experiences over the next year. First up is his motormouthed roommate Chip (a.k.a. the Colonel, played by Denny Love, so named for his attention to detail and strategy in executing pranks, which are the most important extracurricular activity at Culver Creek), who immediately dubs Miles "Pudge" because he's so scrawny. The Colonel hurls all of his clothes into his dresser at random and then speed-walks Pudge over to meet Takumi (Jay Lee), a laconic teen spymaster in a Wu-Tang Clan T-shirt.
Finally, we get to see Miles meet the titular Alaska (Kristine Froseth). The Colonel leads the way through her room, already packed to the rafters with plants, fairy lights, and an entire store's worth of books. (One might even say the room is labyrinthine? Put a pin in that thought, we'll come back to it in the next episode.) Although, according to the music selections and the gigantic welcome banner, it is extremely 2005, Alaska is dressed like a dream of the late 1970s; she's directly out of Dazed and Confused, with long, pin-straight light-brown hair, high-waisted pale-blue flares, and a cute little striped halter top. Pudge is instantly smitten.
As Alaska regales the Colonel with a story about a kid who honked her boob over the summer, she executes a wildly awkward power move by grabbing an unsuspecting Pudge's hand to demonstrate the boob-honker's method. Pudge, who certainly did not wake up that morning expecting to clasp a new acquaintance's breast, leaves his hand in boob-honking position a good ten seconds too long, but saves the moment with a dryly funny retelling of JFK's last words. Pudge and Alaska's dynamic — fueled by Alaska's storytelling ability and insistent whimsy and Pudge's awestruck crush — yields strong Almost Famous vibes, calling to mind the relationship between teen rock correspondent William Miller and his beloved Band-Aid, Penny Lane.
Pudge has two more related lessons to learn in his first heady days at Culver Creek: Be prepared to pull pranks as well as be pranked in your turn, in lieu of ever even thinking of ratting out a fellow student. As the Colonel puts it, never, never, never rat.
The Colonel's advice turns out to be timely as hell because that night, Alaska's roommate Marya and her jock boyfriend Paul are caught and expelled for the trifecta of getting high and drunk and then having sex. The next night, the gloriously dim-witted jocks known as the Weekend Warriors roust Pudge from bed, frog-marching him down to the pond, encasing him in plastic wrap, and dumping him into the water as payback to the Colonel for having ratted out Paul. Trying to drown Pudge and impugning the Colonel's good name is several bridges too far. The Colonel, Takumi, and Alaska all agree: It's time to go to war, for their own honor, and for Pudge's. Surely, this will end well!
Famous Last Words
• Within 30 seconds of Denny Love appearing onscreen, I had committed to watching him in every role he is cast in, forever. His timing! His delivery! The specificity of his physical performance! An Emmy for Denny Love!
• I've read the book, so I know we're in for a lot of tears, but it's impossible to ignore how funny this episode is. Special shout-outs to Pudge's parents and their commitment to delivering one of history's worst sex talks, and to the Weekend Warriors for their total inability to deliver a comeback in their first battle with the Colonel.
• This episode perfectly captures the cruel self-absorption of teens, who find their parents' feelings sooooo embarrassing but can't see how absurd their own huge emotions can be.
• Alexandra Patsavas, veteran music supervisor of the gods, is at work, huzzah! Fellow music nerds, prepare your ears for some sonic treats over the next eight episodes. The best musical cues so far are Buddy's sad-bastard slow-tempo cover of "Milkshake" playing over Marya and Paul's foiled tryst, and "The District Sleeps Tonight," included in accordance with the Postal Service Act of 2005 requiring all shows set in the mid-aughts to incorporate at least one song from their album Give Up.