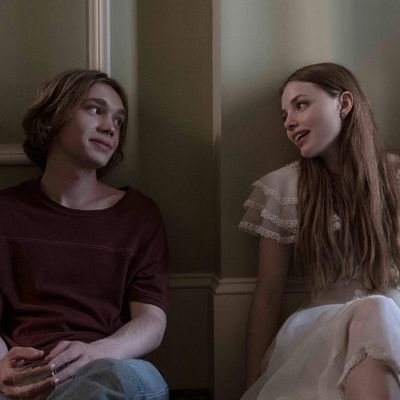 It's time to talk about pranks. At a geographically isolated boarding school like Culver Creek, the students have quite a bit of autonomy, and seemingly a lot of free time, so it's easy to see how planning and executing pranks would become the bedrock of the school's social life. Pranks are also a great equalizer. Your pranks are only as good as your imagination and execution; Daddy's money won't spend here, but if you pull a good prank, you'll find yourself flush with social capital.
The Colonel, Takumi, and Alaska are so giddy and raring to go for a prank war with the Weekend Warriors that Pudge is easily swept up in their enthusiasm, but it's the social currency he earns in the process that keeps him along for the ride and its consequences. That's not to say that Pudge has no discernment; the Weekend Warriors offered him a similar deal, but he turned them down, knowing that however imperious and inscrutable the Colonel and his merry band are, the community they offer — their sangha, as comparative-religion teacher Dr. Hyde explains — is a better fit for him.
So the great prank war begins, treating viewers to a snappily directed montage of ever-escalating goofs: Kevin and Longwell are cinderblocked into their room while they sleep. They retaliate by moving Takumi's entire room out to the quad (including Takumi, slumbering peacefully in his bed until his classmates find him the next morning). Alaska and Pudge replace Kevin and Longwell's shampoo with blue hair dye. The Warriors strike back by cutting the Colonel's sharp new suit — purchased to wear to his girlfriend Sara's debutante ball — to ribbons. This is a bridge too far! Do they know how many clandestine term papers the Colonel had to write to afford that suit? (They do not.) This aggression will not stand! The Eagle really wants it to stand, though, and takes a moment out of his busy student surveillance and discipline schedule to remind Pudge and the Colonel that if they see something, they should say something.
The Colonel is devastated by the loss of his suit but insists that the prank war mustn't spill over into the debutante ball itself. Arcane country-club rules may prevent him from being his Weekend Warrior girlfriend Sara's escort, but he's attending as her guest and doesn't want anything to disrupt her special evening. Obviously, his best friends in the world think "Oh, the hell with that" and plan a hilariously disgusting retaliatory prank instead. The prank within a prank is more of a heist in its scope and ambition, as it's meant to devastate Longwell and Kevin, while providing the Colonel with a surprise opportunity to walk his best girl across the debutante stage, after all.
While Alaska occupies the Colonel with a suit-replacement trip to the local thrift shop, Takumi and Pudge heavily lace Kevin's protein-shake powder with chocolate laxative. This evening won't end prettily. At the country club, the Weekend Warriors are soon intestinally afflicted and race for the restrooms, but Takumi and Pudge have already plastic-wrapped the toilet bowls so that instead of sweet relief, all the Warriors experience is a deeply mortifying and health-code-violating mess. Justice!
Longwell and Kevin — who are this show's answer to the hockey-playing sex idiots from Letterkenny — know they're bested, so they offer a truce: They'll stop trying to find the rat so long as the Colonel and the gang agree to knock off the prank retaliations. The Colonel is too proud to accept these terms, but Alaska jumps up to take the deal, on the grounds that she and the Colonel can't risk losing their scholarships.
This episode makes a strong case for the idea that pranks are a witty, chaotic form of self-governance and self-policing among students. This is maddening for the Eagle, whose precious order and safety are compromised by his students' creativity. This isn't the kind of intellectual exploration his students' parents had in mind when they entrusted their babies to the Eagle's care. Worst of all, prank wars suggest that the Eagle and his formal disciplinary methods are superfluous, a notion underscored by the student honor board letting Pudge off with a slap on the wrist (thanks to yet another prank, in the form of some astute jury tampering by Takumi, Alaska, and the Colonel).
At least the Eagle can comfort himself with the knowledge that his approach works in some cases. A flashback to the previous episode shows him catching Alaska in the very clandestine act of burying bottles of wine. Busted. We know who the rat is and what ratting could cost her. Now, trapped in a labyrinth of choices and consequences, worrying about being alienated forever from the entire sangha of Culver Creek, Alaska has to hope that the truce holds. Instead, down at the smoking hole, she burns through one cigarette after another while the Colonel and Takumi indulge in some charmingly amateurish beatboxing and verse-spitting. When Pudge asks her why she smokes so fast, her bleak rejoinder sends a chill down the spine: "They smoke to enjoy it. I smoke to die." Woof, this show is making a good case for the notion that hanging onto shameful secrets is super-self-destructive. Time to start fretting uncontrollably over what the countdown cards at the end of each episode are leading us toward!
Famous Last Words
• Best musical cue of the episode: Pudge obsessively adjusting and readjusting his dress shirt to the strains of 50 Cent's "P.I.M.P.", both the song and his fashion reverie abruptly ending when the Colonel demands to know what the hell Pudge is doing. (He's putting on his dad's cologne. Perfume Twitter, can you identify the bottle for us? What were aggressively normal dads spritzing themselves with in 2005?)
• In the "see something, say something" scene, Timothy Simons seems to be basing his performance of the Eagle on the concept of "What if John Mulaney were a one-man Stasi at a high school?" This is not a complaint; it works.
• Visual Iconography Corner: The title cards are designed to look like old-timey tooled-leather book covers, each one lightly customized with a tiny design element in the center. In episode one, the central device was a swan (beautiful, but dangerous). For episode two, it's a bow tie (a nod to the debutante ball)
• A poop-based prank will have been just like old times for Jay Lee, who plays Takumi here and played Tanner Colby in the poop-prank-based second season of American Vandal.