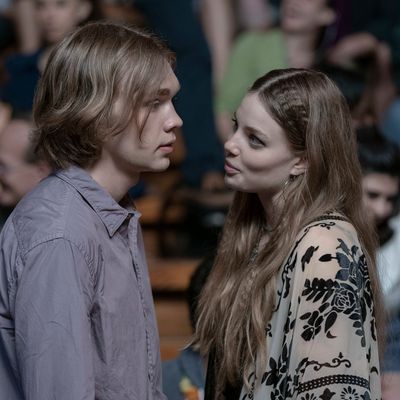 Photo: Alfonso Bresciani/Hulu
One benefit of being frightfully clever is that you can often get yourself out of scrapes if you think and talk quickly enough. One drawback of having friends who are as frightfully clever as you are is that they know your tricks and can suss out your bullshit, so once in a while, you'll find yourself with nowhere to go. That's what happens to Alaska in this episode, and it's painful to watch.
There's a bunch of heartbreak in this episode, actually, and it's not all Alaska's, though she is responsible for much of it. In one way or another, everyone is feeling alienated from their sangha, and consequently, all the alliances and relationships we've gotten to know earlier are on rocky ground.
Although the truce with the Weekend Warriors remains in effect, the Colonel can't quite let go of the prank war. He keeps worrying at it like a bad mosquito bite, taunting the Weekend Warriors here and there, and letting off steam by indulging in a subcategory of pranks that he knows won't land him in any real trouble: getting himself kicked out of Culver Creek basketball games. He does so with style and consistency, using a mix of rhyming taunts and game-disrupting physical comedy (including sinking one particularly graceful three-pointer) to continue his streak.
But doubts about the truce linger, and matters come to a head at the Halloween game against Harsden, the school Alaska's former roommate Marya and Paul transferred to after being expelled. They've puzzled out that Alaska must have ratted on them, since she was the only one who knew about their drinking/smoking/boning plans. When Takumi confronts Alaska about the allegation, she tries to play it off and then pivots to her usual winning distraction strategy of extreme flirtatiousness, peeling Pudge's shirt off him with such care and slowness that it really seems like they're about to smooch. Then she thinks better of it and instead starts to iron his shirt and offer him advice for his first date that evening with Lara.
Takumi suggests Alaska stay away from the game, given the confrontation that's likely to happen if she tries to talk to Paul or Marya, but Alaska, clad in a pretty resplendent Stevie Nicks costume, acts like everything is totally normal, calling out and waving to Marya, who studiously ignores Alaska before loudly accusing her of ratting.
The game has gone badly — the Colonel's heckling results in Pudge sustaining a concussion after being slammed in the face with a ball by one of the Harsden players, leading Harsden to forfeit — and Lara winds up driving Pudge to the hospital in a green limo owned by her dad's car-service company. They have a real conversation for once, and without Alaska there to soak up all of Pudge's attention, he realizes what a thoughtful and interesting person Lara is.
Back on campus, the Colonel's deep bonds with Sara, Takumi, and Alaska are being tested. Sara and Takumi can't understand why he won't accept the idea that Alaska has ratted. Takumi's response is to leave the Colonel alone with his thoughts, but Sara draws a harder line, announcing that if he can't acknowledge that Alaska broke Culver Creek's most fundamental unofficial rule, she's ending their relationship.
After brushing off Lara's offer to stay in her room so she can keep an eye on his concussion (an offer based equally in kindness and horniness), Pudge witnesses Alaska and the Eagle having a heated conversation at the Eagle's house. Alaska, still in costume, but with her makeup and hair wrecked following an evening of partying and despair at her boyfriend Jake's college, begs the Eagle for help out of her predicament, and though he's not unsympathetic, they see the situation from fundamentally irreconcilable points of view. He's there to enforce the rules, they both know she's broken them, and she's stuck. Alaska can't face losing her scholarship, going home, and being "stuck there, in that house, forever" with her father. The Eagle advises her, as gently and clearly as he can, to learn to live with being called a rat and reconcile herself to a more difficult social reality at Culver Creek.
The adults in this adaptation are authority figures, but the scripts and the actors' nuanced performances are giving them incrementally more space to be nearly as well rounded as the teen protagonists. The Eagle has an especially hard line to walk as a genuinely caring hard-ass, and Timothy Simons makes the most of his height and expressive face to convey both his total intolerance for shenanigans of all kinds and the heartbreak over his dissolving marriage that leaks out of him at the slightest provocation.
The scenes in the hospital tantalize us by giving veteran character actor Ron Cephas Jones the opportunity to do a bit more with his role as the wisdom-dispensing comparative-religion teacher Dr. Hyde. Seeing Pudge and Lara outside of their usual classroom context, particularly as he rolls past them in a wheelchair, puts all three characters in a more vulnerable situation, and so the wisdom Dr. Hyde does dispense — urging them again to be fully present, because "small moments forge deep bonds" — is more resonant for it.
As the episode closes, here's how things stand in all of the show's various relationships:
• Marya and Paul have friend-dumped Alaska.
• Alaska may have broken up with Jake (though it's unclear if he knows that).
• Takumi and the Colonel have broken up with Alaska and aren't 100 percent thrilled with each other, either. Pudge's awareness of the situation is a little ambiguous, but he knows something's up.
• Sara has broken up with the Colonel.
• Pudge has perhaps thrown away his shot with Lara.
• Kevin and Longfellow are still rock solid, which is frankly a huge relief, as the ability of either of them to function outside their little unit of high-status codependency is very much in doubt.
The concluding title card reads, ominously "43 Days Before." I prefer not to, I really do.
Famous Last Words
• This episode opens with an homage to Rushmore. It also features an impeccable nod to the costuming in The Royal Tenenbaums, pulling double duty as a little Easter egg and as a plot-driver in the scenes at the college rager Alaska attends with Jake and his friend Fiona. Episode one included a few Wes Anderson touches, too, but if there were any in episode two, I missed them. I'll keep you posted on others as they appear!
• Musical Cue of the Episode: "The Way You Move" and "The Monster Mash" are excellent choices, but I'm giving it to Young Summer's agonizingly sad cover of "Take Me Out" (originally recorded in a jaunty militaristic march by Franz Ferdinand), which plays over Alaska's grim trudging back to her room, now emblazoned with "RAT" in spray paint, courtesy of the Colonel.