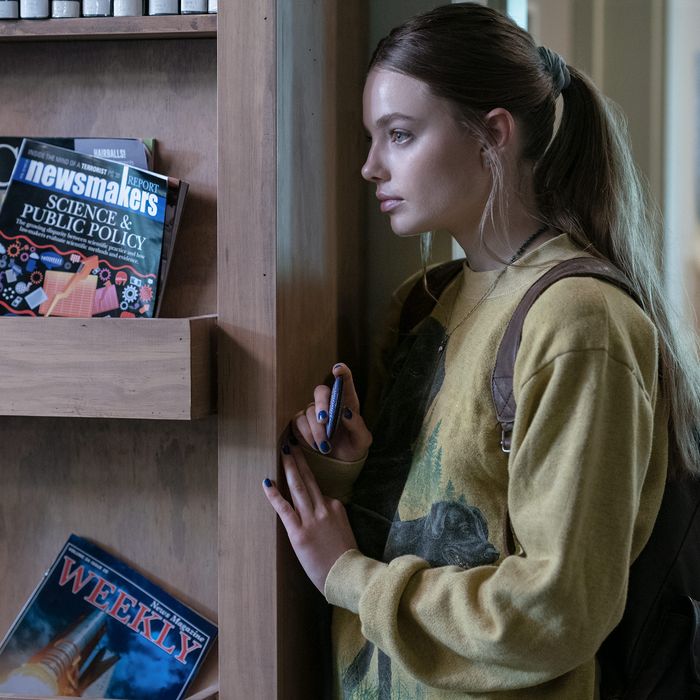 Photo: Alfonso Bresciani/Hulu
After both Alaska and the Colonel exercised their nuclear options — cutting ties with neutral Pudge and shunning Alaska, respectively — at the end of the previous episode, we find them both feeling miserable as a result of not thinking through the consequences of blowing up their friendships. Alaska is forlorn and lonesome without her boys to flatter, adore, and banter with her, while the Colonel is suffering the tortures of the damned. That is, acute nicotine withdrawal. On the plus side for everyone who doesn't have to experience his nic fits in person, this is another moment for Denny Love and Jay Lee's chalk-and-cheese chemistry to shine.
They may be on the outs with Alaska, but there's still a lot of love between them: When Takumi's fake ID — described by Gus the sales clerk as "so bad it just bums me out" — fails to secure the Colonel so much as a loosie, they exit the convenience shop to see that Alaska has left three full packs of the Colonel's favorite brand behind for him. No sooner does he take a first delicious drag than the Weekend Warriors show up, promising a nasty vengeance prank against Alaska.
At the school assembly, the Colonel and Takumi consider warning Alaska that Kevin and Longwell are planning something awful, but Pudge reminds them that for … feminism?? Reasons??? Alaska would want to handle this herself. I need Pudge to learn that a sincere act of friendship from a boy is not necessarily also an act supporting the patriarchy.
Announcements during the assembly that turn out to drive the entire remaining plot of this episode:
• Sara is now dating Longwell and the Colonel hates it.
• College applications will be due soon
• The theme of the upcoming winter dance is ugly Christmas sweaters
Because he will not speak to a rat, the Colonel can't do normal friendship things like talk to Alaska about the "stupid, but brutal" prank coming her way, but he can claim that he needs some fresh air and then just happen to park himself in a seat on the quad with a full view of Alaska's door. In spite of his attempts at counter-prank vigilance, someone puts a hose through Alaska's window and drenches her own labyrinth, the Life's Library she's collected at yard sales over the years.
Unlike the pranks from earlier in the semester, this is all humiliation and no wit. And it's provocation that leaves the door open to retaliation. This is not a Shut It All Down prank, it's a Bring It On prank. I guess Kevin and Longwell have short memories? Okay, then! Predictably, the Colonel and Takumi immediately swear revenge, and Alaska jumps at the chance to get the gang back together. Revenge-prank solidarity!
The Colonel, Takumi, and Alaska quickly pull together a ruse that they're going to stay with Dolores for the weekend, and get permission from the Eagle. He doesn't usually attend school dances, but since he "found the perfect tie" for the theme, he'll be there, after all. This heightens the stakes, but the Colonel notes that if all three players the pranksters need to worry about will "be under one sad disco ball," their lookout's job will be more straightforward. Getting Pudge on board for this task is a challenge; they'll need to woo him just as he's focusing all of his attention on wooing Lara.
Pudge is acting with the zealotry of a very annoying convert by abstaining from both pranks and from the resumption of friendship normalization in order to pursue Lara. Having met with no success attempting to sidle up to Alaska romantically, Pudge is now trying to sweep Lara off her feet to convince her to attend the winter dance with him. His moves are not suave, but they are earnest and consistent: he reads up on Romanian foodways, he provides a study starter pack (shades of Seth Cohen and his iconic Chrismukkah starter pack?), he sincerely begs. The strategy works! Lara agrees to be his date, and he reluctantly agrees to be the prank's lookout.
Once again, this series excels in prank dramatization, ratcheting up the tension by cutting nimbly between the dance and the prank venues in the computer lab and the Weekend Warriors' dorm room. At the dance, Pudge is nonsensically refusing to dance and Lara is deeply and rightly disappointed. You ask a girl to a dance, you'd better be ready to shake a tail feather, my boy. Fortunately, the Eagle requests that the student DJ play the single greatest song he could possibly have selected for this moment: "Macarena." Even Pudge can't resist the unapologetic goofiness, and joins in the moment, nearly failing to meet his lookout responsibilities when Longwell and Sara ditch the dance. He manages to pull it off at the last moment, but Lara has him dead to rights, asking if he even wanted to bring her to the dance or if "it's just a cover for whatever prank you're clearly doing?" He saves himself by apologizing and promising not to lie again, and by offering to slow dance as Coldplay's "Fix You" burbles throughout the gym.
By now, the Eagle and French teacher Ms. O'Malley are also swaying cozily, but then he notices that Sara and Longwell have snuck off, and he can't let it go: "Bridget, I've gone two years in this job without a teen pregnancy, and it's not because I let the kids have fun, it's because I practice eagle-eyed vigilance!" Well, there we have it folks, the best line reading of the episode. Bravo, Timothy Simons, you are this episode's MVP by a country mile!
Now that the prank-cat is out of the bag, Pudge drags Lara along for the lookout ride, while the Eagle drags Bridget along for his sex-foiling duties. In Kevin and Longwell's room, Alaska and the Colonel are putting their prodigious storytelling abilities to use by rewriting their nemeses' college applications essays to be about their experiences with explosive diarrhea at the debutante ball. The Colonel takes off in a jealous fury when he learns that Sara and Longwell have gone to his and Sara's old trysting grounds, so Takumi dragoons Pudge into assisting him with a diversion, setting off some fireworks just as the Eagle is about to discover Lara and Alaska in the Weekend Warriors' room.
As Takumi and Pudge run past the pond, the beautiful but vicious swan chases down Pudge, chomping on his tush before he can make good his escape! Takumi is fine, thanks to his fox hat giving him extra speediness (as anyone who's read the book knows, you can't catch the motherfucking fox). Riddle me this, though: Why didn't the swan take a chunk out of Pudge in the first episode, when he was trussed up in plastic wrap and incapable of running? Did that seem like a too-easy mouthful for the swan? Is the swan like the crocodile in Peter Pan, needing time to develop its taste for human flesh? Or is the swan more closely allied with chaotic goose in Untitled Goose Game? The world may never know.
The pranksters assemble in the barn after completing their missions, and after they booze it up for a while, Alaska's deep enough in her cups that she can no longer suppress her jealousy over Lara and Pudge's increasingly adorable cuddling. She instigates a new game, Best Day/Worst Day, where they all describe their best and then worst days in turn, with each rounds' winner getting out of drinking. All of the Best Day stories are lovely, but Alaska's is table setting for her unbeatable Worst Day story, about her mother's sudden death from an aneurysm when Alaska was 8 years old. Her father blames her for her mother's death, and she's internalized that blame and guilt to such a degree that she feels unworthy of anyone's love, and blows up all of her relationships to prove that she's right.
Pudge can't believe Alaska is so down on herself. She was all of 8 years old, how would she know what was wrong, or even to dial 911? She won't extend any of that grace to herself and demands to know why Pudge would stick around, even after hearing what an obviously terrible person she is. He shies away from saying he loves her, offering instead that he sticks around because he's her friend, to which Alaska can only say "… cool. Friend." She started the game knowing it was her best bet to win the evening, to wrest Pudge's adoration back to herself, a shitty, manipulative move that's way worse than her child self failing to understand her mother's aneurysm. Her gambit failed, and now she has to endure hearing Lara and Pudge make out while she tries to sleep just a few feet away. Seven days before.
Famous Last Words
• Last episode, we saw Takumi in a silky bomber, which I interpreted as a shoutout to Lara Jean Covey's jacket in To All The Boys I've Loved Before. But seeing Takumi's wardrobe in this episode makes me wonder if the wardrobe designer is alluding to Harry Styles's fashion choices, too. Takumi's floral bomber is also cousin of the one Harry wears in the video for "Drag Me Down," and the shirts this episode! There's a tone-on-tone number that's the black jacquard version of the iconic blue bee blouse he wore for Tattoo Roulette and later he sports a pink polka-dotted shirt that is a dead ringer for this one. I hope we can get an official comment on this!
• Kevin's laptop password is LAXBRO69. Of course it is.
• Song of the episode: as if this is in question at all. Come on, it's "Macarena." AY!