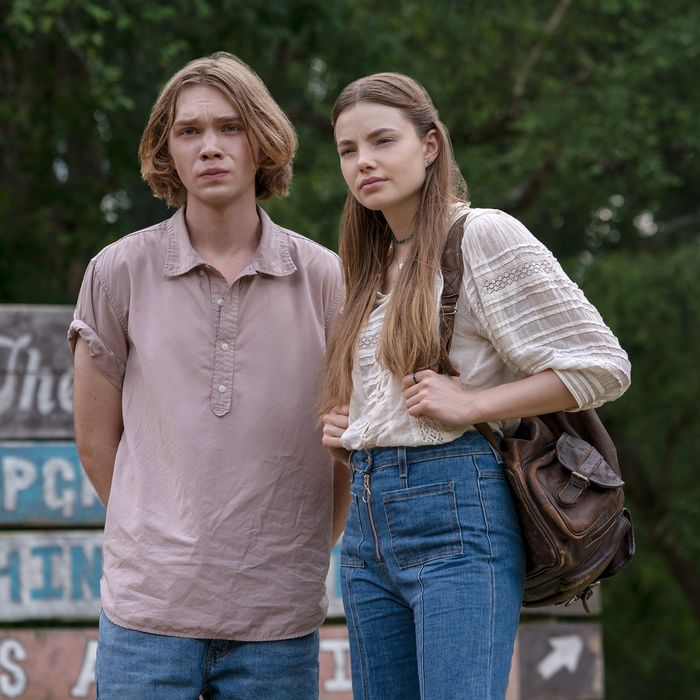 Photo: Alfonso Bresciani/Hulu
In previous recaps, I've said that one thing this show nails from the jump is its teen characters' casual, self-involved cruelty toward the caring adults in their lives. Their own dramas and emotional swings are totally normal, but adults? Asking them to follow the rules? Or just make a phone call at the appointed date and time? Unreasonable! Embarrassing! GOD.
The thing is, as the Colonel says, I've done some back-of-the-napkin calculations in my head, and I've been able to determine they're full of shit. The adults in this show are uniformly good eggs. The worst thing anyone can say about the Eagle is that he is doggedly, dorkily competent in enforcing school rules against illicit behavior. Pudge's parents are gigantic squares who plainly adore him. Dr. Hyde walks the philosophical walk, always trying to see his students as they truly are, rather than how he might wish they would be. How's anyone supposed to formulate sick burns based on these decent people doing their jobs well? "Oooooh, you establish healthy boundaries! And enforce them daily!!!" isn't going to devastate anyone. It's just … a description of a best-case scenario. Still, even when adults are demonstrably loving and wise, teens gonna teen, because that's what's developmentally appropriate for them to do. That's pretty much the thesis of this episode, which is the best of the miniseries so far.
First up in the Teens Gonna Teen category is Pudge. After some very on-brand dithering about staying on campus for Thanksgiving to keep Alaska company over the long weekend, Pudge decides to stick around, even though the Colonel and Takumi try to razz him out of it by describing exactly what will happen: "You THINK something amazing's gonna happen, and she's gonna break up with Jake and you're gonna experience sexual fireworks, but really you're just going to drink shitty wine and melt candles."
A very cute conversation with his parents (Cranberry sauce! Road trip! The Halters can't wait to see their boy!) leaves Pudge thinking he'll come home after all, but an unexpected heart-to-heart with Alaska's profoundly decent, erstwhile boyfriend, Jake, shows him that an opportunity to win Alaska's heart may exist, and there's no way he's turning it down. Again: super on-brand for Pudge.
Next up: the Colonel and Takumi. As they leave campus for the weekend, they roast Pudge for his rat-adjacent choice to stay, with comments set to varying degrees of withering. When the Colonel's mother, Dolores, learns of the rift between her son and his friends, she tries to set him straight by insisting they drive back to Culver Creek on Thanksgiving morning to bring Pudge and Alaska to their home for the holiday. Dolores, played with heart and verve by Deneen Tyler, is enormously winning. It's easy to see where the Colonel gets both his talent for flights of verbal derring-do and his dedication to a moral code. I'd have been happy just to spend the full episode peeking over Dolores's shoulder to learn her recipe for sweet-potato pie.
Once campus empties out, Pudge goes along with Alaska's Thanksgiving traditions of burying wine and drinking it in the woods and doing … candle? Stuff? With fewer friends around to compete for Alaska's attention, Pudge takes a more active role in their conversations, asking why she hasn't been returning Jake's calls, pushing back on her third-wave feminist, Holly Golightly–style answers. Without someone asking her to hit the verbal pause button, Alaska barely draws breath between flights of rhetorical fancy, bouncing from a hypothesis that the creek behind school will take them to Miss Ann's Diner in town, to reading aloud from Cat's Cradle and sharing that she fucking loves Vonnegut, to quoting and quizzing Pudge on Auden, to announcing that it's time to raid their classmates' rooms for their secret stashes of booze and porn.
As they stroll tipsily through the woods, sharing a bottle of their previously buried wine, who do they come across but Dr. Hyde, out for a walk with his dog! Pudge tries to hide the wine behind his back but the good doctor's facial expression fairly hollers "oh, son, don't even try." Back at Dr. Hyde's house — a dream of lived-in midcentury home furnishings and tasteful cultural abundance — he declines to punish them or involve the Eagle, who he describes as "an admirable educator, strapped with the thankless task of protecting 200 self-involved teenagers." A little on the nose? Sure. 100,000 percent correct? Yes, indeed.
Instead, Hyde serves the kids apple juice in fancy cut-glass tumblers while he sips a not-so-wee dram of the Macallan and shares some of his life's impressive highlight reel. Alaska very nosily noses around Dr. Hyde's romantic history, insisting he must have been in love at least once, and he acknowledges having had one great love: Diego, the handsome guy in the photo on the mantelpiece. When Diego died of AIDS, the experience prompted Dr. Hyde to relinquish his career as a political scientist and take up religious studies. I defy anyone watching not to well all the way up as Ron Cephas Jones quotes St. Augustine's lament that "I poured my soul into the dust by loving a man who was soon to die, as if he would live forever." Still, he wouldn't trade a moment of it away, "not even the suffering." The resonances between Hyde's experiences and the grief Pudge, Takumi, and the Colonel are soon to be plunged into are both rich and delicate.
Back on the quad, Alaska declares Hyde brave but suffering, and then posits that Bolivar's labyrinth is actually just the suffering we experience when we grapple with loss alone. Pudge can tell Alaska is projecting quite a bit, and when he presses her on it, she claims she's totally alone, but Pudge points out that she has him, and Hyde, and Jake. She declares there's no point in trying to explain the depth of her suffering, because he wouldn't understand, but Pudge insists that he's fully committed to his friendship with her: "No matter what you did, I would never walk away from you."
Following an idyllic Thanksgiving dinner with Dolores and the Colonel, Alaska forces Pudge to test that hypothesis. Although Dolores reassures Alaska that her boy will come around, the Colonel tells her that their current détente ends the second they get back to campus. He just can't believe that their solidarity, based in being poor kids from messed-up families, can withstand the temptation to rat if the need arises. Worse still, he believes Alaska has got to cut Pudge loose so that he has a chance to survive socially at Culver Creek.
In order for this gambit to work, Alaska has to be cruelly efficient in extinguishing all of Pudge's hopes, and unfortunately, he tees it right up by trying to kiss her after she flops dramatically and non-smoochily onto the bed. She shoves him off the bed and and across the room, spitting out an accusation that he thinks that "fucking me will make me feel better." It's bleakly funny since we've seen Alaska self-medicate with sex, but there's a heartbreaking grain of truth in there, too.
Dolores isn't done working on the Colonel, telling him he needs to find a way to forgive Alaska, because what she needs more than anything right now is a good friend: "That girl is lonelier than you know." The teens' faces as they walk back to campus telegraph what's to come. Alaska has donned a mask of neutrality, Pudge looks stricken, and the Colonel is both grimly determined and a little bit shaken by his mom's righteous upbraiding. We've now seen three competent, loving adults give our protagonists good advice about living with grief and human complexities. All we can do is wait. We're at 21 days before.
Famous Last Words
• Best Musical Cue of the episode: I sure did laugh when the chunky opening bass riff of Jet's "Are You Gonna Be My Girl?" rang out over Pudge's hopeful walk to Alaska's room following his conversation with Jake. But that's a joke that only works one time. "Lovely Day" by Bill Withers takes the prize this episode for providing a perfect character and relationship development moment that's worth rewatching.
• Can we take a moment to praise the set designers? Both Dr. Hyde's house and Dolores's trailer do exactly what sets should do, reinforcing our perception that people live there and made very specific choices about their furniture and knick-knacks. Of course Dolores' room is a shrine to the Colonel's accomplishments.
• Takumi's silky floral bomber in the Thanksgiving departure scene: Where can I acquire one? Lara Jean Covey's wardrobe in To All The Boys I've Loved Before taught me that I need sweet-tough outerwear and now I need more!