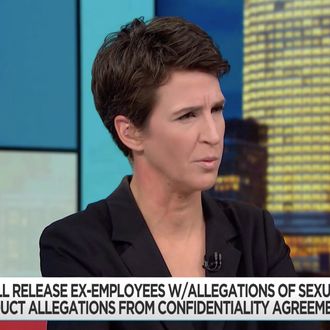 On Friday night, MSNBC host Rachel Maddow spent her show digging deep into Ronan Farrow's criticisms of NBC, laid out in his recent book Catch and Kill, peeling back the layers on her parent company's handling of his reporting on Harvey Weinstein, as well as alleged sexual harassment complaints against Matt Lauer and other NBC figures, and the ongoing concern of network employees that NBC had allegedly failed to act ethically when presented with evidence of misconduct.
"The allegations about the behavior of Harvey Weinstein and Matt Lauer are gut-wrenching at baseline, no matter who you are or what your connection is to this story," Maddow said. "But accusations that people in positions of authority in this building may have been complicit in some way of shielding those guys from accountability, those accusations are very, very hard to stomach."
In an interesting turn of events, Maddow announced during her show that NBCUniversal had released a statement saying that no confidentiality or non-disparagement agreement signed by a now-former NBC employee could legally prevent them from discussing sexual harassment, should they chose to do so.
"Any former NBC News employee who believes that they cannot disclose their experience with sexual harassment as a result of a confidentiality or non-disparagement provision in their separation agreement should contact NBCUniversal and we will release them from that perceived obligation," the statement read.
As Farrow reveals in Catch and Kill, former NBC employee Brooke Nevils alleges Matt Lauer raped her while they were on location during the 2014 Sochi Olympics. Lauer was fired in November 2017 after Nevils made a complaint against the now-former Today host. Lauer denies committing sexual assault and says their encounter was consensual. In his book, Farrow claims that at least seven other women allegedly received settlements, in the form of "enhanced severance," related to workplace misconduct, and were asked to sign nondisclosure agreements.
As Maddow points out, all of NBC's claims of propriety are reliant solely on the network's own internal investigation, rather than an external, ostensibly objective inquiry. She also verifies Farrow's claim that NBC sought to "pause" his reporting on Weinstein. The network has claimed that Farrow's exposé on the disgraced producer, which was subsequently published in the New Yorker two months after he left NBC News with the story, was at the time incomplete and inadequate. "Over a year ago, NBC News released a twelve-page, transparent account of the Weinstein reporting," the network said in a statement to Maddow's show. "Once again, we stand by it."