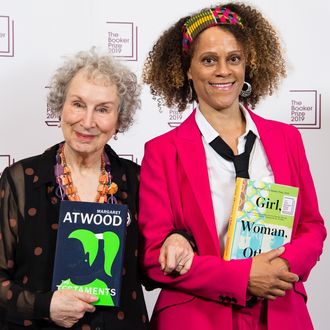 Photo: Jeff Spicer/Getty Images
In case you were holding off on making your holiday-gift purchases until after the Booker Prize declared a new winner, there's good news for the fiction lovers on your list: They're getting two novels this year. According to the New York Times, Margaret Atwood's The Testaments and Bernardine Evaristo's Girl, Woman, Other tied for this year's award. Turns out the sequel to Atwood's The Handmaid's Tale and Evaristo's portrait of black British womanhood as explored through 12 characters were both so good the Booker Prize judges opted to ignore the part where they technically can't give the award to more than a single author at a time.
"We were told quite firmly that the rules state you can only have one winner," Booker chairman Peter Florence said at a London news conference on Monday, but the judges' "consensus was to flout the rules and divide this year's prize to celebrate two winners." Interestingly enough, this is not the first time two novels have been awarded the prize at one time. The one-winner rule was actually instituted following a tie in 1992 between Michael Ondaatje's The English Patient and Barry Unsworth's Sacred Hunger, but once there's historical precedent, well, the cat's out of the (book) bag.
As a result of their double win, Evaristo and Atwood will split the £50,000 prize. Atwood has previously won for 2000's The Blind Assassin. Evaristo is the first black woman to receive the prize, but as she said at Monday's ceremony while accepting her win, "I hope that honor doesn't last too long."