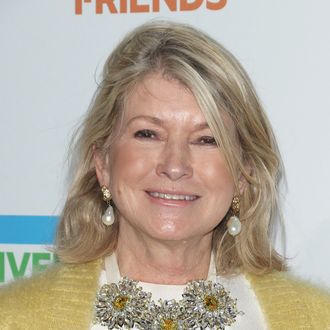 Photo: Jim Spellman/Getty Images
If there's one thing we can all agree on, it's that Martha Stewart is an incredible homemaker. From décor to baked goods to friendships with West Coast rappers, Martha Stewart has unparalleled taste. She's also been around the block, so to speak, having spent five months in a correctional facility after being convicted of insider trading. All this considered, it would be pretty tough to be on the receiving end of Stewart's criticism, especially if you famously played a (desperate) housewife and also happen to be serving time.
This is the fate of Felicity Huffman, who was recently photographed rocking a green jumpsuit while serving her newly truncated 13-day jail sentence for her participation in Operation Varsity Blues. At Vanity Fair's New Establishment Summit, Stewart was asked if she thought Huffman had learned anything now that she has officially begun her (incredibly short) stint behind bars. Stewart retorted, without skipping a beat, "Well, she should style her outfit a bit more. She looked pretty schlumpy." An absolutely devastating blow from the bonafide tastemaker.
While we'd never be so bold as to go against Martha Stewart, we slightly disagree with her take on Felicity's jumpsuit. Anyone who's ever been to Brooklyn knows that Felicity's prison lewk is serving big "Pratt student en route to a sculpture class" energy in the best possible way. But it's okay, Felicity. In approximately *checks notes* four days you will be out of jail and can commiserate with Goop about your new beef with Martha Stewart. Hopefully, Lori Loughlin is somewhere taking notes on what not to wear behind bars.