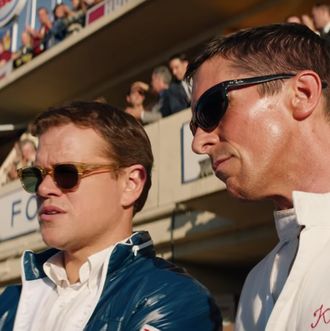 Photo: Twentieth Century Fox
Looks like Matt Damon and Christian Bale are neck-and-neck as we slowly accelerate into awards season. According to IndieWire, Twentieth Century Fox knows it has two equal and absolute stars on their hands, which is why both Matt Damon and Christian Bale will be campaigning in the lead actor category for their work in the upcoming movie Ford v Ferrari, rather than one actor pursuing the lead category and the other, supporting.
The film, which tells the tale of American Ford designer Carroll Shelby, British driver Ken Miles and their creation of the Ford GT40 ahead of France's 24 Hour Le Mans race in 1966, certainly seems to be an even two-hander, if the movie's trailers are any indication. So who deserves an Oscar more: the punchee, or the puncher? Are both actors not equally compelling when they get into a knockdown, drag-out brawl that ends with two frosty bottles of Coke? Either way, come next February, Damon and Bale will no doubt have a photo finish as they shoot into the…wherever the cars go when they win, we aren't race car people. But we will be soon enough. Ford v Ferrari speeds into theaters on November 15.