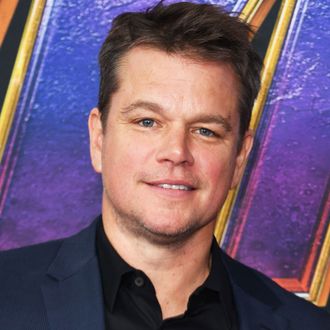 Photo: Valerie Macon/AFP/Getty Images
Did Matt Damon really turn down the chance to take home 10 percent of Avatar's gargantuan box-office haul? That's definitely the implication in some of the actor's recent comments while promoting his latest movie, Ford v Ferrari. In an interview with British GQ, Damon said director James Cameron offered him a part in the fantasy film and a potentially sweet backend participation deal, but he had to decline. "Jim Cameron offered me Avatar," Damon said. "And when he offered it to me, he goes, 'Now, listen. I don't need anybody. I don't need a name for this, a named actor. If you don't take this, I'm going to find an unknown actor and give it to him, because the movie doesn't really need you. But if you take the part, I'll give you 10 percent of — " at which point the actor apparently stopped talking before finishing the thought.
So, it seems like he was heading toward mentioning a cut of the film's box office, but we can't be sure. (If we were sure, that would mean Damon missed out on a share of Avatar's $2.8 billion global gross.) But because Matt Damon is already very rich, his biggest regret today is not about the money (some Robert Downey Jr. money); instead, he just wishes he could have worked with James Cameron. Alas, he was busy with spy duties. "It would have caused a problem for Paul Greengrass and for all my friends on The Bourne Ultimatum, so I couldn't do it," said Damon, who had a little more to add to the anecdote. "I told John Krasinski this story when we were writing Promised Land," he said. "I tell him the story and he goes, 'What?' And he stands up and he starts pacing in the kitchen." And with that, John Krasinski has never been more relatable.