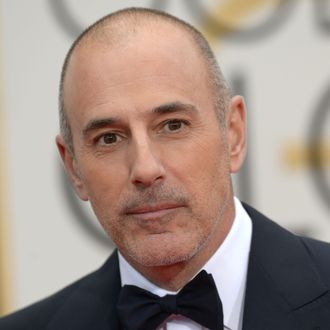 Another allegation against Matt Lauer has come to light in Ronan Farrow's book Catch and Kill, out today. Farrow's book describes Melissa Lonner, a former Today show producer, and her own encounter with Lauer, in which he exposed himself to her without her consent, as told to Farrow by colleagues of hers. In 2010, Lauer allegedly asked her to step away from a company party under the guise of a business matter. Once alone, he made small talk, then unzipped his pants to reveal his erect penis. Lauer's attorney refutes this in a statement to The Hollywood Reporter. "Matt never exposed himself to anyone," reads part of the statement. "This ridiculous story has been shopped around for years. Many allegations that are being circulated were never raised during any fact-checking process."
The day after the incident with Lauer, Lonner told Farrow she'd spoken to Ann Curry. Lonner was afraid of making a formal complaint, but Curry said she told two senior managers but did not share which two. Upon leaving NBC News in 2013, Lonner was offered "a six-figure sum in exchange for signing a release of rights," according to Farrow. It prevents her from filing a legal claim against the company. In 2018, Lonner says NBC contacted her attorney to stress the "enforceability of her pact." NBC told THR the call was a response to "a query from Lonner's attorney." The network also denies that Lonner raised any claims about Lauer and says the separation agreement was not intended to keep her quiet.
NBC News president Noah Oppenheimer denied Farrow's claim that NBC higher-ups knew about Lauer's conduct before Brooke Nevils's 2017 complaint in a staff-wide memo obtained by "Page Six." "At the time of the employee's exit, three years later, she still had made no complaint about Lauer, was paid 22 weeks of severance based on her years of service, and was asked to sign a separation agreement that was standard for departing employees at the time," Oppenheimer wrote about Lonner. "The standard separation agreement included a routine confidentiality clause that was designed to protect proprietary company information."
A rep for Farrow told THR, "We stand by the reporting in the book 100 percent and believe that it discredits this attempt by NBC to rewrite the facts."
This post has been updated to clarify that Melissa Lonner is not quoted in Farrow's book.