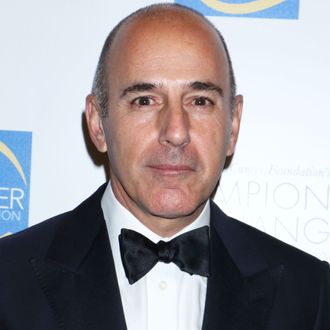 Matt Lauer
Photo: Gregory Pace/Shutterstock
In Ronan Farrow's "deeply personal" new book about serial abusers in the workplace, Catch and Kill, he investigated an allegation against ex–Today host Matt Lauer by former NBC employee Brooke Nevils. In 2017, Nevils came forward to the network claiming Lauer anally raped her in a hotel room while they were working at the 2014 Sochi Winter Olympics, and that she was "too drunk" to consent. "The encounter was excruciatingly painful," Nevils told Farrow in the book. "It hurt so bad. I remember thinking, 'Is this normal?' She told me she stopped saying no, but wept silently into a pillow." Now, in a rare public statement since he was fired from Today two years ago, Lauer is denying Nevils's rape claim and insisting that her story is filled with "false details intended only to create the impression this was an abusive encounter." He also insists their relationship was "completely" consensual.
"Today, old stories are being recycled, titillating details are being added, and a dangerous and defamatory new allegation is being made. All are being spread as part of a promotional effort to sell a book. It's outrageous. It is categorically false, ignores the facts, and defies common sense." Lauer said in his statement, per THR. "The story Brooke tells is filled with false details intended only to create the impression this was an abusive encounter. Nothing could be further from the truth. There was absolutely nothing aggressive about that encounter. Brooke did not do or say anything to object. She certainly did not cry. She was a fully enthusiastic and willing partner. At no time did she behave in a way that made it appear she was incapable of consent. She seemed to know exactly what she wanted to do. The only concern she expressed was that someone might see her leaving my room."
Lauer continues to say that he and Nevils had many more sexual encounters after the Winter Olympics, and that, when their affair ended, they would politely interact with each other at public events when their paths crossed. "Being upset or having second thoughts," Lauer added, "does not give anyone the right to make false accusations years later about an affair in which they fully and willingly participated … my silence was a mistake." Lauer, for what it's worth, is reportedly planning a television comeback.
Update, October 10, 10 a.m.: Brooke Nevils responded to Matt Lauer's statement through a segment on NBC Nightly News on Wednesday night:
"There's a Matt Lauer that millions of Americans watched on TV every morning for two decades. And there is the Matt Lauer who this morning attempted to bully a former colleague into silence," she said in her statement. "His open letter was a case study in victim-blaming. I am not afraid of him now regardless of his threats, bullying, and the shaming and predatory tactics I knew he would and now has tried to use against me."
On Twitter, Nevils was grateful she could tell her side of the story and hopefully inspire others to come forward.