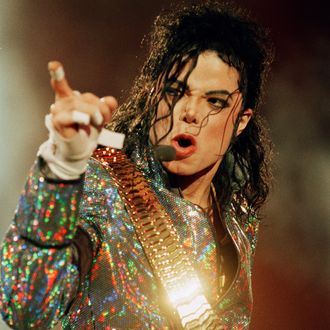 Michael Jackson
Photo: Dave Benett/Getty Images
At this point, it's looking like little can stop the Michael Jackson musical from hitting Broadway. Originally titled Don't Stop 'Til You Get Enough, but changed simply to MJ last week, the show will begin previews in July 2020, before an August 13 opening night. Written by two-time Pulitzer-winning playwright Lynn Nottage (Sweat, Ruined) and directed by Tony-winning choreographer Christopher Wheeldon (An American in Paris), the jukebox musical will play the Neil Simon Theatre.
Since the show was announced in June 2018, it's been hit by multiple controversies and issues. The January premiere of Leaving Neverland, a documentary featuring new child-molestation allegations against the singer, led many to decry the musical or call for its team to resign. In an April interview with the New York Times, Nottage and Wheeldon said they found the men in the documentary Wade Robson and James Safechuck "very believable," as Wheeldon put it, "but our position in making this show is that we're trying to make a show that's balanced." "Do I believe he was a pedophile? I don't know that I can say one way or the other," Nottage said. "I don't think any of us can say with absolute certainty, because we've been presented with some information, but Michael Jackson is dead, he's not in a position to defend himself."
Jackson's estate, involved in the musical, has denounced Robson and Safechuck as "liars." Then in February, the show canceled a planned fall pre-Broadway run in Chicago, citing scheduling issues around an Actors' Equity strike. In its own statement, the union responded, "It's incredibly disappointing that the actors and stage managers who are currently working to develop this project were not informed about a major production change before a public media announcement was made."
Still want tickets? They'll be on sale January 15.