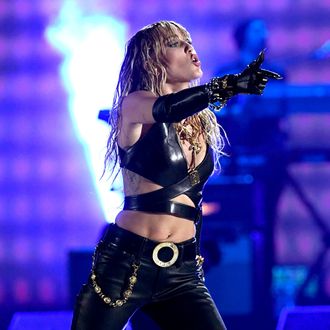 Photo: Kevin Winter/Getty Images for iHeartMedia
Unlike the rest of us, the rich and incredibly famous cannot get away with publicly making out during the breakfast shift at an açaí-bowl place. Miley Cyrus thought she could fit in one early morning erotic açaí experience in L.A. on Thursday, but TMZ spotted her (making) out with Australian musician Cody Simpson. While most patrons try very hard not to watch us making out at our açaí-bowl places, Miley doesn't have that luxury, so she first tried to poke fun at the situation on Instagram, posting a thirst trap of Simpson, before taking to Twitter with a sincere reminder: Once in a while, if we are very lucky, we might find ourselves with the opportunity to make out over an açaí bowl. Is it really so very wrong if we decide to go for it?
"I am just trying to THRIVE/survive in a 'mans' world," she wrote. "If our president can 'grab em by the pussy…,' can't I have a kiss and açaí bowl?" Having separated from husband Liam Hemsworth and briefly dated Kaitlynn Carter earlier this fall, Cyrus asks everyone to please refrain from slut-shaming her, and instead to take her açaí-bowl make out for what it is: part of the normal dating life of a very, very, very famous person.
"Don't fucking pity me, not what I'm asking for. I have a great life I wouldn't trade for 'privacy' but PLEASE don't make this awkward for me!," the singer posted. "I am trying to make light and like always MAKE FUN of myself / and the public's perception of me! Get used to me dating-this is where I am!" Concludes Cyrus, "#HotGirlFall."