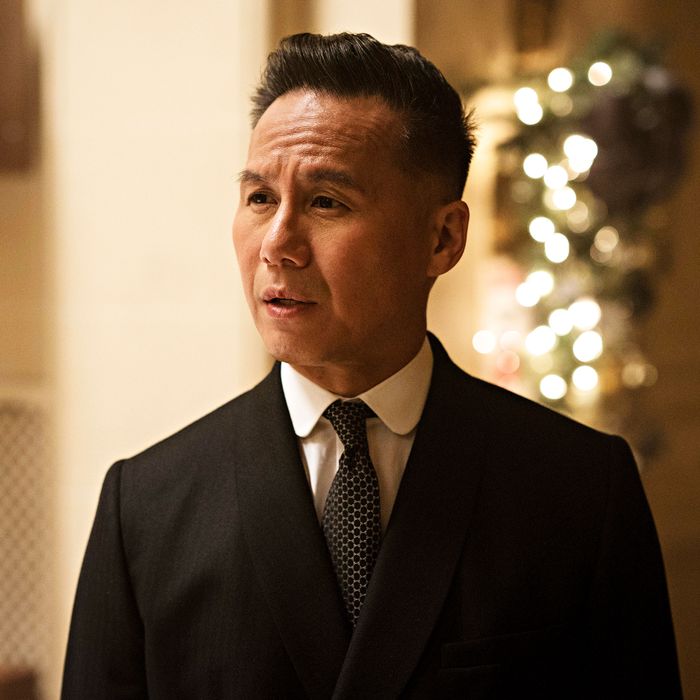 Photo: Elizabeth Fisher/USA Network
It's easy for Mr. Robot to get lost in the weeds of its complicated narrative or travel up its own ass following various flights of fancy. Sam Esmail has done a pretty decent job of paring down the story to its bare essentials while maintaining its epic scope, but Mr. Robot can still fall into the trap of being reduced to its crazy or stupid reveals. Just last week, Esmail introduced another twist, one that's supposedly been baked into the show for its entire run, involving a potential secret twin. In other words, it's rare that the series can pause and effectively tell a grounded story not beholden to outlandish rigmarole that frequently beggars belief.
Thankfully, "Forbidden," written by Courtney Looney, features a simple premise and a compelling guest turn, and showcases a few different shades from our bug-eyed protagonist. In short, Elliot must infiltrate the apartment of Olivia Cortez (Dominik García-Lorido, daughter of Andy García), the Deus Group's only U.S. account manager at Cyprus National Bank, in order to access the Group's financial records. Elliot and Mr. Robot break into the apartment without a hitch, but discover that they need a security fob to access the files, one that she carries on her person. When they find her at a bar where she has been stood up by a date, Elliot immediately wants to use her Oxycontin addiction and her child-custody agreement as blackmail material to get what they need. Mr. Robot has a different idea in mind: Actually converse with Olivia instead of casually destroying another human being.
It's a nice reversal of the usual Elliot–Mr. Robot dynamic, in which the latter constantly tries to push the former into more dangerous, destructive territory. Now it's Elliot, sporting an ice-cold self-destructive streak, who wants to bulldoze his way to Whiterose, and Mr. Robot is the one who tries to pump the breaks. When Elliot approaches Olivia, he tries to intimidate her into staying in the bar, but it mostly comes off as awkward. When Mr. Robot shows up with smooth talk and kind smiles, courtesy of Christian Slater's natural charm, she stays for another drink, forcing Elliot to actually interact with a kind stranger, even if it's in service of theft.
Malek and García-Lorido shine in the awkward first date scene, as they both are unusually forthright about their personal demons while also trying to maintain respectability. It leads to some particularly funny exchanges, like when Elliot explains he's been off morphine for nine months minus the heroin he did two days ago, or facial reactions, such as Elliot's befuddled expression when Olivia expresses condolences about his mom's death. They eventually hook up in rom-com fashion — he runs after her while waiting for a cab, a lot of harried clothes shedding mid-makeout upon arriving at home — and Elliot steals the security fob while she's asleep.
But then something slightly unexpected happens: Elliot and Olivia actually have an open conversation about their respective mental illnesses. Olivia opens up about how she fell into opioids after her mother's murder, fracturing her relationship with her father in the process. She keeps a razor blade in an empty Oxycontin bottle to remind herself that if she hates herself enough to start using again, she might as well kill herself. Elliot shares his experiences with suicidal ideation and self-loathing. The writing can be a little blunt-edged and occasionally hoary ("You know you can't scare me," Elliot tells Olivia with gut-wrenching earnestness), but the performances help it avoid clumsiness. Malek and García-Lorido sell the idea that they're two broken people approaching the second acts of lives they never thought they'd ever lead. For a brief, honest moment, as a streak of light hits their faces while sitting in the bathroom, they are comfortable and complete.
The rest of the episode is a decidedly more mixed bag. "Forbidden" opens with a 15-minute origin story of Whiterose beginning in the year 1982, where she, in the guise of a young Director Zhang (Ross Kurt Le), negotiates a deal between IBM and the Chinese government alongside Zhang's translator and lover (Eugene Shaw). Zhang comes out as trans to him that night, and though he accepts it, their love has "doom" written all over it. On the day of his lover's wedding, forced upon him by his father, Zhang tells him that he has accepted the position of minister of State Security, effectively collapsing their plans of moving to the states where they can be comfortably out. "I promise I'll find a way to make this world better, for us," Zhang tries to tell him.
At this point, you can see the grisly suicide coming, so when Zhang's lover cuts his throat with a cheese knife while Zhang screams in horror, it feels almost perfunctory. It's not just that Mr. Robot is playing into a toxic gay-suicide trope, but also that the storyline, though sensitively handled, feels so riddled with forbidden love clichés. Worse, Zhang's lover goes unnamed the entire time, rendering his death a narrative utility instead of a character moment. While his suicide at least isn't used to prop up a straight person's story, it's not much of an improvement, either.
In the present day, Whiterose decides to capitulate to Price's demands, and tells Wang Shu to set up a Deus Group meeting for Christmas Day, where they will name Tyrell Wellick as a successor. Later, Tyrell breaks into Elliot's apartment to tell him the good news, not knowing that a Dark Army van has been following Elliot since leaving Olivia's apartment. There are eyes everywhere, whether they are from Whiterose, the Dark Army, or Vera, who's back in town and hoping to bring Elliot into his drug-dealing fold. Letting people in doesn't have to hurt, like Mr. Robot says, but when there are too many people around, it can be tough to keep the bad ones out.
Orphan Code
• Sam Esmail's pop-culture fetishism might have peaked this week with the vintage The Thing commercial that plays on the hotel TV followed by an '80s-era USA Network bumper.
• It wouldn't be Mr. Robot without at least a couple clunky lines per episode. This week it's a tie between Mr. Robot claiming that Elliot keeps "flat-out throwing me a Forbidden Error" and Vera insisting his partner be more detailed because "the devil is in that shit."
• Music corner: Lot of big tracks this week! The video for Culture Club's "Time (Clock of the Heart)" plays on MTV during the '80s flashbacks. Grimes' "Flesh and Blood" soundtracks Elliot and Olivia's hookup.
• "He's into snowboarding, social-media influencing, and Raki. Classic Evan."