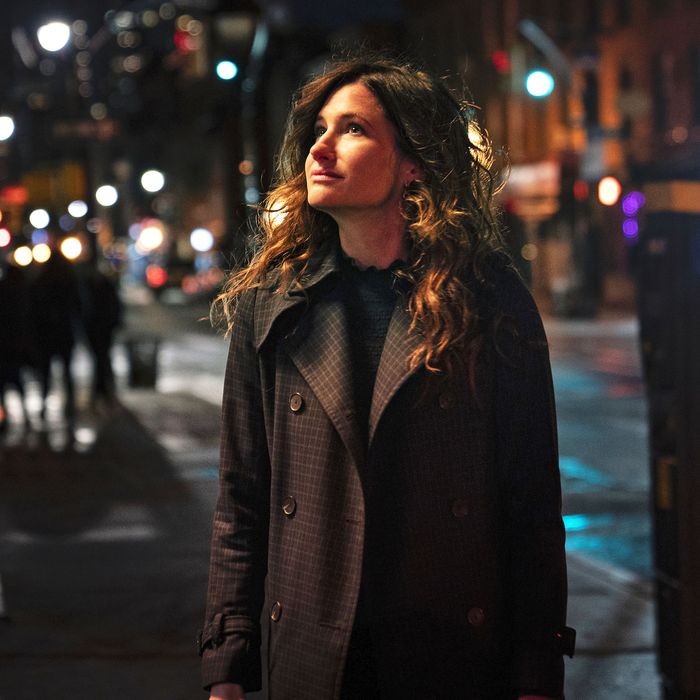 Kathryn Hahn in
Mrs. Fletcher
.
Photo: Sarah Shatz/HBO
We all desire, fiercely. Sometimes it's for that neon-bright Champagne fizzle of new lust. Other times, we hunger for that which is more concrete — that promotion, that apology, the end of gnawing loneliness. What makes Kathryn Hahn's performance so mesmerizing in Mrs. Fletcher — the new HBO comedic miniseries premiering Sunday, whose pilot is written by Tom Perrotta based on his own novel, and directed by Nicole Holofcener — is how she wears desire like a second skin. Desire isn't just felt by Eve Fletcher, it uniquely changes her.
Unfortunately, Mrs. Fletcher isn't only focused on Hahn's divorcée as she clumsily struggles with her desires, reawakened by porn and the quietude left behind as her son, Brendan (Jackson White), enters college. The series is at its most bracing when interrogating what happens when fantasies meet the oxygen of reality, but when focusing on the story lines of everyone in Eve's orbit, particularly Brendan, Mrs. Fletcher unravels slightly, revealing an inability to properly thread political considerations into the series's larger concerns about lust, desire, and the power of fantasy.
Mrs. Fletcher frequently struggles to match the naturalistic air of its star, lacking the necessary precision to weave together its sometimes zany sexual humor and tender drama, and glides over the prickly concerns that intersect with lust. It's also misguidedly focused on Brendan's coming-of-age, using it as a launching pad to half-heartedly explore the grayer shadings of white masculinity shaped by a culture that hates women — which is exactly where the series comes into problems.
Eve is not as close to her son as she likes to believe, and save for a crucial moment in the pilot, seems largely unaware of the fact that she's raised a terror representative of a certain kind of cis white masculinity: smugly arrogant, empty behind the eyes, prone to slurs, unaware and uninterested in the world outside of himself. He's the kind of kid who has coasted through life, with little to regard as positive. "I'm not a straight cis white guy. I'm Brendan!" he laments to paramour Chloe (Jasmine Cephas Jones). "I'm a nice guy. I'm funny. In high school everyone liked me, and now I'm just the bad guy."
After watching the entire seven-episode miniseries, I was left with a lot of questions about Brendan's story line and what it was meant to illuminate. Brendan categorically isn't a nice guy, even just on the surface. The show is aware of this, but also too tentative about taking him to task properly, which is especially galling given how his ignorance and inability to give credence to other people's boundaries gives way to a kind of violence as the show continues. The show isn't astute enough when navigating the choppy waters of when the political and personal bluntly intersect, which also is apparent in the story line regarding Margo (played with warmth by Jen Richards) and her life as a trans woman.
Mrs. Fletcher exists within a corner of television history framed by series like Sex and the City and Girls, shows that consider the internal machinations and sexual lives of white women in order to say something poignant about womanhood. Mrs. Fletcher isn't always successful at this because what it has to say is ultimately rather thin. Furthermore, since it takes its cues from the banal porn fantasies that Eve is inundated with, its imagery isn't always that revelatory. But the great directors involved with the series — Holofcener, Liesl Tommy, Carrie Brownstein, and Gillian Robespierre — make evocative use of the space between characters, charging it with meaning. It's intriguing to watch how Eve's fantasies screech, halt, and mutate when confronted with a reality that is more awkward, even grim, than the fantasies can make room for — although this often relies on a trite understanding of things like sex work and the needs of others.
What is revelatory is Hahn herself — that Mrs. Fletcher is interesting at all is due to her presence. Hahn isn't just drowning in the desire to be touched, to have threesomes, to be with women, she's made graceful within these fantasies, which is in harsh contradiction with the awkwardness she displays in day-to-day life. She's able to display raw, hot need when finding an unexpected connection at a party, but also cold indifference when faced with her ex-husband, played by Josh Hamilton, in whom you can see the outline of Brendan's man-child nature. But for all of Hahn's tremendous skill, her presence isn't enough to paper over the cracks in the series itself, which struggles to find anything bold or new to say about women's sexuality or coming of age later in life.