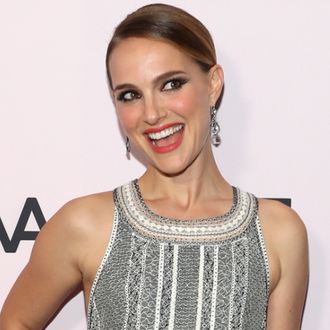 Photo: Jerritt Clark/Getty Images for Dom Pérignon
Natalie Portman has a degree from Harvard University, an Academy Award and two Golden Globes, but she can go ahead and throw all that right in a big ol' loaded Dumpster now that she has the highest honor a girl born in the '80s can receive: a Baby-Sitters Club book, signed by the author herself, Ann M. Martin.
"Today was a VERY IMPORTANT day for me," the actress gushed on Instagram. "I read every single Babysitter's Club book when I was a kid. Once when I was 9, I waited in line for hours at my local bookstore to meet Ann M Martin. And today I got this in the mail from her." Based on Portman's pic, the BSC edition she received seems to be 1989's Kristy and the Walking Disaster, a seminal work of the series in which Kristy starts her softball team Kristy's Krushers and must coach them to victory against Bart's Bashers, despite her crush on the coach, Bart Taylor.
"I feel so lucky that I grew up with books about girls who worked together, supported each other, were entrepreneurs and who all had very different personalities." In her inscription, Anne M. Martin writes: "For Natalie Portman - BSC 4-ever!" Concludes the actress, "I still identify as a Kristy mixed with Stacey and a dash of Dawn. Which babysitter are you?"