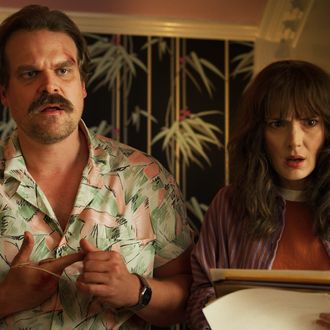 Netflix keeps getting bigger, but it's not growing quite as fast as it had been — particularly in the United States. The streaming giant added 6.8 million subscribers overall during the third quarter of 2019, a three-month period marked by new seasons of established hits such as Stranger Things and Orange Is the New Black. While the 6.8 million gain was a bit below the 7 million additions Netflix had projected, it still represented a spike of 12 percent over the same July-through-September period last year and the company's best-ever third quarter in terms of new sign-ups. Almost all of the company's growth in the last quarter came from international markets, with only about 500,000 new U.S. subscribers coming onboard. And with rival streaming platforms from Disney and Apple about to launch, Netflix is telling investors to expect some turbulence in the short term.
The good news for Netflix from Wednesday's numbers is that the company didn't have a rerun of its not very good second-quarter performance. After years of nonstop growth, Netflix reported in June that its subscriber base had decreased in the United States last spring, marking the first such decline for the company since the Qwikster debacle of 2011. Instead of an expected gain of 300,000 during the second quarter of 2019 (April through June), Netflix actually lost about 130,000 homes in the U.S. Wall Street's reaction to the news was severe: The company's share price, which was a bit above $360 right before the spring earnings report, tumbled to as low as $255 at the end of September, though it has rebounded a bit since, closing at around $286 today before the latest earnings figures were announced.
By contrast, while Netflix didn't quite live up to its own forecasts, it resumed its growth in the U.S. during the third quarter and, more important, did a bit better than had been forecast internationally. In after-hours trading, Netflix stock was way up, jumping well over the $300 mark, even though the company said it expects that its year-end 2019 subscriber numbers won't be as robust as it had been projecting. Netflix now says it will likely end 2019 with 26.7 million net additional new subscribers, about 2 million fewer than the 28.6 million it added in 2018. That's hardly a disaster: Netflix is still going to end 2019 with nearly three times the number of subscribers it had five years ago. But for a company used to not just growing but growing at a faster clip each year, this sort of a slowdown in not insignificant. Netflix told investors it believes "the minor elevated churn in response to some price changes" — i.e., people canceling because of price hikes — "and new forthcoming competition" is what's slowing its rate of growth. It's also conceding that the debuts of Apple TV+ and Disney+ next month, along with other services coming online in 2020, will have an impact on the company. "The launch of these new services will be noisy," Netflix told shareholders and investors. "There may be some modest headwind to our near-term growth, and we have tried to factor that into our guidance."
But Netflix says its long-term outlook is fine. In what it calls the overall competition for entertainment screen time, Netflix says it believes there's still "a very large market opportunity" because its use in the U.S. is less than 10 percent of all TV screen time here, allowing for plenty of room to grow. "Many are focused on the 'streaming wars,' but we've been competing with streamers (Amazon, YouTube, Hulu) as well as linear TV for over a decade," Netflix wrote in its investor letter. "The upcoming arrival of services like Disney+, Apple TV+, HBO Max, and Peacock is increased competition, but we are all small compared to linear TV. While the new competitors have some great titles (especially catalogue titles), none have the variety, diversity and quality of new original programming that we are producing around the world … We expect we'll continue to grow nicely given the strength of our service and the large market opportunity."
As has become common in Netflix investor letters, the company included some non-verified viewing stats to demonstrate the popularity of its content. It said Stranger Things has had its most-watched season yet, with 64 million member homes watching at least one episode of season three. Similarly, it said 32 million homes had sampled the critically hailed drama Unbelievable within a month of its release. On the film side, a movie many on social media dunked on — Tall Girl — was seen in 41 million homes within a month of its debut. None of these numbers have been verified by third parties, but at least in the case of Stranger Things 3, there's evidence to suggest that Netflix isn't just making this data up. Ratings giant Nielsen, which measures U.S. viewing of Netflix shows on TV screens (but not on mobile) said in July that nearly 20 million viewers here had seen the first episode of the show's new season during its first weekend of release.