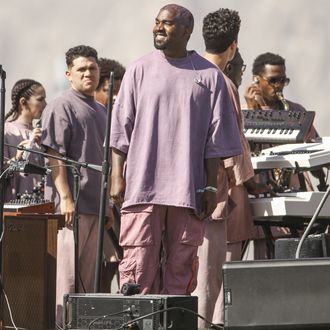 Photo: Rich Fury/Getty Images for Coachella
Remember last month when we spent a full weekend waiting for Kanye West's new album Jesus Is King to arrive, clinging to the hope that, because he played it for audiences in multiple cities, he might let the rest of us have a listen? What fools we were! Have we learned nothing from last year's non-stop album drop marathon? Well, the answer is no, because Yeezy himself has teased a new release date for his new music: October 25. According to Forbes, the rapper reportedly told attendees of Saturday's Jesus is King: A Kanye West Experience at George Washington University that the unwashed masses would finally get an official release of some kind on October 25. The reason for the delay? Said West, "I'm making it better for ya'll."
This date should come as no surprise to those of you who hung on Kim Kardashian West's every tweet back in September, hinting at her husband's Friday, September 27 album release, then reassuring fans that Jesus Is King would definitely, absolutely, for sure arrive on Sunday, September 29. When both those days came and went without Jesus arriving, October 25 became the new goalpost. That's the release date for West's companion IMAX film, also named Jesus Is King, a documentary-style movie made at at James Turrell's installation art piece Roden Crater in Arizona that features "songs arranged by West in the gospel tradition along with music from his new album." If he somehow manages to push back both his album release and the premiere of his new film… well, frankly, we'd just be impressed. Kanye's not going to do anything Kanye doesn't want to do, that's for sure.
Update October 17: IMAX has released a teaser trailer for the Nick Knight-directed film. The trailer is mostly Bible quotes, but tickets are being sold. So it's on, right?
Update October 21: Kanye West, the boy who cried music, officially tweeted the new release date for Jesus Is King, confirming October 25. Jesus Is King also got a new graphic, which hopefully means things are getting real, people. T-minus four days!