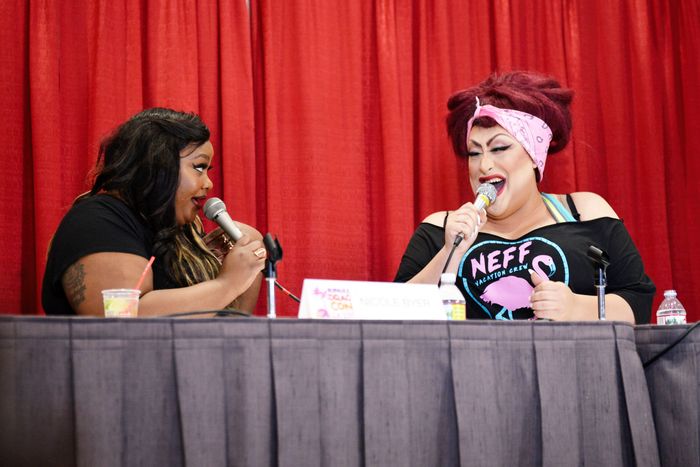 Nicole Byer and Vicky Vox speak at RuPaul's DragCon LA 2019.
Photo: Chelsea Guglielmino/Getty Images
Are you new to comedy podcasts, overwhelmed by the array of options, and wondering where to begin? Then welcome to Start Here, a recurring guide to the best comedy podcasts available — and our recommendations for which episodes are the best entry points to your next auditory obsession.
It's simple. Comedian Nicole Byer (Loosely Exactly Nicole, Nailed It!) is single and she wants to know why. Anyone in her position would. Successful, smart, and sexy, Byer is a most eligible bachelorette. So why has she been sans significant other throughout her adult life? On her podcast Why Won't You Date Me?, she sets out to find the answer. A show all about "the troubles of dating as a comedian, as a black woman, as a fat lady," Why Won't You Date Me? connects Byer's personal experiences to a larger discussion about dating in today's technology-dependent landscape.
Debuting in November 2017 with a teaser episode, Why Won't You Date Me? is as boisterous and brazen as Byer is. The opening jingle, which reiterates the question posed in the podcast's name, instantly sets the tone with Byer's increasingly goofy delivery before she drops what has become the podcast's logline: "I'm cute, I'm funny, I got a fat ass, and I love giving blow jobs." These, she argues, are some of the many attributes that make her datable. Alas, almost two years later, Byer is still single and continues to invite guests to discuss why on a weekly basis as part of HeadGum's (including Doughboys and Punch Up the Jam, among others) roster.
Over the course of 100 episodes, Byer's energy, openness, and performance prowess have never faltered, and the podcast thrives when the guests rise up to meet her at her level. More often than not, it's comedians who drop in to weigh in on Byer's love life. With everyone from Sasheer Zamata (who co-hosts the podcast Best Friends with Byer) to Joel Kim Booster joining in, there's no shortage of lively banter. Byer has also invited former flames on, which creates quite the candid conversations. But the show is at its best when Byer adds crowd work on top of the animated and frank chats. This brings us to the live episode "Having Sex in Drag (Live From DragCon 2019 w/Vicky Vox)," which is an exemplar of live podcasting.
The energy in this episode, which was recorded live at RuPaul's DragCon, is contagious. Byer and guest Vicky Vox (DWV and Magic Mike XXL) waste no time cracking each other up as they try to determine why they're both perpetually single. Byer introduces herself by saying that she'll "let you cum in [her] butt and then [she'll] squeeze it out and drink it." Vox responds with uproarious laughter. The two carry on this way for the duration of the podcast, with either Byer or Vox dropping a bawdy quip and the other cackling in response. A few highlights from the opening include Byer screaming, "Let's talk about shit and cum!," Vox simulating giving head after coyly stating, "I love a pickle!," and both doing crowd work, in which they quickly catch their stride by chiding the sole child in the audience. To be fair, what the fuck is that kid doing there? It's a nonstop expression of sex positivity delivered in an almost manic fashion that will get you hyped for what's to come.
Moving from raunchy to raw, they dive into their dating experience or lack thereof. Vox has never been on a date, which truly floors Byer. Make no mistake, though: Vox is still getting hers. This revelation opens up the floor for a discussion about having sex as a drag queen, which often comes with a lot of suitor stumbles in the form of an exhausting line of questioning: "Are you keeping your penis? Do you want tits? But don't tell my wife. You can stay in this house," recalls Vox. She also shares that despite not dating, she is currently interested in getting married, but that she would like a warning leading up to it; "I do not like a surprise, 'cause I'll be like, 'Fuck you, byyye.'" The best part of all of this being that Vox generously shares her experiences and is just as willing to dish as Byer.
Heightening the episode is Byer's crowd work. She knows how to command a room and understands the differences between a studio and a live recording. This specific skill explains why her live episodes are better than the majority of live podcast episodes out there. Instead of carrying on as usual, she actively engages the audience throughout the taping, not just during the obligatory Q&A segment at the end. Fueled in part by an enthusiastic audience that keeps AirDropping photos to Byer, she's down to clown. But let's be honest: She was going to get there regardless. Quick with a loving call-out, she pays as much attention to her audience as she expects them to pay to her, creating an admirable level of mutual respect. It also leads to hilariously harsh but heartwarming shout-outs, such as Byer yelling, "Wow! That person is trying to stunt on us. They said, 'Two years,' then kissed their boo. Fuck you!" after two fans kiss one another to confirm that they are not single like Byer and Vox.
It's when this combination of lively delivery, willingness to share, and ability to work the room is met by Vox that the podcast fires on all cylinders. An elevated take on the paint-by-numbers comedy-interview podcast that far outshines many in the genre, Why Won't You Date Me? is one of the most forthcoming and funny podcasts around, and this episode offers a perfect introduction by getting to the gist, which goes beyond the titular question and into the hilarious depths of human connection.