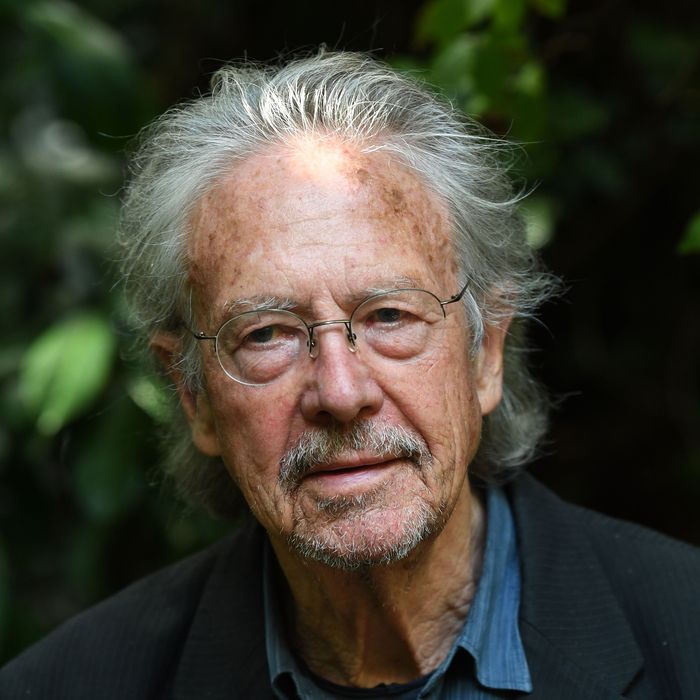 2019 Nobel Laureate Peter Handke.
Photo: Alain Jocard/AFP via Getty Images
On Thursday, the Swedish Academy awarded the Nobel Prize in Literature to Polish writer Olga Tokarczuk and Austrian playwright and novelist Peter Handke. The rare double award came after the academy punted last year, in the wake of allegations of sexual misconduct and embezzlement, for the first time since World War II.
Tokarczuk, officially the winner of the 2018 prize, was a predictable and reasonably safe choice (with solid odds in the U.K. betting markets). Handke, taking the 2019 award for "an influential work that … has explored the periphery and the specificity of human experience," was another story — his name is associated with hard-right nationalism as much as literary posterity. After last year's Nobel scandal, which led to the imprisonment of Jean-Claude Arnault, the husband of a member of the Swedish Academy, and the departure of numerous Nobel Committee members, the recognition of Handke's work brought swift backlash online and in the press.
Handke's polarizing reputation stems primarily from his relationship with the late Serbian president Slobodan Milošević, a nationalist war criminal who was imprisoned for ordering ethnic cleansing and genocidal killings during the Bosnian War. Handke gave an infamous eulogy at the president's funeral, following his death in a Hague prison cell, and once called the politician "a rather tragic man. Not a hero, but a tragic human being. I am a writer and not a judge."
The Nobel's extended citation for Handke, acknowledges the controversy, but quickly distances both him and the committee from it: "Although he has, at times, caused controversy he cannot be considered an engaged writer in the sense of Sartre, and gives us no political programs." But the idea that the academy is apolitical would be news to anyone who's ever hoped to be on its list. It's long been believed that Philip Roth missed out on the prize (which is only awarded to living writers) as a result of his perceived regressivity on gender and objectification of women. The real news is that its choice this year leaned too far to the right.
According to the Guardian, the academy had hoped to depart this year from "male-oriented" and "Eurocentric" winners (15 out of the 115 laureates are women). In recent years it's tacked in novel directions, awarding Svetlana Alexievich in 2017 — a journalist and oral historian but not a fiction writer or poet — and, of course, the marginally literary Bob Dylan in 2016. So Handke is in many ways a return to form.
Compounding outrage with irony is the fact that in 2014, Handke himself told an Austrian newspaper, "The Nobel prize should finally be abolished," calling the prize a "false canonization" of literature. (Slovenian Marxist Slavoj Žižek told the Guardian that their choice of Handke "proves that he was right.") Interviewed on-camera this morning by Agence France-Presse, Handke said, "I'm not a winner. My nature is not the nature of a winner." When a reporter asked what the award meant to him, he replied, "Freedom… as if I were — which is not the true — as if I were innocent."
Though a Swedish Academy spokeswoman has declined to comment on the committee's decision-making in response to several news outlets, PEN America issued a statement expressing "deep regret" over their decision: "We are dumbfounded by the selection of a writer who has used his public voice to undercut historical truth and offer public succor to perpetrators of genocide."
Perhaps next year the academy can award a nationalist who might be a little more grateful — and give the Peace Prize to President Trump in return for securing "victory for the world."