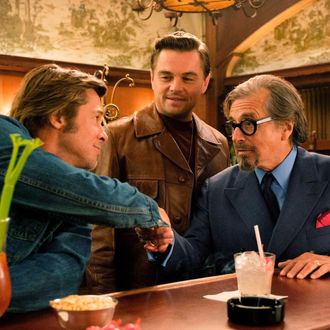 Will there be more minutes in Musso & Frank's?
Photo: Andrew Cooper/Sony Pictures
Quentin Tarantino isn't cutting anything from his latest film to get it a China release, but he is adding ten more minutes to Once Upon a Time in Hollywood for another theatrical run in North America. Sony announced today that QT's ode to Tinseltown in 1969 will return to 1,000 theaters across the United States and Canada this Friday with ten minutes of additional footage at the beginning and end of the film, comprising four new scenes. That could be more minutes of Brad Pitt making macaroni and cheese, more minutes of Bruce Dern yelling while he's very drowsy, more minutes of Dakota Fanning scowling, or more minutes of the precocious little girl on the back lot condescending to Leonardo DiCaprio. So many minutes to play with!
The rerelease announcement comes shortly after it was confirmed that Tarantino would be making no cuts whatsoever to OUATIH to help secure an assuredly lucrative big-screen bow in China. The Hollywood Reporter broke the story that the daughter of Bruce Lee reportedly appealed to China's National Film Administration, requesting changes to the film that would omit its controversial depiction of the martial-arts legend. (No official reason has been provided, however, for the canceled China release.) The director refused to take anything out of his film, effectively leaving a lot of money from Chinese filmgoers on the table, and is instead adding more time to Once Upon and sending it out for a second theater run back home.