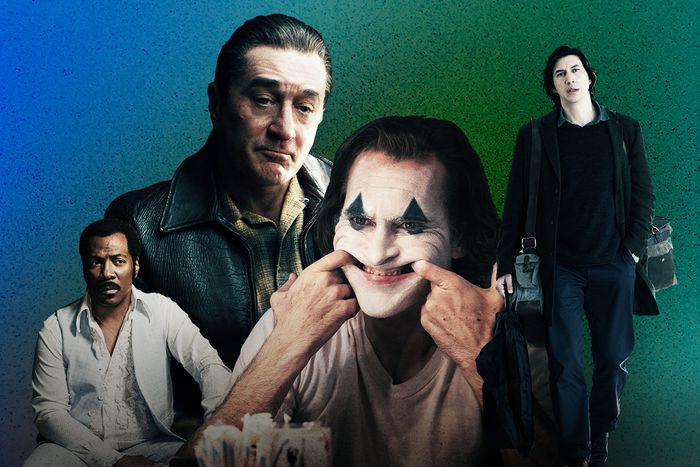 Eddie Murphy in
Dolemite Is My Name
, Robert De Niro in
The Irishman
, Joaquin Phoenix in
Joker
, and Adam Driver in
Marriage Story
.
Photo-Illustration: Vulture and Photos by Netflix and Warner Bros.
"Best Actor is going to be a nightmare this year," one Oscar strategist told me this summer, pointing to the bevy of high-profile male performers who seemed likely to make a run during the fall Oscar race. Compared to Best Actress, which leaves out worthy performances on the regular, Best Actor has not been stacked with heavyweights of late, and recent contests have seen the Academy scrounging through the season's bargain bins to find a fifth nominee. Not this year. With most of 2019's ostensible contenders running the festival gauntlet with aplomb — we'll miss you, Timmy — we're left with a field that boasts ten-plus serious claimants. Only five will hear their names called come nomination day. Which of them will make it in? Here's your rundown. Start placing your bets.
(Note: This list assumes that Christian Bale and Tom Hanks will run in the supporting-actor category. Additionally, apologies to Paul Walter Hauser of Richard Jewell, the dewy young Brits of 1917, and the male cats of Cats, all of whose films have yet to screen.)
Joaquin Phoenix, Joker
The awards history: Three Oscar nominations, most recently for The Master, but zero wins.
In his favor: Transformations rarely get more committed than the one Phoenix turns in on Joker, with the actor losing 52 pounds and contorting his newly gaunt frame into disturbing shapes. The strain of Arthur Fleck's existence is evident in Phoenix's every grimace, as is the corresponding lightness when the character begins to embrace his dark side. Though the film has been beset by controversy, Phoenix has managed to dance around it as nimbly as Joker does on the Murray Franklin show. With director Todd Phillips attracting most of the flack, Phoenix's own press tour has been selling him as an ultra-serious thespian who has suffered from his dedication to his craft, a narrative that has historically paid dividends in this category. That he remains one of the best actors of his generation who hasn't won an Oscar adds additional fuel to Phoenix's fire.
Working against him: While Phoenix gives his own inimitable spin on the role, he's also playing the same comic-book character that Heath Ledger already won an Oscar for, and a certain amount of comparison may be inevitable. Furthermore, while even the Academy members who aren't sure what to make of Joker seem to have fond words for Phoenix, for a performance to go all the way, viewers usually have to enjoy spending time in a character's presence. Will they be able to stomach this noxious Joker, who lacks even the reptilian charisma of Ledger's version?
Adam Driver, Marriage Story
The role: Charlie, a New York–based theater director who is moderately upset that his wife (Scarlett Johansson) is divorcing him and very upset that she's moving to L.A.
The awards history: After spending the last five years becoming every auteur's favorite young actor, Driver got his first nomination for 2018's BlacKkKlansman.
In his favor: Since Girls, Driver has done it all, toggling between tiny indies like Paterson, supporting parts in prestige films like Silence, and also the biggest franchise in the world. Marriage Story seems like it should be his big Oscar breakout — a leading role in a film that's poised to be a major awards contender, with plenty of meaty scenes viewers will remember, including a no-holds-barred shouting match, a musical number, and an extended comic sequence involving one fateful pocketknife. Driver is also afforded many opportunities to show off his range; you feel his vulnerability and confusion, but he's also such a jerk at times that you understand completely why Johansson is leaving. His character's domestic concerns may be smaller than some of the competition's, but they'll likely ring true to voters, many of whom have also struggled through bitter divorces and/or terrible experiences trying to put in a car seat.
Working against him: Though the 35-year-old Driver is at about the age where Oscar starts to take notice of male actors, he doesn't quite have the track record of his competition. Nor does he seem likely to gladhand. As the New York Times noted at Marriage Story's NYFF premiere, the actor "arrived one minute before showtime, barely stepped onto the red carpet, and posed for a minimum of pictures; no interviews."
Robert De Niro, The Irishman
The role: Mafia hitman Frank Sheeran, whose decades-spanning exploits in the world of organized crime and brushes with major historical figures make him something close to the South Philly Forrest Gump.
The awards history: De Niro took home Oscars for The Godfather: Part II and Raging Bull during the period The Irishman covers, and has five other nominations to his name.
In his favor: Martin Scorsese's big Netflix movie is pegged to be a major player in this year's race, and De Niro is at the very center. The Irishman has been earning praise as a Mob drama that functions as a subtle critique of Scorsese's earlier work, and De Niro's performance likewise strips all of the coolness and authority out of Sheeran — he's a blank functionary who follows orders without asking too many questions, no matter whom it hurts. There's a slight innocence to him, too, despite all the murders; you get the sense that the movie's Sheeran would have been just as happy if he was actually painting houses (the movie's code word for assassinations). It's a very different kind of performance than we've come to expect from De Niro recently, and just as they did for Silver Linings Playbook, voters may be inclined to give the actor a nomination as thanks for actually trying again. Don't underestimate the emotional resonance of seeing De Niro and Scorsese reunited after all these years, either.
Working against him: This is a modest, self-effacing performance, and voters may gravitate toward contenders with a little more force. Though De Niro is the face of Scorsese's CGI de-aging efforts — which may be its own wrinkle, or lack thereof — plot-wise he often takes a backseat, as Sheeran spends much of the film acting as a go-between for bigger, more dynamic characters. The real Sheeran may have done even less: There are indications that he might have made everything up, the kind of micro-controversy that could factor into a close race.
Leonardo DiCaprio, Once Upon a Time in Hollywood
The role: Rick Dalton, a washed-up TV cowboy whose fortunes change when Sharon Tate (Margot Robbie) moves next door to him in 1969.
The awards history: A long-awaited Best Actor trophy for The Revenant, plus four other acting nominations and a nod for producing The Wolf of Wall Street.
In his favor: Like The Irishman, Once Upon a Time in Hollywood is generally expected to be a strong contender, and DiCaprio anchors his director's singular tone, investing the buffoonish Dalton with equal amounts of pathos and humor. Actors playing actors often have a leg up in the awards race, and I suspect DiCaprio's colleagues can empathize with his self-excoriating meltdown on the set of his latest Western and thus feel every bit of his triumph when he finally nails the take.
Working against him: Once Upon a Time had as good a run at the box office as Sony could have hoped, but there's a chance that DiCaprio could lose a bit of steam as the July release gets overtaken by newer and buzzier titles and co-star Brad Pitt gobbles up most of the movie's awards attention. It's also worth noting that DiCaprio just won this trophy for his last movie, an honor that was preceded by months of hoopla about his illustrious body of work. In a tough field, could Leo get left off by voters who feel they've already given him his due?
Eddie Murphy, Dolemite Is My Name
The role: Rudy Ray Moore, an aging vaudevillian who in the 1970s reinvigorated his career through the comedic persona of Dolemite, whose filthy rhyming jabs made him one of the forefathers of hip-hop.
The awards history: A supporting-actor nomination for Dreamgirls, with his lack of a win being the subject of some fascination.
In his favor: Oscar loves a comeback narrative, and Dolemite arrives as the vanguard of a three-pronged advance from Murphy, who is set to make his grand return to SNL in December and is working on a return to stand-up comedy. The movie's a fitting merger of character and narrative: Moore's comeback shades into Murphy's, and Murphy's shades into Moore's, until they become one and the same. Dolemite has a ramshackle charm that should play well with voters who are looking for easy, breezy fun, and if enough Best Picture contenders decide they want the heft of running in Drama at the Globes, Murphy's chances of taking home the Best Actor in a Comedy prize feel strong.
Working against him: Critics have generally been charmed by Dolemite, but voters who prefer more gravitas may discount Murphy's performance. While the comedian has been careful to present on the circuit as a humble, chastened figure, it's also possible the same antipathy that sank his Dreamgirls campaign could bubble up again. Finally, we need to account for the Netflix issue: The streamer has four entrants in this year's Best Actor field, and of those, Dolemite feels like the weakest all-around contender. Though the actors' branch seems less hostile to Netflix than others — half of them have probably cashed a check from the company recently — it feels wild to assume they'll hand the streamer 80 percent of the spots.
Jonathan Pryce, The Two Popes
The role: Cardinal Jorge Bergoglio, the man soon to be known as Pope Francis and, shortly thereafter, Cool Pope.
The awards history: Zero Oscar nominations, though Pryce does have a small handful of Emmy, Globe, and BAFTA nominations and won Best Actor at Cannes for Carrington.
In his favor: It's always hard to bet against an actor playing a beloved historical figure, and in Bergoglio Pryce has nabbed one of the most cherished leaders of our age. Academy members often like to feel like they're voting for the character they're choosing, and The Two Popes gives progressive-minded viewers, most of whom are not members of the College of Cardinals, the chance to finally mark a ballot for Pope Francis. I should also mention that the Vatican odd-couple dramedy was written by Oscar good-luck charm Anthony McCarten, whose brisk, lighthearted scripts have previously won Best Actor trophies for Eddie Redmayne, Gary Oldman, and Rami Malek.
Working against him: Though the 72-year-old Pryce has worked steadily for decades, he has never quite had a profile high enough to make for a career-achievement nomination. He also disappears from this movie for long stretches, as the movie flashes back to Bergoglio's moral struggles under Argentina's military junta, which feature Juan Minujin as the young priest — sections that are unanimously regarded as the film's low point. The Two Popes may also suffer from the same Netflix issue as Dolemite: It feels like a successful run in theaters could give this crowd-pleaser a lot of buzz, but as of now the movie's scheduled to be the last of the streamer's big contenders to hit limited release.
Antonio Banderas, Pain and Glory
The role: An aging Spanish director suffering from health issues and heartache, whose name is not Schmedro Schmalmodóvar. (It's "Salvador Mallo.")
The awards history: In his three decades in Hollywood, Banderas has yet to be nominated for an Oscar, though Pain and Glory did win him the Best Actor prize at Cannes, so things are looking up.
In his favor: Like De Niro, Banderas is also making an emotional reunion with the director who gave him a shot all those years ago, and he turns in a tender performance that's a notable departure from the swaggering roles that made him famous. On the face of it, the role might seem almost a little too Oscar-y — there's illness, drug addiction, and lost love — but Pedro Almodóvar and Banderas balance things out with frequent infusions of puckish wit. Voters may have a hard time resisting the opportunity to hand the Spanish actor his first career nomination.
Working against him: Banderas has been a crack campaigner on the trail so far, perfecting a buddy act with Almodóvar that has festival audiences in stitches, while also sitting for a series of candid interviews about his recent heart attack. Unfortunately, he'll soon be called back to Spain, where he's directing and starring in a stage production of A Chorus Line. For a small Spanish-language film like Pain and Glory, losing its most effective pitchman could be a tough hurdle to overcome.
Adam Sandler, Uncut Gems
The role: Howard Ratner, a scuzzy New York jeweler whose interlocking system of get-rich-quick schemes becomes a house of cards resting upon the fluctuating playoff performances of Kevin Garnett.
The awards history: No Oscar nominations, but he did get a Globe nom for Punch-Drunk Love.
In his favor: The Safdie brothers' last film, Good Time, helped cement Robert Pattinson's career reinvention. (More on him later.) Now they're trying the same trick with the Zohan. You probably will not like Howard — his estranged wife, played by Idina Menzel, accurately pegs him as the most annoying person she has ever met — but as his plans go haywire, his implacable faith that they'll still pay off imbues him with a strange charisma. A24 seems to think that this is the movie where the Safdies make a Lanthimos-esque leap to awards respectability, and they're likely to give Sandler's transformation a big push, even if the actor himself does not exactly go hard in the paint.
Working against him: Awards-wise, there's a lot about Uncut Gems that feels slightly iterative. Complaints that the film itself is just a bigger-budget Good Time aside, Sandler's campaign has the bad luck to be pushing the same basic narrative as Eddie Murphy's, for a movie that's far more grim. I'm curious, too, how well this frenetic film plays with voters who don't have the bebop beat of 42nd Street pulsing through their veins.
Daniel Kaluuya, Queen & Slim
The role: Slim, a young black man who goes on the lam after he and his Tinder date (Jodie Turner-Smith) have a fatal run-in with a racist cop.
The awards history: One nomination for Get Out.
In his favor: Oscar voters have tended to reward political salience in their picks recently, and you won't find many films this year timelier than Queen & Slim, the feature debut of music-video director Melina Matsoukas. Kaluuya turns in a layered performance that's miles away from his roles in Get Out and Widows, starting as an easygoing Everyman and then, as the two lovers become cause célèbres, capably shouldering the weight of the film's mythmaking.
Working against him: Queen & Slim has frequently been touted as a '19 Bonnie and Clyde, but I get the sense that Universal isn't quite sure how much of an Oscar play it is. Despite the influx of new members, the Academy still tends to favor a warm liberal humanism. The movie's politics, while not exactly radical, may be a turnoff for voters looking for a feel-good message.
Taron Egerton, Rocketman
The role: Reginald Dwight, a North London mama's boy who achieves fame and fortune once he becomes the razzle-dazzle musical superstar Elton John.
The awards history: A nomination for BAFTA's Rising Star Award in 2016.
In his favor: Egerton is charting the same awards path that led Rami Malek to the podium just last year: Be very charming in a biopic of a British musical legend of the 1970s. Rocket Man and Bohemian Rhapsody share the same director, supporting character, and many similar scenes, and you'd think the young Welshman would have at least one leg up — he actually did his own singing. Getting in for a May release is hard, but as if on cue, here comes the real Elton John with a steamy new memoir that's put him back in the headlines again. Can John transfer some of the buzz over to Egerton?
Working against him: That Egerton is hoeing the same ground as Malek could ultimately work against him — who wants to fall for the same magic trick twice? (Particularly when the second time around grosses only a fraction of its predecessor.) His best hope may be to make a strong showing at the Globes and prove so winning there that voters can't help reconsidering his case.
Robert Pattinson, The Lighthouse
The role: Ephraim Winslow, a turn-of-the-century lighthouse worker who gets mixed up in what maritime historians call "some crazy shit."
The awards history: A perfect ten-for-ten track record at the MTV Movie Awards, including four straight wins for Best Kiss.
In his favor: Voters who want to see actors punish themselves will get a lot out of The Lighthouse. Gasp as Pattinson bludgeons a seagull to death! Laugh as he interacts with every bodily fluid known to man! Thrill as he's slowly driven mad by dark eldritch magic! It's a fully committed performance, and as Pattinson prepares to step into the Batsuit, this could be the final opportunity to reward him for one of the most surprising career turnarounds of the 21st century.
Working against him: At the risk of understatement, this black-and-white period piece about masturbating lighthouse keepers is not your usual Oscar fare. Pattinson will have to hope that voters intrigued by co-star Willem Dafoe's supporting-actor buzz fall hard enough for The Lighthouse to honor both men.