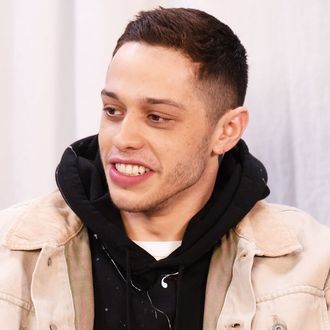 Photo: Daniel Boczarski/Getty Images for New York Magazine
Two whole episodes of Saturday Night Live have now aired, and neither featured Pete Davidson oversharing about his newfound romance with showbiz royalty Margaret Qualley or breaking into the middle of a sketch because Kenan Thompson was there. The new season has now featured the likes of Larry David, Maya Rudolph, and even Matthew Broderick, but current cast member Davidson was nowhere to be found. The show's young gun (not to be confused with Machine Gun Kelly, Pete's BFF) was actually off pursuing another dream of his. He's currently filming the new Suicide Squad movie with director James Gunn and co-stars Margot Robbie, Daniela Melchior, Steve Agee, Sean Gunn, Joel Kinnaman, Flula Borg, and Nathan Fillion. And we know this thanks to Gunn's social-media presence.
Last Saturday, the squad saw a screening of Joker in Atlanta. Pete's role in the new film still remains a mystery, so there is no telling when the prodigal son will return to 30 Rock. But are we that desperate to spend a portion of "Weekend Update" hearing how Andie MacDowell feels about her daughter dating Davidson? We can do that right now. "She has a beautiful relationship with him but I don't want to step on her relationship too much," Andie MacDowell told People at Paris Fashion Week. "They have a nice relationship." That's Pete Davidson, everyone! From "Weekend Update," I'm Colin Jost! He's Michael Che! Good night!
Update, October 6: Davidson's absence was addressed in SNL's second episode during "Weekend Update," a segment that had previously indulged Davidson in talking about his personal life. (As opposed to, you know, topical comedy.) "A man who drove his car to a music festival still cannot remember where he parked his car a week after the show," Colin Jost said during the segment. "Well, we hope you make it back soon, Pete."
Update, October 12: Davidson returned in SNL's third episode after a trip to the Upside Down.