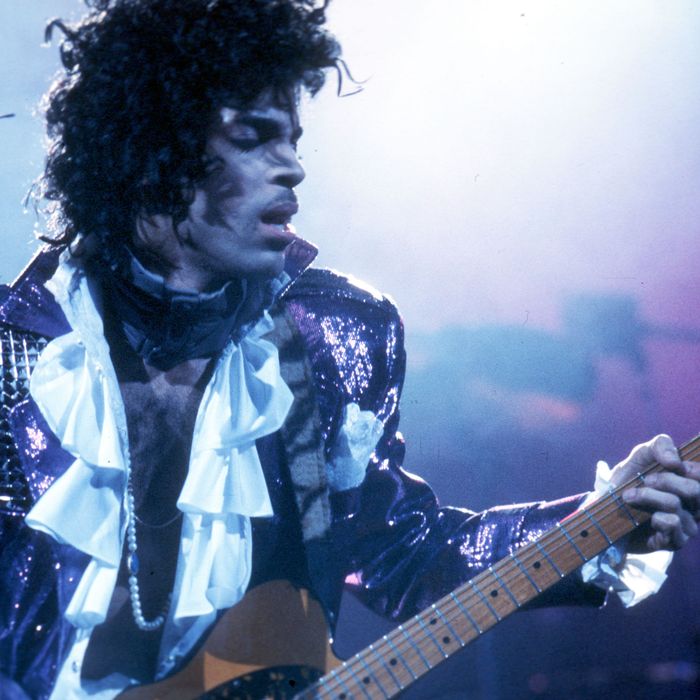 The Beautiful Ones
includes a few new musical details sure to delight any Prince fan.
Photo: Michael Ochs Archives/Getty Images
Famously, when Prince died, he left behind a mysterious vault of unreleased music — enough for over 100 albums, as was widely reported at the time. The contents of the vault were the subject of much intrigue during Prince's lifetime as well: A book called The Vault: A Definitive Guide to the Musical World of Prince came out in 2004, and the online wiki Prince Vault now attempts to keep a comprehensive record of his unreleased music, among other details of his mysterious life. This is all to say, even if the Purple One did release 39 studio albums, his music career was still relatively mysterious and peculiar — but the man himself was known for being mysterious and peculiar anyway.
The new book The Beautiful Ones was originally intended to be Prince's memoir, but his death at the beginning of the writing process changed the aim of the book. Editor and co-writer Dan Piepenbring decided instead to write the introduction and to publish Prince's first handwritten memoir chapters, a collection of photos Prince had assembled from 1977 to 1978, and a few pages of plans for the Purple Rain film — which means The Beautiful Ones includes a few new musical details that are sure to delight any Prince fan. We've culled five of the biggest.
The original For You track list included seven different songs — some never released
A photo of a notebook shows an early draft of a track list for Prince's 1978 debut album, For You. Along with the title song, the lead single ("Soft and Wet"), and "Baby," this list features seven songs that didn't make the cut. The titles include "Bodyfreeze," "Never Really Fell Out of Love With You," "You Are Everything to Me," "I Spend My Time Loving You," "Let Me Touch You," "Love in the Morning," and a cover of Stephen Sondheim's "Send in the Clowns." It's unclear whether some of these became tracks on For You or on other Prince recordings, but it is clear that Prince singing "Send in the Clowns" demands to be heard.
One of Prince's raciest songs may be an unreleased track called "Vagina (Half-Boy, Half-Girl)"
Across from some early lyrics for "Do Me, Baby," the book includes lyrics for a song called "Vagina (Half-Boy, Half-Girl)." Prince Vault says it may have first been intended for Vanity 6, the early-'80s Star Is Born–inspired (not that one) girl group that Prince directed — which, in fact, he'd wanted to call Vagina. The second verse goes, "I 1ST SAW HER IN A GAY BAR, KISSING ANOTHER GIRL / I TOLD HER, 'BABY, I'M-A-LOOKING FOR A TURN-ON' AND SHE SAID … / 'WELCOME TO MY WORLD,' 'WELCOME TO MY WORLD.'" It even includes a rough sketch of the title character, with short hair and breasts, in the bottom-left corner. But with an opening line like "Vagina was half-boy, half-girl," maybe it's best that he shelved this one.
Prince's lyric sheets show the development of some of his biggest hits, including "Purple Rain"
Along with "Do Me, Baby" and "Vagina," The Beautiful Ones has lyric sheets for "Soft and Wet," "Dirty Mind," "Partyup," "1999," "Little Red Corvette," "Let's Go Crazy," "Computer Blue," "Darling Nikki," "Purple Rain," "Raspberry Beret," "Kiss" (titled "Your Kiss"), and "The Beautiful Ones." While, sadly, none of them are written in purple ink (aside from a small correction to "1999"), "Little Red Corvette" is in all red, and they all give a glimpse into what could have been, with crossed-out lyrics and extra lines. Most notable, a sheet with some jotted lyrics to "Purple Rain" includes some new material:
I don't want money, I don't want love.

If I wanted either one, I would buy it.

I want the heavy stuff. What your dreams are made of.

I want control. I've got the keys now gimme the driver's seat. Try it.

…

I promise I won't hurt u.

Trust me,

Trust me,

I'm not a politician, I'm a purple musician,

And I only want to set u free.
The Purple Rain movie originally included more unreleased music
Toward the end of the book, Piepenbring includes Prince's 11-page handwritten synopsis for the Oscar-winning Purple Rain film. The end includes a list of intended songs with tracks like "Can't Stop This Feeling I Got" (from 1990's Graffiti Bridge), "Moonbeam Levels" (released on 2016's posthumous greatest-hits collection, 4ever), and "Wouldn't U Love to Love Me" (released by Taja Sevelle in 1987 and Prince's demo included on this year's Originals). As for the never-released material, the titles include "Too Tough," "I Just Wanna Be Rich," and "Bold Generation."
Editor Dan Piepenbring gives a peek inside the vault
It's not the first description of Prince's mythic vault, but Piepenbring does give us more details from his multiple visits to the Paisley Park compound. "I had barely enough time to notice the word Vault painted beside a nearby doorway before Prince led me out to the garage," he writes of his first visit. (How could you not be on the lookout for the vault?) After Prince's death, Piepenbring returned to Paisley Park and looked inside the vault. In his words:
The vast majority of it was given over to reels of tape. But in a few steel cabinets toward the front, he'd set aside a few things that jumped out at us right away. Photos and mementos from his childhood, many of them from the same years he'd written about in his memoir pages. Everything was gingerly preserved: early press clippings, his father's wallet, even a report card from junior high. We were stunned.
Trust us, we are too.