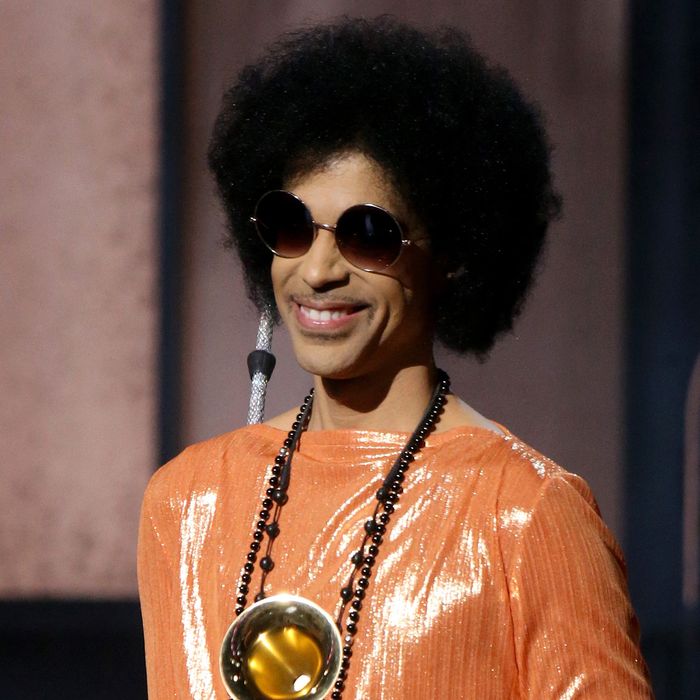 "We need to tell them that they keep trying to ram Katy Perry and Ed Sheeran down our throats and we don't like it no matter how many times they play it."
Photo: Michael Tran/FilmMagic/Getty Images
We'd regard Prince as an authority on just about anything. During his life, the performer epitomized taste: enjoying the music of Miles Davis and Chaka Khan, performing in elegant gender-bending outfits, and winning an Oscar for his original Happy Feet song (taste, we said!), along with his own iconic film career. In his later years, the Purple One was a Cher-level tweeter, sharing his thoughts on everything to anyone who would listen. And according to his new book, The Beautiful Ones — which contains quotes from editor Dan Piepenbring's conversations with Prince, plus drafts of a few chapters Prince had written and an introduction by Piepenbring — he had even more such thoughts on contemporary pop culture to make known.
Maybe you've already heard Prince was not a fan of Katy Perry and Ed Sheeran. Talking to Piepenbring about the state of the recording industry, he said, "Monkeys and primates could sell music. With Clear Channel [a radio-and-media conglomerate, since rebranded as iHeartMedia], it becomes like Soylent Green — people feeding people to people. We need to tell them that they keep trying to ram Katy Perry and Ed Sheeran down our throats and we don't like it no matter how many times they play it." But Perry and Sheeran are far from the only topics Prince had thoughts on. Here are 11 more of his best musings from the book on film, TV, theater, and music.
On Richard Linklater's 2001 film Waking Life
Prince gave Piepenbring (originally a co-writer on the memoir before Prince's death) many reference points for what his ideal book would be. At one time, that included Richard Linklater's trippy animated docufiction project. "I want something that's passed around from friend to friend, like — do you know Waking Life?" Prince said. "You don't show that to all your friends, just the ones who can hang." Which raises the question, which of Prince's friends did he watch Waking Life with?
On classic rock
When Piepenbring first met Prince, the musician said the writer's personal statement — yes, Prince made potential memoir collaborators write about their relationship to him, and we can't blame him! — hadn't described his music totally accurately by saying it feels like "breaking the law." "Funk is about rules," Prince said, while hard rockers like Led Zeppelin broke laws of harmony. But at least Piepenbring hadn't compared Prince to Bruce Springsteen, as one writer did. "Why? No one has any of his albums here," Prince said, referring to his Paisley Park compound. "No one listens to him. I don't. You might as well compare me to Billy Joel. Why aren't they comparing me to Sly Stone?" Who else does Prince, the boy who once begged his stepdad to take him to Woodstock after Sunday church, want to be spoken of in the same breath as? Piepenbring writes, "Prince recalled Santana and the unique marketing of that band in the late '60s and '70s — the way they dressed, their songwriting. 'I don't see anything like that these days. And why aren't I compared to Santana?'"
On late-night TV
Prince was surprised to see Stephen Colbert allow DeRay Mckesson, a Black Lives Matter activist, sit in the interviewer's chair and lead the conversation on The Late Show, he told Piepenbring at the time. "He's a guy who's trying to get it," he said. "Letterman would've never done that. It's time for him to sit down. Time for a lot of people in the music business to sit down."
On Kung Fu Panda 3
One night, Prince invited Piepenbring to Paisley Park to see a movie. When he arrived, he saw that "two massive projection screens were broadcasting Barbarella on repeat. Twin versions of Jane Fonda, 30 feet tall, strutted around a foreign planet in formfitting futurewear." But that wasn't the movie in question! Prince had something better in mind. "We're seeing Kung Fu Panda 3," his personal assistant, Meron Bekure, told the writer. Prince used to rent a nearby movie theater for private nighttime screenings, the book notes. As for the film, Piepenbring writes, "I heard Prince laugh a few times."
On The Fountainhead and hip-hop
Prince could be high-minded, too, as when he asked Piepenbring about Ayn Rand's 1943 individualist novel The Fountainhead. Piepenbring said he didn't find it compelling, he writes, and "Prince agreed, though he saw how the philosophy could be seductive. 'I watched the [1949] movie, old, black-and-white, where he gives the speech at the end about burning down the buildings and the blueprints.'" But Prince didn't just want to hold a college philosophy seminar. "Prince worried that too much of hip-hop was in the thrall of ideas like Rand's," Piepenbring writes, "dedicated more to cutthroat self-absorption than a spirit of community."
On Hamilton
Another reference point for the memoir? A little Lin-Manuel Miranda musical he'd just seen that you may have heard of. "It's a diverse cast, even though they're telling a European story," Prince said. "You trust them to talk about race and stuff."
On how to DJ
Talking with Piepenbring over the music at the West Village nightclub the Groove one night got Prince thinking about proper disc-jockeying practices. "Purple Pam, his DJ, had joined us, and he had a few words of advice," Piepenbring writes. "First: It was always a good idea to close a set with 'September,' by Earth, Wind & Fire. [Agreed.] Second: No profanity." Has he heard the Prince song "Sexy M.F."?, you may be asking. But the Purple One actually renounced cursing in his music in 2014. As he told Piepenbring of his DJ-ing rule, "These DJs play songs with cussing, and then they wonder why fights break out in the clubs. You set the soundtrack for it!"
On Steely Dan
Shortly after Prince's death, Piepenbring returned to Paisley Park to review some of his things and see what he could add to the book with Prince gone. Among the many objects he saw, Piepenbring writes, "In the garage, a stack of CDs was spread across the floor — I noticed A Decade of Steely Dan on top." Cue "Reelin' in the Years."
On Adventures of Superman
"It was the first show I had to see. I used to rush home from school to watch it," Prince told Piepenbring of the '50s TV series Adventures of Superman. "Seeing George Reeves, seeing that cape flying, him on top of buildings — I wanted that." But it got him thinking about the actors he kept seeing:
"It's funny to turn on the TV and in America you just see white people playing the heroes. People who look like the creators of the show," Prince continued. "That affects your self-image when you're black and watching white heroes." If only he could've seen Black Panther.
On Beyoncé
A partial list of musicians Prince would classify as "alpha": himself, Lenny Kravitz, Michael Jackson, and Beyoncé, whom he thinks we all need to appreciate more. "People attack her for the way she talks to her band, but she knows what she wants. She's creating," Prince said. "The Bible says that when you find a leader like that, as a society, you should let them step back and [you should] listen. We might need to invent a new word for it." Who run the world? Even Prince knew.
On Richard Curtis's (underappreciated) film About Time
In his handwritten chapters about his early life, Prince compares a teenage first date with a should-be-iconic movie scene. "[I] met her in total darkness just like my favorite scene from the movie About Time with Rachel McAdams," he writes. "Rachel & her love interest meet in a sensory deprivation Diner. U R served & dine in complete darkness. Imagine that meal." We will — but we'll have to forgive that Domhnall Gleeson erasure first! A correction to the above claim: Maybe Prince didn't always have taste.