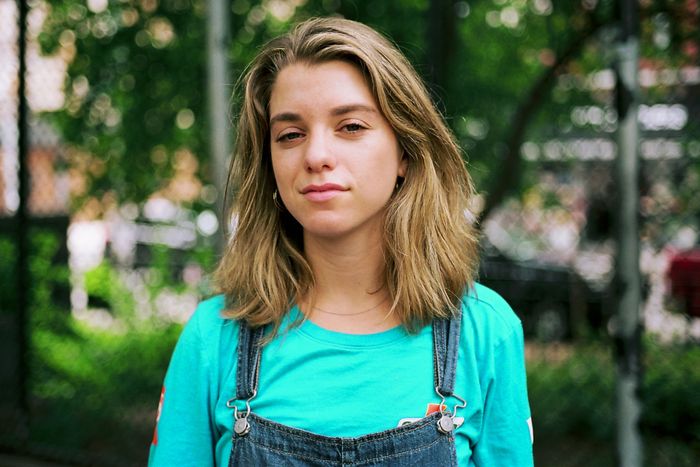 Rachel Joravsky.
Photo: Mike Breen
Rachel Joravsky (@rayjay3k) is a comedian, writer, and performer based in New York City. She has been featured on MTV, BET, and Comedy Central. She performs live monthly at Union Hall with her sketch group, Lo-Fi NYC, and with her comedy partner, Rachel Pegram, in their variety show, ThatShitRay, which has its own podcast on Earwolf.
This week, Rachel and I chatted about Jewish American culture, the power ladies of SNL, and Weezy F. Baby (don't forget the F).
Okay, this one is so important to me. Motherfuckers really slept on this one, so I'm glad we're revisiting. I do identify as a queer power Jewess, and I love showing up as such on Twitter. Twitter and the internet in general are such unsafe places for Jews, queer folx, and POC. Since I'm two of those identities, I really try to "put on for my city," so to speak. A few years back, these alt-right groups created this visual dog whistle to identify Jewish journalists and then harass them — it's three parentheses facing each other: ((( ))). I chose to put that around my own name to identify myself and send the general message of "I AIN'T NEVA SCARED," just to quote that Bone Crusher song from 2013. In general, I love putting Jewish content up on Twitter, even though I know it's only relevant to like a quarter of my followers (maybe less), but tbh I'm ultimately doing this for me. Also the concept of pussy being kosher is very funny to me and honestly should be funny to everyone.
What made you decide to pursue comedy as a career?
I was a goofy kid. As the youngest sibling, the best way to get my family to pay attention to me was to entertain them. We used to do a lot of bits in my house like lip-sync competitions or shooting home videos. I remember Googling the lyrics to Usher's "U Got It Bad" and lip-syncing it for my parents in the living room. I'm sure they were like, How did we make her? In grammar school, I fell in love with power women of SNL — Tina [Fey], Maya [Rudolph], Amy [Poehler], Rachel Dratch, later Kristen Wiig. Around that same time, I attended a fine-arts magnet school in Chicago, and drama was a part of the curriculum. I did a ton of plays and was a total character actress. I played Fagan (okay, typecast) in my eighth grade's production of Oliver and researched how to do a full Yiddish accent. There was just such an intense validation in making others laugh for me.
Do you think social media has changed the comedy industry at all?
For sure, it's changed it. It's created a lot of opportunity for folks who are masters of the medium. Personally, I can be a private person. If I'm depressed, I don't want to tweet or post. I mean, I guess I could post about how depressed I am, but that shit's not cute lol … JK. I mean, some people do it and really rock it; it's not me. If you're someone who knows how to find your audience online, it can really launch you.
LOL, laughing at my own tweet. Culturally, I'm very much rooted in the years 2006 to 2010. I also love to poke fun at thirsty white ally culture. I have a whole solo show about it called Thirsty White Ally. White people trying to get it right and out-"woke" each other is very absurd and annoying, and I like to make fun of it. Especially because I catch myself being one of those white people from time to time. And I'm like GETCHO BIG (<– Chicago term). It runs pretty deep for me. Growing up in Chicago, I was always "the white girl" in predominantly black spaces, so it had me thinking about my whiteness from a young age. A lot of my live comedy and Twitter jokes come from this space of exploring self and identity as it pertains to race. Also I love Weezy F. Baby, so there's that.
How do you think your background has shaped your comedy?
In every way lol. I was surrounded by this mix of Jewish American culture (Mel Brooks, Woody Allen tbh, Fran Drescher) and black American culture (B.A.P.S., Scary Movie 1 & 2, 106 & Park). At 11, I was aesthetically the Ashkenazi Lil' Bow Wow — terrycloth Rocawear jumpsuits and cornrows in my scalp till it smelled like a belly button, which is, by the way, the price white girls pay for cultural appropriation. Like, natural consequences, bitch! I was definitely grappling with my identity, but there's a humor to that. It's like a person constantly trying hard and just slightly missing the mark. Most of the characters I write for myself today are based around that concept: good intentions not panning out.
Tell us about ThatShitRay, the show you co-host with another incredibly funny Rachel. What motivated it?
ThatShitRay is my safe space. Rachel Pegram is a such a fucking talented powerhouse, and I thank gay, black, Jewish God every day that SHE bestowed me with the gift that is Rachel. Pegram and I met at NYU in a sketch-comedy group called Hammerkatz. I was very thirsty to be her friend, and she was like, "Okay, fine," and eventually let me in. Tbh, I hooked her up with my friend from high school's ID while Rachel was still underage, and I'm pretty sure that sealed the friendship.
ThatShitRay is a comedic exploration of the daily hustle, a celebration of the scrappy. Pegram and I had inverse experiences — I was a queer white Jew in black spaces making sense of the parts of my identity that were privileged and the parts that were othered. Pegram grew up in Denton, Texas, navigating two different worlds — a predominantly black church and mostly white school. However, both of us were used to confronting expectations projected on us based on our identities and the spaces we occupied.
When we started conceptualizing ThatShitRay, we wanted to create an opportunity for comedy that uplifted the scrappy and marginalized. We wanted to showcase our strong sketch and character background but also be able to tell our stories and celebrate the culture of us. A culture that is essentially two gritty-broke bitches getting it done and making a single meal stretch to three!
We put out a podcast with Earwolf and are hoping to do more in the pod realm. Love using pod.
This was based on true events. I went to this strip club in Atlanta called the Clermont Lounge for one of my best friends' bachelorettes. It is the oldest strip club in ATL, and it's known for being body positive and the dancers being mostly middle-aged women. I had low expectations for the whole experience, and then I ended up having truly the time of my life. It was such a classic crew in that place. Incredibly diverse both racially and generationally — like plenty of uncles and aunties, and I loved it. It truly felt like prom night for me emotionally. I ended up starting the Electric Slide and everyone joined in, old heads included. I felt like I was really a part of something.
Have you accomplished anything since at the level of successfully starting the Electric Slide at the Clermont Lounge?
That is a really great question. The Electric Slide in Clermont was truly community building at its best, and I don't know if I can top it. I did, on that same trip to Clermont, buy weed from a bouncer in the club, which felt like a huge win. However, I also recently Milly Rocked for a group of 11-year-old Jewish boys, and they chanted my name and honestly I felt like a god.