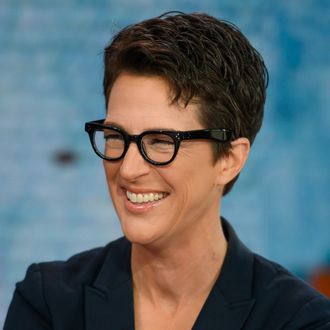 Photo: Nathan Congleton/NBC/NBCU Photo Bank via Getty Images
The bat signal went up and Rachel Maddow has responded. According to The Hollywood Reporter, the star MSNBC anchor will lend her voice to to Vesper Fairchild, a gotham city news personality whose broadcast persona is wildly different from Maddow herself. "We consider Vesper Fairchild to be the sardonic Voice of Gotham," Batwoman showrunner Caroline Dries said in a statement to THR. "In addition to Rachel's interest in Batwoman, we thought she'd be the perfect casting choice because her own hard-hitting journalism wildly contrasts Vesper's penchant for snark, gossip and criticism of female superheroes." Gossip! Snark! Rachel Maddow!
The author and journalist is a fan of the Batwoman comics, and even wrote the introduction to Greg Rucka's 2010 deluxe hardcover edition of his Batwoman graphic novel, called Elegy. In addition to being bitchy, another way in which Vesper Fairchild differs from Maddow is that the character previously had an affair with Stephen Amell's Arrow character within the Arrow-verse that Ruby Rose's Batwoman exists. So now you can go, "Huh. Rachel Maddow and Stephen Amell?" But it sounds like the newswoman had a great time putting on her CW character and playing against type.