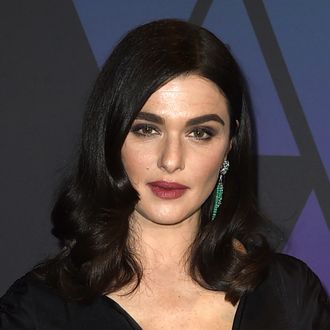 Photo: Kevin Winter/Getty Images
Whether it's as determined horse girl Velvet in 1944's National Velvet, the tempestuous Maggie in 1958's Cat on a Hot Tin Roof or herself in those once-ubiquitous White Diamonds commercials, every era of Elizabeth Taylor's life brings to mind one thing: Lindsay Lohan trying to depict them all in her 2012 Lifetime film Liz & Dick. The country has done a lot of healing since then (then a lot more unhealing in recent years), so it's finally time to allow for another legendary actress to take a stab at Taylor's life. According to Variety, Rachel Weisz will be channeling Elizabeth Taylor in the biopic A Special Relationship, written by Slumdog Millionaire's Simon Beaufoy, directed by Bert & Bertie.
The film will reportedly explore the actress's journey into HIV/AIDS activism, through her relationship with gay assistant Roger Wall, in the mid-1980s. Really glad Lindsay didn't have a chance to dig too deep into Liz's philanthropic work in Liz & Dick. First of all, imagine how much you'll get to learn from A Special Relationship. Second of all, just imagine.