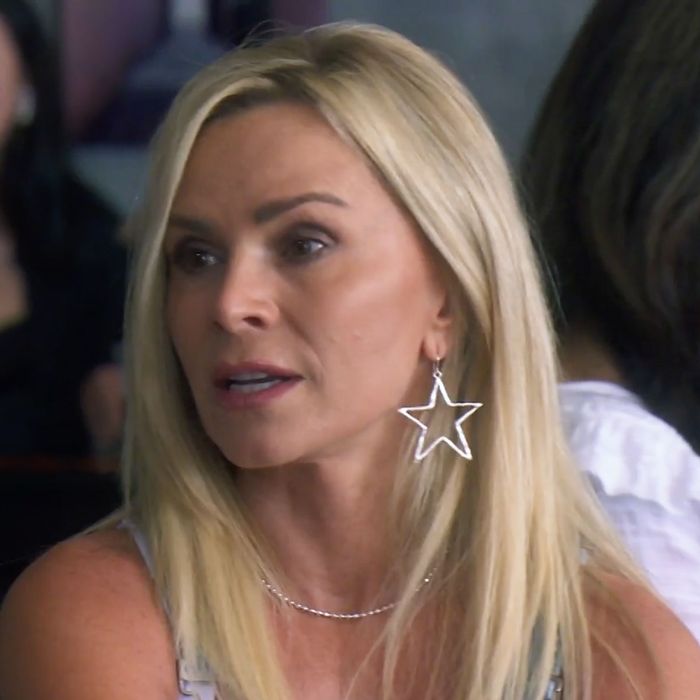 You know that there is only one thing about this episode that I want to talk about and it is Kathy, the president of OC Fashion Better Part of an Afternoon and Booze Cruise. First of all, OC Fashion the Shrimp Are Free But You Can Only Have One is an absolute mess. It is on some kind of yacht and there are runways on the top floor and lower floor and the floor in the middle is where the models are changing. Guests have to go from one level to the other for different shows. Okay, it actually isn't the worst idea to have a luxury fashion show in a venue that people don't get to visit too often. But then, before the shows start, the boat leaves the dock.
Oh, no no no no no no no no no NO. There are two things that you should never attend: a vegan potluck and a boat party where the boat goes sailing. That means you are stuck on that boat. What if the party is awful? What if you have another party to attend? What if your ex is onboard and you haven't spoken to him since you maybe possibly texted his mom his dick pic from a friend's phone so she wouldn't know it was from you? For this event, a boat cruise makes no sense. Most fashion shows take about 20 minutes at the most. Who wants to watch another lame fashion show of an unknown designer while cruising around Carona del Mar waiting for your one free shrimp to come back up?
This whole setup is a disaster, right down to the magazine that is placed on everyone's chairs. No, it is not Lydia McLaughlin's Nobleman; it is a publication called Basic. Seriously, did the organizers think it was a good idea for a third-tier fashion show to be giving out Basic magazine? I mean, what is even on the cover? A pumpkin-spice latte wearing Uggs with an avocado-toast stain on them?
The biggest disaster, though, seems to be the bathroom situation. A ship like this one is not built to have a hundred people downing bubbly to forget the mediocre clothes they're being forced to see. That makes the lavatory situation a bit untenable, as Braunwyn's mother, Dr. Deb, realizes when she tries to hit the head with her two Burner friends, Tokyo and Jessie, who are dressed like S&M backup dancers on a swingers' cruise. As she heads upstairs, a security guard asks her where she's going. She claims that he grabbed her arm, but he says that he just touched her. They get into a fight about it, and Deb, as most angry white women do, asks to see a manager.
This is when we are introduced to Kathy, the hero of this story. Kathy pulls her into a little room and says, "What's your name?" Dr. Deb responds, "Dr. Deb," which is ridiculous because that is not a name. Also, while the "Dr." inspires some confidence and deference, "Deb" just conjures up the lady in the office who keeps those little candies wrapped like strawberries on her desk. They pull the listener in opposite directions. It's sort of like being called Sir Squishy Belly III. Kathy says, "I don't know you, sweetheart," with so much flippant condescension she has earned her place in my heart forever.
The situation does not seem to resolve itself and Deb returns downstairs to complain to her daughter about what is going on. Braunwyn (who probably paid a good chunk of money to have her daughter's line of dance clothes at this ill-fated three-hour tour) walks right up to Kathy and says, "I think you need to apologize to my mother or we're going to have a very bad night."
Kathy comes back with, "Why don't you talk to me and then we can have a conversation." They are both right. There was no need for Kathy to be so dismissive of Dr. Deb, but Braunwyn should have clarified what happened before demanding an apology. However, Kathy has no intention of apologizing and quickly gets attitude with Braunwyn. Standing across the room, Kelly Dodd, who can hear attitude like Jill Zarin can hear a potential Instagram endorsement deal, decides that she is going to come over and help Braunwyn with this situation.
I love Kelly Dodd, but calling her in to help negotiate a tense situation is like throwing water on a grease fire; she's just going to make it spread and flare up in a remarkable way. Kelly starts telling Kathy to "be professional" as Kathy and Braunwyn continue to yell at each other. (Oh, did I forget to mention that Braunwyn is wearing an enormous feather duster that she put some very visible shoulder pads into? Sorry, I am so amused by all this I can hardly paint an accurate picture.)
Kelly tells Kathy not to get loud. Kathy, who has been holding a microphone the whole time, says into that mic, "I'm working and I can be as loud as I want." Everyone who is still in the room hears. At that point I don't know how the producers didn't throw 17 million oranges at her. "Here you go, Kathy," they should have said. "You're hired. What are you doing on Tuesday? Can you attend Vicki's birthday party?" Not since Anthony the party planner on Real Houswives of Atlanta has someone working for the women been so in the wrong but so in the right at the exact same time.
Kelly starts calling Kathy a psycho and a lunatic, and Kathy, still using the mic to overpower everyone else, tells Kelly that is defamation and hits Kelly on the chin with the microphone. Kelly starts complaining about this and Tamra, in a stroke of genius, says, "Did she just tap you or did she hit you like you hit Shannon on the head." Oh, watch out, boys and girls, the shrapnel is flying from all directions.
Kathy will not be deterred. Braunwyn leads Kelly away after the chin tap and tells her, "Think of Rowan and Adeline. This is for the kids. It's their night." Braunwyn keeps saying her daughter's and Shannon's daughter's name like it's some sort of white-people incantation. "Rowan and Adeline. Rowan and Adeline. Rowan and Adeline." It sounds less like two girls' names and more like a line of bad floral-print tunics that would be sold at Kyle by Alene Too. Though Kelly walks away, Kathy does not stop, still saying into the mic, "I'm sick of people saying things that aren't true." This is amazing. We can't help but to stan.
Then Kathy, presenting Rowan's collection, goes on a whole tirade in front of the crowd about "anti-bullying" and what it is like to be verbally assaulted, and she is officially my petty hero. I have built a little shrine to her in my house, and every time someone cuts me in line, talks in the movie theater, or cuts me off on my bicycle, I think of small revenges and I offer up a sacrifice to St. Kathy. (That sacrifice is usually my mental health and well-being, but it is worth it to imagine a world where all movie-theater talkers have been forced into a room and made to watch all seasons of The Newsroom on repeat for eternity.)
Yes, there were other things that happened this episode — Tamra took Ryan to get an awful tattoo removed by a Big Brother winner, Shannon made her children into self-starters by ridiculously micromanaging them, Emily and Braunwyn rode horses and talked about absent fathers, Gina talked about how her ex showed up in her bedroom in the middle of the night unannounced and it is now being adapted into a Netflix horror movie — but really, the only thing I'm ever going to want to remember about this episode or talk about is Kathy, your newest Housewife and the savior of this season.