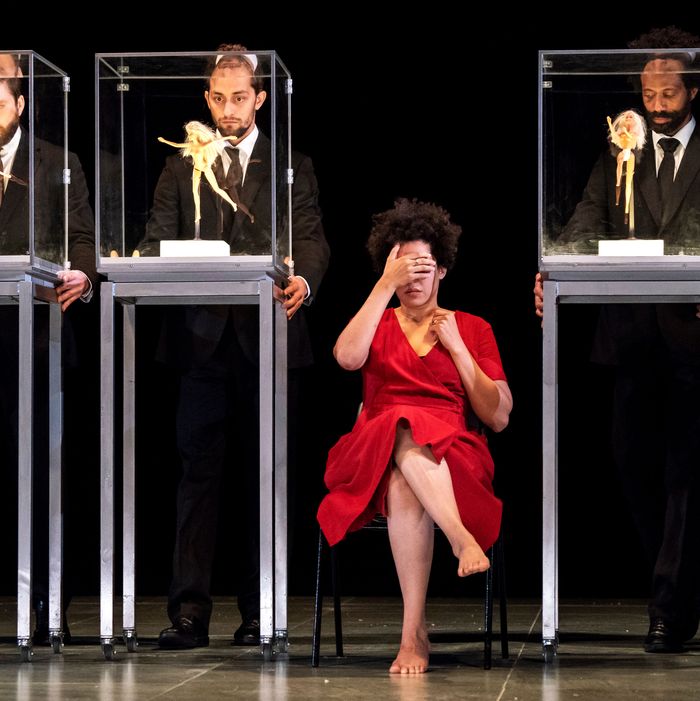 Zauberland,
at the White Light Festival.
Photo: Stephanie Berger
Robert Schumann's Dichterliebe is fragile and indestructible — a chain of songs that, despite their exquisite tininess (just voice and piano, a couple of minutes each), looms in the culture of classical music. If you know the work at all, you may have listened to multiple versions by ultra-schooled masters evoking the shades of love, from dewy on through gleeful, forlorn, bitter, and wistful. The supposedly infinite depths of those 16 songs, on poems by Heinrich Heine, have been plumbed and re-plumbed (most recently by Ian Bostridge at Zankel Hall), every syllable sipped and savored like the world's last dram of Pappy Van Winkle.
For the soprano Julia Bullock, though, Dichterliebe is a device, a way to get into the theatrical world of Zauberland (Magic Land), where the music is new and suffering is rawer than a poet's mooning over an indifferent Fräulein. In a staging directed by Katie Mitchell and presented by Lincoln Center's White Light Festival, Bullock interleaves Schumann's lieder with an entire new song cycle, with poetry by Martin Crimp and music by Bernard Fouccroulle. Threads of the original wind through the new work. Heine's "I" once loved lilies and roses, and in Crimp's observes men crying out for vanished loved ones named, yes, Lily and Rose. Fouccroulle laces his lush, piquant piano chords and furious passagework with echoes of Schumann: fractured arpeggios, sweet echoes of May, familiar shards of melody. Sometimes two notes is all it takes to open a window onto the landscape of 1840, but Fouccroulle slams it shut each time, confining us to a tougher, more brutish now. There were times when I wished that the excellent pianist Cédric Tiberghien would toss the score on the floor and just revert to the source. This is not just a staged adaptation, it's a way of deconstructing a classic and recycling it — sampling it, if you will. Bullock's team treats Heine and Schumann the way Kanye treats James Brown.
The program offers a synopsis: A pregnant opera singer from Aleppo emigrates to Germany, where music and trauma mingle in her psyche. The audience's experience is not so linear or clear. Silent actors in black suits stride briskly across the stage, now yanking off the soprano's costume, then buttoning on another, wheeling gurneys, carrying lamps, delivering mobile phones, shoes, dolls, and a profusion of other props. Early on, a pistol appears but (pace Chekhov) never does go off, though violence and death hover all around.
At the center of all this stage business is Bullock, constantly in motion, yet delivering both Schumann and non-Schumann with technique so unflappable she could probably sing it while skydiving. Her voice is at once steely and affecting. But that's not really the point. She is not after the most refined performance of Dichterliebe you've ever heard — rather, she's trying to make it scorch again. As the Metropolitan Museum's musical artist-in-residence last season, she organized and sang in several themed shows, including one based on Josephine Baker.
The hazy "East" has obsessed German-speaking Central Europeans for centuries, and the canon of classical music is jammed with "Turkish" marches, arabesques, and Gypsy songs, most of which display more or less zero familiarity with the musical traditions they refer to. Schumann, too, composed lightly perfumed works like Bilder aus Osten (Pictures From the East), in which he tried to capitalize on a taste for the exotic without actually doing much to modify his Prussian style.
Heine identified with Germany so strongly that he made fun of his own infatuation: "I long for northern dialect, black bread / And blond-haired daughters of preachers," he proclaims in A Winter's Tale, a poetic pilgrimage from Paris to his native land. But he, too, had to struggle with otherness. Like so many assimilated Jews, Heine found that the country he loved did not always reciprocate.
These frictions and imaginary encounters don't have a place in Dichterliebe, which makes it an odd choice for a vehicle to comment on social upheaval in the 21st century. In the scenario of Zauberland, as in real life, the East has finally arrived in the North, not as a conquering army but as a mass of refugees, who bring their own loves and sorrows and fantasies of foreign lands. Maybe a Syrian or Iraqi composer would have been better equipped to dramatize that irony, to turn the tables on Schumann and use him as an exotic source. The Belgian-born Fouccroulle, on the other hand, is an organist by training and a veteran of the European music world. Schumann is his people.
Bullock's determination to mash up time periods and styles so that each can reflect on the other reminds me of the Museum of Modern Art's recent conversion to eclecticism and heterogeneity. The intentions are fine — to pick up resonances that course between time periods and geographical zones — but here, as at MoMA, the result obscures more than it reveals.
"Poor Schumann!" a friend moaned on the way out. But there's no harm done. Great scores of the past can be mangled and misused, but they always bounce back into shape, ready for another generation's purist reverence.