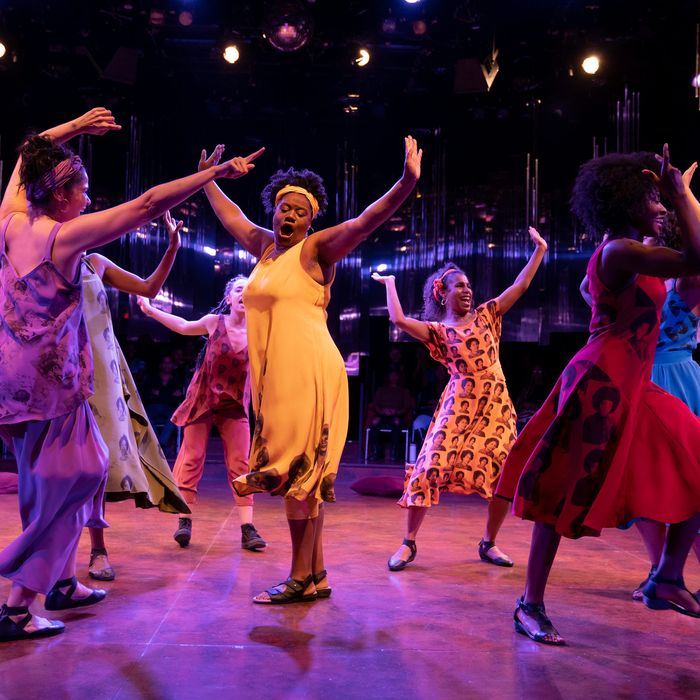 From Ntozake Shange's
for colored girls…,
at the Public.
Photo: Joan Marcus
Leah C. Gardiner's handsome production of Ntozake Shange's for colored girls who have considered suicide/when the rainbow is enuf, now at the Public Theater, is a revival in three senses. First, the obvious: Shange's choreopoem (a mixture of poetic monologue, dance, and song) is a classic, now brought back to one of its original venues after 43 years away. The Public's 1976 production, which went on to Broadway and then great fame, was beloved, and that love then carried the text deep into the American theater's veins. Many of us who know it encountered it in college, where teachers (poets, academics and practitioners alike) administered it to us like a drug.
Second, it revives the woman Paulette Williams herself, the radical activist-artist who took as her chosen names Ntozake ("She Who Comes With Her Own Things") and Shange ("She Who Walks With Lions"). Shange died last year, still hoping to see this production staged. But the show speaks so clearly in her voice that she seems to be standing somewhere just beyond the set's mirrored walls, calling out. The power of for colored girls has always been the way it maintains the whispered quality of poetry—a poem establishes a spoken-in-the-mind bond between word and reader—despite all the hurly-burly that showmanship demands. Some of the show's monologues are written from the perspective of a version of Ntozake; some are clearly built around characters. But all of them have a particular intensity, a way of coming direct from author to audience. In moments, Shange walks with us again.
Third, thanks to Gardiner's intimate staging, it is a revival-as-service, a quasi-religious sharing circle gathered in the Big Tent. The audience is close, some of it even onstage: Set designer Myung Hee Cho turns the room into a backroom club, mirrors on the walls and groovy disco balls above. (In a charming moment just before the show begins, the disco balls swoop up into the ceiling, just as the chandeliers do at the Metropolitan Opera.) Each performer, identified only by the color of her dress, trades position as priestess and congregation; when one speaks, the others mainly stay onstage, sitting and watching, affirming one another. In the show's bravura aria by the Lady in Red (Jayme Lawson), the story careers into devastating, unmediated pain. The day I saw it, the Lady in Purple (Alexandria Wailes) felt such vicarious grief at it that the Lady in Green (Okwui Okpokwasili) took her hand.
Shange's poetry is as keen as it was nearly a half-century ago, but it's this turning-towards-one-another quality that makes the show so rich. The poems are about the wounds of black womanhood: as the Lady in Yellow (Adrienne C. Moore) says, "bein alive & bein a woman & bein colored is a metaphysical dilemma / I havent conquered yet." The Ladies tell stories about joyful sexual awakening, but also about rape; they tell stories about confident, big-spirited women who cry themselves to sleep. Yet once the wounds are spoken about and danced about, they turn into healing balms. The Lady in Blue (Sasha Allen) sings some of her text—the newly composed music is by Martha Redbone—or the women dance together in Camille A. Brown's ecstatic choreography, and you watch them holding each other up. The audience has its experience, certainly, carried along by sound and courage and beauty. But this one is for the Colored Girls in the show: At every performance, they are the rainbow, and they are enough.
Even though I've just recommended that you go see for colored girls (recently extended!), I'm going to also need to insist that you see Is This A Room. I wrote about it at ArtForum earlier this year, when it was at the Kitchen for a short run back in January. That experience short-circuited my brain: It was a total surprise to see the wicked ironists of Tina Satter's company Half Straddle convert suddenly to political theater, and I remember feeling light-headed and a little high from their ozone-sharp sense of outrage. When I learned that the show would move to the Vineyard for a longer engagement, I was thrilled to see it again—it contains one of my favorite pieces of performance ever. Pencils down, voting over.
The stagecraft decisions are extremely simple. Director/conceiver Satter took the transcript from Reality Winner's 2017 arrest and used it verbatim as her short, sharp text. (Winner, if our daily political crises have made you forgetful, is the intelligence specialist who leaked a document that confirmed Russians had hacked our voting machines.) When there are redactions in the record, the actors fall silent and the lights swell a little; if an entire page is blacked out, the stage goes dark. The rest of the time, Reality (Emily Davis) and the FBI officers (Pete Simpson, TL Thompson and Becca Blackwell) say only what was actually said—odd and ordinary things, self-incriminating things, devastating things, and jokes.
I was happy to see that even without the element of surprise, Is This A Room punches hard. Sophocles couldn't devise a better tragedy (a woman, preoccupied with good citizenship and right action, walks backwards into danger), and we usually have to look to the Coen brothers for this kind of awkward comedy (Simpson's nerdball FBI dad is Fargo crossed with Ed Grimley). Hell, you'd need to ask Kafka to come up with a character and a setting this brilliantly perverse—the uptalking girl, wearing Pikachu sneakers, terrified that somehow she's going to frighten the trio of armed men. Yet this is reality, right? This is Reality.
The show hasn't changed much since January—it still takes place in backlit fog (Thomas Dunn did the lighting design), and the show's power still comes from its juxtaposition of the clownish FBI dudes with the shuddering, deeply felt Davis. At the curtain call, she is still shaking; hell, I was still shaking. In January, I said that her performance made me feel "concussed," and, ten months later, here she is performing like a grenade with the pin pulled. Did you know that Winner is still in prison, serving the longest sentence ever given for releasing government information to the media? Davis clearly knows it; and it's traumatizing her. In her skinless, electrifying performance, we see the cost of such shamanistic channeling. It feels almost dangerous to let her do it, but here in the U.S.A., if you want to tell the truth—you'll need to suffer.
for colored girls who have considered suicide / when the rainbow is enuf is at the Public Theater through December 1.
Is This a Room is at the Vineyard Theatre through November 10.