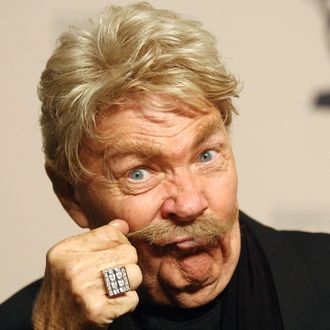 Photo: Toby Canham/Getty Images
Rip Taylor, actor, comedian and iconic late-night guest, has died at the age of 84. His publicist Harlan Boll confirmed his death to The Hollywood Reporter on Sunday. Born Charles Elmer Taylor Jr., the rubber-faced, toupee-tossing, mustache-tugging comic first made a name for himself on the Las Vegas nightclub and late-show circuits, raking up 20 appearances on The Ed Sullivan Show. In addition to his prop work with confetti, which earned him the title the King of Camp and Confetti, Taylor was known as the Crying Comedian, due to a memorable early bit in which he sobbed while begging the audience to laugh.
During the '60s, '70s and '80s, the outsize comedian became a staple of gameshows, including Hollywood Squares, The Gong Show and The Match Game, among many others, going on to host his own beauty-pageant parody competition show, 1978's The $1.98 Beauty Show. Taylor also contributed vocal performances to cartoons like The Jetsons and DuckTales the Movie, and appeared on the big screen in films including Wayne's World 2 and Indecent Proposal. Younger audiences may know him from appearances in all three Jackass movies, including a memorable cameo in the explosive slo-mo finale sequence of 2010's Jackass 3D, in which the franchise cast finds themselves swept away on an indoor "rip tide" while an amused Taylor looks on, joking about the chaotic scene and, of course, showering everyone with confetti.