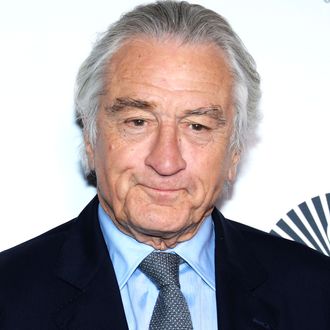 Photo: Paul Bruinooge/Patrick McMullan via Getty Images
Robert De Niro's former employee, Graham Chase Robinson, whom he accused of watching 55 episodes of Friends in four days while on the job, is suing him and his corporation Canal Productions, Inc., for gender discrimination and harassment. According to the filed complaint obtained by Vulture, De Niro created a hostile work environment with unwanted physical contact, sexually charged comments, verbal abuse, and gendered stereotyping. Examples of harassment from the suit include suggesting Robinson should get pregnant using a married male co-worker's sperm, jokes about his Viagra prescription, lashing out at Robinson while he was intoxicated, urinating while on the phone with her, and asking her to "imagine him on the toilet." The law firm has published a voicemail from De Niro to its client, in which he calls Robinson a "spoiled fucking brat" and yells at her for not answering his call.
In August, De Niro's Canal Productions sued Robinson for $6 million, accusing her of spending "astronomical amounts of time" watching Netflix on the job (her faves included Friends, Schitt's Creek, and Arrested Development), using his frequent-flier miles, and charging expensive lunches from places like Paola and Dean & DeLuca to the company card. Robinson's complaint alleges De Niro filed his lawsuit only to retaliate against her for speaking up and to "falsely characterize Ms. Robinson as a loafer, a thief, and a miscreant." CGI de-aging can't send you back in time to fix this mess, Bob.