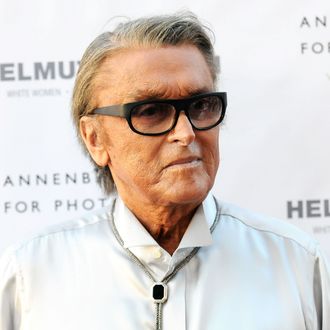 Photo: Jason LaVeris/FilmMagic
Robert Evans, producer of Rosemary's Baby, Urban Cowboy, and Chinatown, died on Saturday night, according to Variety. Evans was 89. One of the most famous — and infamous — producers of the 1970s, Evans was hired to run production at Paramount in 1966. During his nine years in the role, Paramount released a string of hits: Barefoot in the Park, Love Story, Harold and Maude, The Conversation, The Great Gatsby, and the Godfather I and II. As a producer, Evans worked on 1974's Chinatown, for which he received his only Oscar nomination.
Born on New York City's Upper West Side in 1930, Evans was discovered by the actress Norma Shearer in Beverly Hills. Shearer wanted him to play her husband, MGM studio head Irving Thalberg, in 1957's Man of a Thousand Faces. Evans stopped acting to pursue producing in the late 1960s. In the 1980s, he was involved in two scandals: He was arrested for cocaine possession and later was a material witness for the murder of Roy Radin during the production of The Cotton Club.
Evans was married and divorced seven times. He is survived by his ex-wife Ali MacGraw, their son, and a grandson. "Our son, Joshua, and I will miss Bob tremendously," MacGraw said in a statement, according to The Hollywood Reporter, "and we are so very proud of his enormous contribution to the film industry. He will be remembered as a giant."