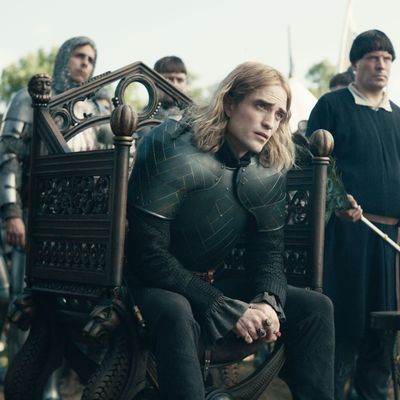 Wig.
Photo: Netflix/Netflix
Light spoilers for The King — including the fate of Robert Pattinson's character — below.
Casting Timothée Chalamet and Robert Pattinson in a movie — the very same movie! — can only be understood as a targeted attack. A movie with two razor-sharp jaws; two tall, lanky boys; two alabaster complexions. And yet: Here comes The King, a movie basically committed to sending stan Twitter into cardiac arrest. The King is mostly fine, occasionally good, but: It features one incredible, hilarious Robert Pattinson performance.
It seems like we're all in agreement these days, believing that Robert Pattinson is one of his generation's most versatile actors. Every Pattinson performance — be it Twilight, Good Time, High Life, or something else — is a little different, but they all have a similar whiff of mischief. This year, he has two movies in which he gives otherwise diametrically opposed performances: In The Lighthouse, a movie that a friend described as "sorta like Paul Dano and Daniel Day-Lewis yelling at each other in There Will Be Blood, but, like a whole movie of that," he's a demented Willem Dafoe's protégé, slowly losing grip with reality, stuck on a rock, and having sexual fantasies about mermaids. In The King, he's the playfully obstinate Dauphin, the rival of Timothée Chalamet's Henry V.
"I just had a feeling he would make it fun," Michôd said during the movie's press conference at the Venice Film Festival in September. "I needed that. He is a supporting character. He doesn't appear in the movie until an hour in. It was very, very important to me that when he did appear it was with razzle-dazzle." A razzle has never been dazzled like this since Richard Gere opened his mouth to (not really) carry a tune in Chicago. Robert Pattinson twirls and pirouettes on top of the (capital V, capital S) Very Serious King. Let everyone else scheme and scowl; the Dauphin knows he has to do it to 'em.
Nearly a year ago, Pattinson teased the details of his performance, and he did not undersell it: "I'm playing a kind of effete prince with a much more glamorous outfit," he told Vulture at High Life's New York Film Festival U.S. premiere. "There are all these kind of rugged men, and I'm in this little frilly frock." True, The King is extremely full of dudes, and many of them are sinewy and strong. This is a movie where daddy issues resolve themselves not in therapy but through international diplomacy, where men constantly try to kill each other, where men constantly wear dark, earthy tones. And then the Dauphin arrives, and sure, he's in those same blasted earth tones, too, but at least he's having a little fun with it.
Hal and his crew — that crew being the "English" "army" — travel to fight the French. One night, the two kings meet in Dauphin's tent. Until this point, The King has given us scene after scene of torment and backstabbing. Hal is surrounded by men he doesn't really trust, wearing a crown no one thinks he deserves, doing a job he doesn't really want. When the Dauphin arrives, the king can deflate, if only a little. Pattinson holds his two fists together. "What giant balls!" he says to the younger king. He pokes out his thumb and wiggles it around. "And a tiny little penis!"
Here is where I will pause to ask you: Name one other historical drama this year that has Robert Pattinson and Robert Pattinson's fists imitating a human ballsack? Conceptually, alone, we're on an upswing. That's cỉnémâ, baby!
Back to the scene: Gleefully, the Dauphin describes in vivid detail what he has in store for our hero, Hal. "I'll drain your body of its blood and bury it under a little French tree," he promises. His face is brimming with maniacal faux concern. He enjoys acting like he gives a shit. He tucks a lock of his greasy, scraggly blond lace-front behind his ear. It takes long enough for The King to trudge its way to this scene, but it's worth it! Nothing could prepare me for it. By the time we get to Pattinson's final moment — I don't think this is a spoiler since Henry V was published in 1875? — it's a completely comic performance. He's slipping and sliding in the mud, wearing oversize armor that cannot shield him from the utter indignity of fighting his own battle. The Lighthouse is a study of horror and obsession and insanity; in The King, the guy just gets to have a good time.
Pattinson's razzle-dazzle is the only way this would work. Any other actor would wrestle with the French accent and maybe trip over it. The way Pattinson sells it — even as he seemingly stumbles to remember to use it — only adds to the sum of this part. The King gives us Pattinson at his zaniest, with an accent that is a total mismatch, but I wouldn't have it any other way. It's almost like Natalie Portman's Texas accent in Lucy in the Sky, or Daniel Craig's drawl for Logan Lucky. Do I love it? Do I hate it? I'm unsure on both, but a bog witch cursed me at birth to at least respect it, so here I stand.