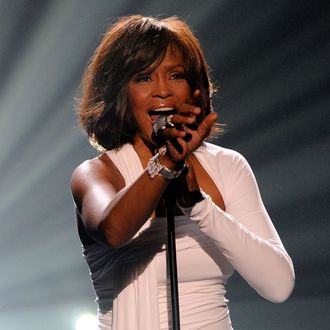 Whitney is one of many first-time nominees.
Photo: Kevork Djansezian/Getty Images
The nominees for the Rock and Roll Hall of Fame class of 2020 have been revealed, meaning we're all one step closer to figuring out which inductee is ultimately going to snub the ceremony in a glorious display of rock-star pettiness. The list includes Whitney Houston, Notorious B.IG., Pat Benatar, MC5, Soundgarden, Dave Matthews Band, Depeche Mode, Kraftwerk, the Doobie Brothers, Judas Priest, Motörhead, Nine Inch Nails, Rufus featuring Chaka Khan, Todd Rundgren, T. Rex, and Thin Lizzy. Many of this year's nominees are being nominated for the first time ever, a break with recent tradition. While it's the first for Whitney Houston and Dave Matthews Band, it's Kraftwerk's sixth nomination and the third for Nine Inch Nails. For bands whose members have changed over time, the Hall of Fame announced which members will be inducted. For example, Trent Reznor alone will be honored from Nine Inch Nails, but Dave Matthews, Stefan Lessard, Carter Beauford, Tim Reynolds, Rashawn Ross, Jeff Coffin, former violinist Boyd Tinsley (who left the band in 2018 after facing sexual-misconduct accusations), and late saxophonist LeRoi Moore will all be honored for Dave Matthews Band.
To be eligible, each nominee had to have released a single or album before 1994. The acts with the most votes will be announced in January and inducted at a (likely confounding) ceremony in May 2020. Over 1,000 artists, journalists, and industry players will vote on the class of 2020, and fans can join in on the fun online or at the Rock and Roll Hall of Fame in Cleveland.