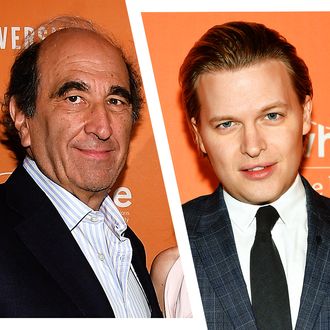 Andy Lack (left) and Ronan Farrow.
Photo: Getty
Ronan Farrow's new book, Catch and Kill, uncovers new allegations regarding NBC News chief Andrew Lack, the man accused of mishandling sexual-harassment complaints at the company. Lack himself reportedly preyed on young female employees, two of which spoke to Farrow for Catch and Kill. Insiders told "Page Six" that the allegations in Farrow's book have NBC News execs, including Lack and president Noah Oppenheim, "quivering in their suits."
According to an excerpt obtained by "Page Six," Jane Wallace was an anchor on NBC's West 57th show in the 1980s and Lack was her executive producer. She describes Lack, who was married at the time, as "almost unrelenting" in asking her out for dinner "every day for almost a month" under the guise of celebrating her contract. "If your boss does that, what are you gonna say?" Wallace said to Farrow. "You know if you say, 'I don't want to celebrate with you,' you're asking for trouble." Their sexual relationship was "ultimately consensual, but I didn't just get flirted with. I got worked over," she said.
When their relationship came undone, Wallace remembers Lack threatening her career. "As she left the show, she recalled him yelling, 'You will never get credit,'" Farrow writes. "Then the network deployed a tactic that the public was barely conscious of at the time: It offered her a substantial payout to sign a binding nondisclosure agreement." Once she left the company, Wallace felt "disgusted" and said, "If [Lack] hadn't been like that, I would have kept that job." A source close to Lack told "Page Six" that Wallace's charges are "dead wrong" and that there was no "retaliation."
Another young employee, Jennifer Laird, spoke to Farrow about what she called a "hostile" relationship with Lack. "When Laird asked to be reassigned, Lack wouldn't allow it," Farrow writes. "He compelled her to work longer hours, and on weekends, and proposed she cancel vacations." In the book, a rep denies that Lack retaliated in any way.
The NBC News chairman came under fire last year when it was revealed that he mishandled sexual-harassment complaints, including one about his former friend Matt Lauer, and one at his previous company, Sony BMG Music Entertainment. In Catch and Kill, Farrow also suggests that Lack was involved in killing Farrow's investigation into Harvey Weinstein. In a September 2017 phone call, Farrow reports, Lack told Weinstein's attorney, "We've told Harvey we are not doing a story." A month later, Oppenheim had Farrow sign a statement saying his Weinstein story "failed to meet the network's standards." In an internal memo to staff obtained by People on Wednesday, Lack denied Farrow's claims that they tried to cover up the Weinstein story, calling the report "fundamentally untrue."
"After seven months, without one victim or witness on the record, he simply didn't have a story that met our standard for broadcast nor that of any major news organization," Lack wrote in the memo. "Not willing to accept that standard and not wanting to get beaten by the New York Times, [Farrow] asked to take his story to an outlet he claimed was ready to publish right away." Farrow's producer for the segment, Rich McHugh, refutes this in a new Vanity Fair article. McHugh corroborates that NBC, specifically Lack, Oppenheim, and MSNBC president Phil Griffin, "personally intervened to shut down our investigation of Weinstein," had "at least 15 calls" with Weinstein about the story, and "refused to allow me to follow up on our work after Weinstein's history of sexual assault became front-page news," he wrote. According to Lack's memo, all correspondence between NBC execs and Weinstein were unsolicited, brief, and have now been misinterpreted. McHugh also includes statements from both former Weinstein Company employee Emily Nestor and Rose McGowan stating that they were willing to name Harvey Weinstein on air. (In a statement to Vanity Fair, NBC maintained that Nestor was "unwilling to be outed.")
In the fall of 2017, NBC allowed Farrow to publish his investigation with The New Yorker five days after the New York Times broke the story. A rep for Farrow told People the claims made by NBC senior management are "simply not true, as his book will methodically demonstrate."
This is a breaking news story and has been updated throughout.