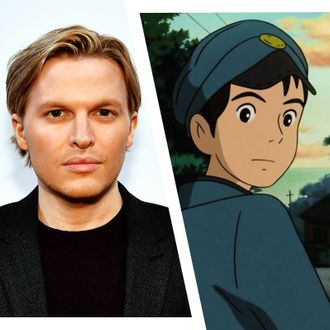 Ronan Farrow and
From Up on Poppy Hill
character, Shun Kazama, voiced by Anton Yelchin.
Photo: Getty Images and Studio Ghibli
Ronan Farrow is a man of many talents. Taking on sexual predators by day, clearly doing an extensive skin-care routine by night. But one of his lesser known talents really jumped out, really took center stage in the audiobook for his latest work: Catch and Kill. Yes, Catch and Kill chronicles his investigation into Harvey Weinstein and Matt Lauer, claims corruption reaches the highest levels of the entertainment industry, and tells the stories of victims (on top of dabbling in Jackie criticism). But it's also bursting with opportunity for Farrow to show off his voice-acting skills, which he alleges he perfected by dubbing minor roles in Studio Ghibli films, which, fun fact, are coming soon to HBO Max.
"I did work as an anime voice actor earlier in my career in a small way, and it was important to me to do as much justice as possible to the really brave characters," he reminded Variety and the world. In 2011, he voiced World History teacher in From Up on Poppy Hill and in 2013, he was a Mitsubishi employee in The Wind Rises. The Wind Rises famously lost the Oscar to Frozen, which isn't surprising but somehow still hurts, all these years later. Anyway, voicing an English dub doesn't fully explain why Farrow went all in on accents, but he does explain further.
"We did a very careful, respectful job, and gave a lot of thought to making sure that those voices were differentiated in a way that would help the reader, and captured a little bit of who those people were," he reasons. "But also weren't full impersonations, it's sort of at the halfway mark. I'm not an actor. But we wanted to make sure that it was imbued with a sufficient amount of character that these people came across in a full, well-rounded way." Well, we certainly got a full, well-rounded look at Farrow's voice-acting reel. Disney+, need a guy?