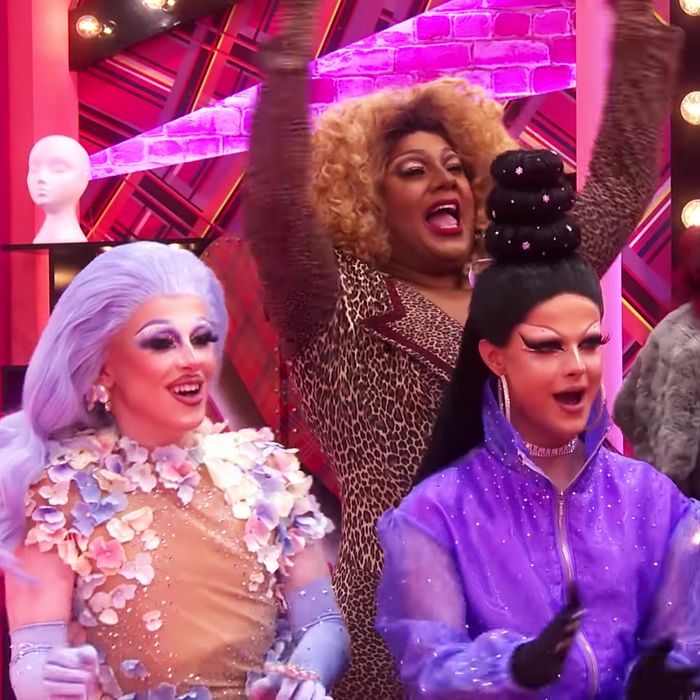 Photo: WOWPresents/YouTube
After a much-needed break from back-to-back All Stars and regular seasons of RuPaul's Drag Race, the franchise is back with a new iteration (one of several on the horizon) to throw into the mix. After testing the international waters in Thailand, RuPaul's empire has now expanded across the pond, to the land of royalty, hot soccer players, and Adele. Yes, it's the long-awaited first season of RuPaul's Drag Race U.K., and it's airing in the U.S. so we masochists can spend another eight weeks on the emotional roller coaster that has become Keeping Up With Drag Race. So hold onto your vodka-sodas and let's get started!
(A quick programming note: These recaps will post in conjunction with the episodes' airing on BBC, which will stream simultaneously in the U.S. via WOW Presents Plus. Each episode will then air on Logo the following Friday. So U.S. viewers, if you're waiting to watch via Logo, consider this your spoiler warning. It's a recap, henny!)
It might feel old to us, but Drag Race is new to these queens, and I'm happy for them! After 11 years of watching their American sisters win fame from afar, ten British queens finally get a chance to play, and they're eager to show they've earned it. The producers have taken the intro we know by heart (minus the prize details — more on that in a sec) and tacked a U.K. onto the title, if you didn't know by now what you're watching. And if that didn't tell you, wait till Baga Chipz walks in and starts her rapid-fire introduction in a thick accent. At this point, about a minute in, I started looking for the closed-caption button, but among the phrases I could discern were: "gin-and-tonic," "a good ol' shag," "big, massive knockers," "knickers on show," "a right trollop," "me minj," "gob shite," "shitting my knickers." As newly christened Londoner Taylor Swift once said, "God, I love the English!"
The rest of the season's queens follow, including: Blu Hydrangea, who sets the bar low calling herself "a school art project with legs"; Divina de Campo, who laughs after everything she says; Crystal, who is actually from Canada; Sum Ting Wong, a "monster of new drag" because she loves "makeup and Ariana Grande"; Cheryl Hole, an Essex girl (and I actually know what that means!); Gothy Kendoll, who is going to have me saying "Gothy. Kendoll. Gothy. Kendoll." to myself for the next week; Vinegar Strokes, who worked with Michelle Visage on the West End musical Everybody's Talking About Jamie; Scaredy Kat, who is 19 (?), has a girlfriend (??), and has been doing drag for 11 months (???); and the Vivienne, the U.K. ambassador for Drag Race herself. Got all that? You should, because it's only ten queens, a true relief after the 15 of Drag Race season 11.
RuPaul comes in to introduce a classic Drag Race premiere mini-challenge — a high-concept "headless" photoshoot, with the addition of a cheeky catchphrase of the queens' own devising — and drops that there'll be a new prize: Instead of winning "a year's supply of Anastasia Beverly Hills cosmetics" (or, I don't know, Burberry Beauty) and "a cash prize of $100,000" (or pounds, I guess), the winning queen will head to Hollywood to star in a series with the team behind American Drag Race (a.k.a. a series on WOW Presents Plus, most likely). They seem happy about it! We also get to meet the Brit Crew, who are as hot as expected in their fancy hats and little else.
The photoshoot is a blur, but what really stands out is how much fun Ru is having. He's interacting with the queens again, and it's enjoyable to watch. Something in that English water! We're off to a historic start, with Scaredy Kat, who came out acknowledging her bisexuality from the start, winning the first mini-challenge. No, Scaredy is not straight, she's openly bisexual, a fact that was confusingly muddled during her walk-in, when all the other queens freaked out over her having a girlfriend. Her lack of drag experience is another story, but talking openly about bisexuality and bi erasure is near-uncharted territory for a show that still expects its viewers and competitors to be into boys and only boys. So even if I wasn't the biggest fan of her photo of her shitting her head out ("That's what I'm doing constantly, shitting myself," she explains, which I totally needed to hear), I'm glad she gets the early momentum.
The main challenge is also a fairly straightforward Drag Race staple, a runway challenge showing off two looks: one honoring the queens' hometowns and one honoring an iconic look of Queen Elizabeth II herself. We see little prep (they don't call it a "werkroom" for nothing, producers!), but not even half an hour into the first episode, we do get our first emotional moment. The Vivienne is showing off her clip-in veneer teeth covers, and Gothy tells us in a confessional that she's self-conscious of her teeth. (If you weren't paying attention for the last 25 minutes, we're in the U.K.) But boy, Gothy is cute, and has nothing to be ashamed about. She's Gothy. Kendoll. Gothy. Kendoll. And don't you forget it!
In the werkroom the next day, we get a whirlwind of queens talking about being from places I've never heard of and what it's like there and whether there's a drag scene and what they think about the royals. And we learn that Scaredy has never been to a drag show, gasp! Before we know it, we're watching a runway — if we can make it through Michelle Visage's cringe-y British phrases first. (She, who acted in Everybody's Talking About Jamie on London's West End and is currently killing it on Strictly Come Dancing, a.k.a. British Dancing With the Stars, should know better!) Alan Carr, who is either the new Ross Mathews or the new Carson Kressley, is here as well, along with Andrew Garfield, for his "day in gay heaven." Oh how lucky we are to witness it!
20 looks later, Crystal, Blu, Scaredy, and Divina are safe. And those girls turn some looks I loved: Crystal's detailed "military dominatrix" Queen, Blu's high-concept Queen on the two-pound coin, Scaredy's apt "Baby Queen," and Divina's campy Yorkshire getup featuring trumpets on her boobs — call them honkers. (What does it have to do with Yorkshire? Give me a break, I'm American!)
Most of the judges' critiques are agreeable. For the bottoms, Crystal's trashy Essex girl was on point but her queen look was too simple, both Vinegar's looks weren't followed through (no special treatment from her buddy Michelle here, as Michelle confirmed earlier), and Gothy doesn't give enough confidence on the runway. I'm sad for Vinegar, who serves the most personality of any of the queens, which hopefully can translate into a good lip sync. (She does an amazingly off-point Michelle Visage voice, and I just want to see that Snatch Game!) And poor Gothy! As for the tops, the Vivienne absolutely transformed from her punk, plaid Pete Burns to her "Hunting Queen" look, to the point where neither Michelle nor I believe that that's her real nose. She's clearly won, but Baga is also rightfully in the top for her on-point Amy Winehouse look and pretty '70s Queen. So is Sum Ting Wong, whose Queen stamp look is praised as "ballsy," "big," and "drag." I saw it as a box on her head paired with an afterthought of a dress, and thought Blu followed through on a similar idea much better, but this is why they're at the judges' table and I'm in bed with my laptop and a glass of red wine.
Now it's time for the judges to deliberate — oh wait, we're untucking now! Absent a proper "Untucked" side series, it looks like we'll get to see the queens untuck during the show; I just hope it doesn't take more time out of the werkroom and gives us actual drama, unlike the tame whining we get here.
To no one's surprise at all, the Vivienne has won the main challenge. So much for the Drag Race ambassador title coming from "just a little competition in a bar"! And she has won … something called a "RuPeter Badge." This is another reference I had to look up, but my bigger question here is, is it worth any money? Yes, this is a BBC program(me), and thus subject to more scrutiny around sponsorships and prizes than U.S. Drag Race, but come on, Ru, tip the dolls! Perhaps British people just enjoy competing for competition's sake? Regardless, I know it's just the first episode, but given the title she's come in with, the Vivienne has quickly established herself as a queen to watch. As for the bottoms, Cheryl is safe on the true strength of her Essex girl look, leaving Vinegar and Gothy.
Ever since this series was announced, I've been wondering if the queens would lip-sync for their lives, given Charlie Hides's (there's a name I bet you haven't heard in a while) abysmal performance in season nine after claiming that British queens don't lip-sync. But we will get more lip-syncs, Ru assures, after translating the word "shantay" for our queens, who I hope didn't need that little vocabulary lesson.
Gothy Kendoll and Vinegar Strokes could not be more polar-opposite queens to pit against each other in the first lip sync, with Gothy netting critiques for her shyness and Vinegar coming off a high-profile acting gig. We're treated to a two-minute bloodbath soundtracked by Dua Lipa's "New Rules," in which it seems like Gothy accidentally wandered on stage during the Vinegar Strokes Show. You can see her thinking through every half-hearted hand motion, and it's painful. Vinegar, meanwhile, is shaking her boobs and treating us to perfectly timed wig reveals, and this is the stuff we pay to see! Unsurprisingly, she's safe, and Gothy is the first to go. Poor Gothy! It's good to see her leave in high spirits, with a referential "Ms. Kendoll, Ms. Kendoll."
I still see potential in Vinegar, a boisterous "dragter" who got off on the wrong foot but who I could see winning an acting challenge. We'll see next week!
Across the Pond
As RuPaul himself said during the photoshoot, "It's such a rich cultural exchange for me here!" Me too! I've only ever spent one week in the U.K., and if you can't tell by now, I won't pretend to know anything about it. So, this section is going to be my notes on what I've learned about that wonderful island each week, because if any television program should be educational, it's Drag Race.
• Baga Chipz informs us she's a "gob shite," and later tells Ru that "if ya got a big gob, you're loud." But if a gob is a mouth and shite is just shit, then … well, the slang jury might still be out on this one.
• When they're de-dragging, Cheryl and Crystal praise how in the U.K., drag queens don't need to have brows and can keep their chest hair. If you say so, girls!
• Alan Carr quickly earns his seat at the judges' table by sharing a piece of Queen Elizabeth gossip for the ages: "I've met the queen a couple of times and she does not crack a smile. Ru, there was this big concert done for the queen outside Buckingham Palace, and halfway through, she put earplugs in." And that might just ruin any fever dream of a royal guest judge one day!