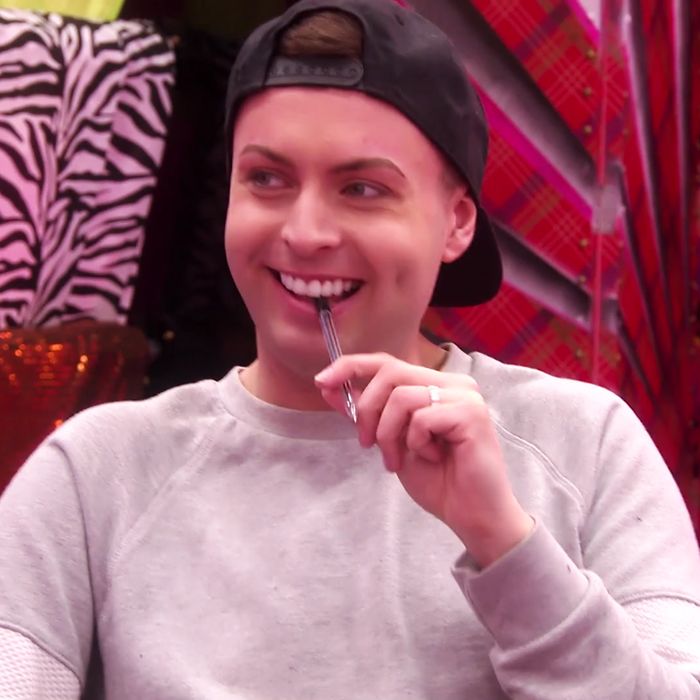 Programming note: Vulture Drag Race U.K. recaps post after the episode's BBC presentation, which streams simultaneously in the U.S. via WOW Presents Plus. Each episode will then air on Logo the following Friday. So U.S. viewers waiting to watch via Logo, consider this your spoiler warning, henny!
Yes, I know the girls didn't film this episode anytime close to Halloween, and I know we won't all get to watch it on October 31 (looking at you, eight-day-late Logo viewers), but I have to applaud RuPaul for giving us a fitting Halloween episode with this girl groups challenge. It's, as Mariah Carey would say, "festive." I am not a big Halloween person, but I am a homosexual and therefore a girl groups person, so I cannot wait.
But first, the queens return from the elimination, and for once, Cheryl is not shook from being in the bottom. So she is starting all sorts of trouble: first shading the eliminated Sum Ting, then asking the girls if the Vivienne and Baga both actually deserved to win Snatch Game. Blu agrees, and adds that she knows she was third-best, and even if she is a shady lady she's not wrong! Divina chimes in to say that Baga and the Vivienne always talk over her, and in a confessional, Cheryl says, "I think it's time to let other people shine for once." There is an obvious hole in Cheryl's logic here: By my watch, no one is keeping Cheryl from shining, she's just … not shining! I've been waiting for this whole post-elimination scene for a few episodes now, though — we have two clearly defined frontrunners, and the rest of the girls ought to be annoyed by them!
And what better way to express those annoyances than with the reading mini-challenge? A true Drag Race U.K. reading would not be complete without some tea, brought to us by the Brit crew. "Oh no, the milk's off," the Vivienne says after a sip, and it's true perfection. Baga goes first, with the single best read of the episode for Cheryl: "Oh Cheryl, you dumb, raggedy-ass bitch! 'I'm in the bottom, I'm in the bottom, I'm in the bottom!' We know you're a bottom! You could use the Eiffel Tower as a marital aid, you slack bitch!" It's a shame to make anyone follow that, but they do, with the Vivienne also coming for Cheryl's hole and Blu struggling to put a paper bag over Baga's face before proclaiming, "Much betta!" And somehow, in the midst of it all, Crystal wins the challenge for two poop jokes? Don't ever say this show doesn't surprise you.
For the week's main challenge, the girls will form two girl groups and perform the same song, with their own verses and choreography. Cheryl Hole — who, if you haven't heard by now, takes her name from Girls Aloud star Cheryl Cole — is shitting herself (what is it with this show and shit??), because this challenge is made for her. Crystal picks her and the Vivienne, who can sing along with doing everything else you can think of. It definitely seems like the team to be on … except for Crystal. As Baga puts it, "Vivienne's a singer, Cheryl's a dancer and Crystal can't do either." I think Crystal does some really cool drag (I'm still not over last episode's saw and sparks), but I'm starting to wonder if her brand of outrageous looks and alternative performance has a place on Drag Race, which expects queens to do the things typical drag queens do, and for its weirder queens to somehow stand out within that mold. Right now, she's in serious danger of being outshined once again.
On the runway-turned-studio, because the publicly funded BBC can apparently afford just the two sets, British pop star MNEK is coaching the queens through their songs. Filth Harmony, aka Team Crystal, is kind of a mess: the Vivienne keeps messing up the chorus ("Private school wasn't wasted on me, was it? Now I'm wearin' ladies' clothin' and can't spell 'break'"), Crystal is focused too hard on trying to sing even though she cannot, and Cheryl sounds like a mess. But she's living her girl group fantasy! Meanwhile on the Frock Destroyers, Baga Chipz has written a hilarious verse and is belting to the gods, Blu shouts into the mic and surprises MNEK by ad-libbing the line "De-spunk my balls" (it's my favorite line of the entire season and I now have a grudge against MNEK for keeping it out of the recording), and Divina is singing like Mariah with some whistle tones!
When the Frock Destroyers return from some uneventful dance rehearsals, they're standing at a table across from the Filth Harmony table, and a perfect moment of one-upwomanship begins. The Frock Destroyers are making some quick costumes, Filth Harmony says they all recorded well, the Frock Destroyers say they all recorded well too, Cheryl says this challenge was meant for her, Baga says it'd be a shame if Cheryl bombed, Cheryl sings "Fuck off Baga!", the Vivienne later claims that each team has two badges, Blu corrects her and says they have three (Baga's two plus Divina's), Crystal says she can't see them working together. They wish each other luck, and that's that!
The painting conversation the next day may seem to be a generic talk about bullying, but it's special to me for two reasons: 1. Everyone shares their feelings, something we rarely see during these, and 2. Divina, the oldest of the group who remembers the Section 28 law that prohibited schools from promoting homosexuality and now has worked in schools, is visibly affected by the progress her country has made.
The show is finally starting, with not one but two girl group members at the judges' table: Seduction's Michelle Visage and Little Mix's Jade Thirlwall. Filth Harmony's performance is largely forgettable, except for that Cheryl is finally having the time of her life in a challenge. Did you hear she likes girl groups? But the Vivienne looks halfway in it and Crystal is instantly forgettable, bringing the group down. Catch me buying the Frock Destroyers' version of "Break Up (Bye Bye)" instead — Baga's highly referential verse (we get "the lady's not for turning" and "much betta") is peak Drag Race queen, Blu keeps the energy up in the middle, and Divina's performance is just pure showwomanship (even if her whistle tones are tough to hear clearly).
As such, not only are all of the Frock Destroyers safe, they have all won! I guess we can do things like this when all they get is a badge! But with all three of their winning "Day at the Races" looks — Baga's campy yellow floral getup, Divina's detailed jockey outfit, and Blu's blue horse head (Jade: "I think she could've pushed it even more." Michelle: "She had a horse's head on her head!" Jade: "That is true Michelle, she did") — picking a single winner would've amounted to splitting hairs between their song performances. (For the record, it's Divina.)
Cheryl is, of course, safe as well, and as such, I would like to take a moment to rewind and talk about the best moment of the episode, during the untucking. Five of the six girls just got notably emotional on the runway (cue Mariah Carey's "Emotions"), but when we get back to the werkroom, Cheryl wants to go on about her girl groups. As the Vivienne is sobbing, and Crystal, the only girl not to show emotion on the runway, is crying, Cheryl decides it's the perfect time for her speech. And it just keeps going. "I'm not embarrassed to have cried on the main stage [editor's note: Yes, she cried talking about girl groups], because I think it's actually shown people how much I care for my craft," she says to blank stares. The whole thing feels reminiscent of a Real Housewives scene, which is how I could describe many of my favorite Drag Race moments.
Anway, good for Cheryl? So Crystal, once again, is lip-syncing, with her camped-up floral bodysuit and gigantic hat, along with the Vivienne, who went for classic glamour yet again. I love to see a frontrunner lip sync and I think we should see it more, because it's the best way to tell if they deserve their spot. The Vivienne doesn't knock Little Mix's "Power" out of the park, but neither does Crystal, and it's clear that it's her time to go. Even if her brand of drag couldn't fit into the show, I hope that she's left with new fans — I count myself as one!
With Cheryl out of the bottom for a second week, the Vivienne newly out of the top and Blu finally bubbling up, the show feels significantly shaken up, which was exactly what I came in asking for. Over the past few weeks, it's felt like Sum Ting and Crystal were destined to go home; now that we're in the top half of the group, I don't feel confident enough to bet on anyone next week. That's why I watch this show.