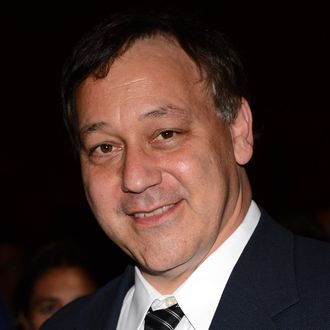 Photo: Ethan Miller/Getty Images
Sam Raimi has been in the horror game since before 1981's Evil Dead, as a director and, in more recent years, producer. Of course he'd want to kick back and spend some time relaxing on a beautiful secluded island. Good thing his next movie has plenty of sand, sun, and (at least one) sociopath. According to The Hollywood Reporter, Raimi is set to direct an as-yet-unnamed film from Mark Swift and Damian Shannon, the screenwriters behind 2009's Friday the 13th reboot and 2003's Freddy vs. Jason.
The movie is being described as "Misery meets Cast Away," suggesting that something similar to Stephen King's nightmare cat-and-mouse game between an author and his most deranged fan will be transported to the deserted island setting of Robert Zemeckis's 2000 adventure drama. Or, and we're just spitballing here, it'll be a shot-by-shot remake of Cast Away, but instead of Wilson the volleyball, it's just a full-on severed head.