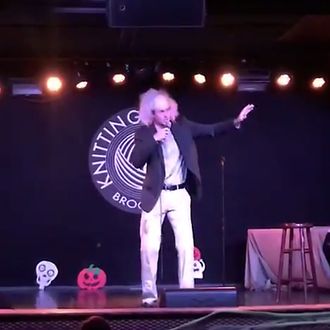 Bernie Mac Sanders makes his stand-up debut.
Photo: J.P. McDade/Twitter
One of the best New York comedy traditions is 'Schtick or Treat,' the annual live show hosted by Mark Normand and Matt Ruby and produced by Luisa Díez. It's a show where comedians get into the Halloween spirit by performing stand-up sets in disguise as other comedians (never forget Tyler Fischer's 2017 performance as Bill Burr), or in some cases, Frankensteined versions of other public figures, like when Jeremy Kaplowitz went viral last year with his clip as "Demetri Martin Shkreli." This year's show took place at the Knitting Factory in Brooklyn last night, and thankfully clips from the event have been rolling in throughout the day for those of us who weren't lucky enough to see the show in person.
J.P. McDade, who performed as Sebastian Maniscalco last year, returned this year with a truly inspired invention: "Bernie Mac Sanders." It's better seen than explained, but Ruby's intro detailing the incident that created this bizarre mutant provides a nice setup: "After a long day on the campaign trail, Senator Bernie Sanders decided to relax with his favorite film: Def Comedy Jam All-Stars Volume 2 on VHS. When lightning struck the VCR, blah blah blah."
Jeremy Kaplowitz delivered yet another widely shared performance — this time, "1990s Jerry Seinfeld Doing Bits About His 17-Year-Old Girlfriend." In case you forgot the legendary stand-up was once in a relationship with a 17-year-old when he was 38, Kaplowitz is here to remind you with plenty of punch lines to back it up: "You ever notice how girlfriends are always talking about math homework? What is going on with that?"
Another great performance is this two-part clip featuring Gianmarco Soresi and Chris Cafero, who did a set together as 2019's most unlikely comedy duo, John Mulaney and Pete Davidson — and at a few points it's pretty, to use the Bill Burr term, brutal. "One might say that Pete is the Chris Farley to my David Spade: I'm vanilla with just a dash of snark," Soresi, as Mulaney, says. "Yeah," Cafero as Davidson responds, "and I'm gonna die young." Watch the second clip to hear all about their experience going to see Joker together:
Maybe you're a Maria Bamford fan, but you're probably not as big of a fan as Julia Clare is, judging by how perfectly her impersonation nails the stand-up's nervous energy and ability to seamlessly flip from one character voice to another:
Thanks to this very short clip from Pedro Salinas, we now know what Ray Romano thinks of Nanette:
And with this performance by Anya Volz, Bill Burr can now say he's performed stand-up while pregnant. "You know what? It's not that bad!" Volz's Burr says. "I don't know what these broads have been complaining about. It's like women found the one thing they can do that men can't and still found a reason to bitch about it."
Head over to producer Luisa Díez's Twitter feed for more clips from the show.