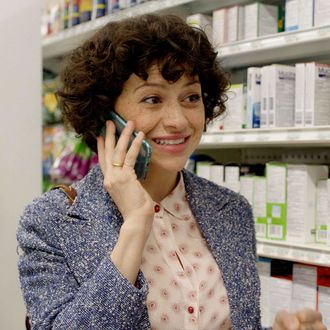 Who's calling Alia Shawkat? HBO Max, that's who!
Photo: TBS
It's been 18 months since TBS announced it was ordering a third season of its critically beloved cult hit comedy Search Party, and since then, there's been not a hint about when the new season would be hitting screens. The mystery surrounding the show's fate is now over: Search Party is jumping to HBO Max, the streaming platform from TBS parent company WarnerMedia that's set to launch next spring. And in even better news, the streamer has green-lit — and already filmed! — a fourth season of the Alia Shawkat–led series. It was only a matter of time before all that streaming money went to fund the latest in post-hipster New York character fashions.
Season three of Search Party will premiere at the same time HBO Max debuts in spring 2020, with season four dropping at some point beyond that. HBO Max has not yet announced if it plans to debut shows on a binge-friendly all-at-once model, weekly, or some combination thereof, so it's not yet clear how Search Party will roll out. HBO Max will be an ad-free service, so a binge release could very much be a possibility. (Seasons one and two will be available in full when HBO Max premieres, so you'll definitely be able to binge those episodes.)
If you need a reminder on where things stand with Search Party (and if you haven't watched the second season, stop reading here), the last season ended with Dory snapping and pushing her neighbor April off the side of the Staten Island Ferry (after April tried tried to blackmail her for $100,000), and then getting arrested for the murder of Keith Powell thanks to an "anonymous tip."
According to series creator and showrunner Charles Rogers, the third season will switch gears from season two's Hitchcockian paranoia to a legal thriller. "There's a little bit of that media frenzy, To Die For–type of genre," Rogers told Vulture in an exclusive interview. Even though Rogers says the season will find Dory "descending into the darkest recesses of her shadow side," the show's sense of humor will remain. "As the season goes on, things ratchet up up and get very circusy, in the sense that there's a lot of courtroom chaos and compounding variables that make it all so much harder to deal with," he said. The characters, like most people caught in true-crime stories, also get very famous, which fulfills some of their own dreams: Rogers promised an exchange where Meredith Hagner's Portia asks, "Do you think we're the most famous people in the world right now?" and John Early's Elliott answers, "I hope so."
Rogers and fellow creator and showrunner Sarah-Violet Bliss are keeping the shape of the show's fourth season more secret, but they said it grew out of an idea they hatched in the writers' room on the first day of writing the third. That fourth season will operate in yet another genre, according to Rogers, and it'll have more "reflective" ideas that bring the show more "full circle" — though they're still leaving open the possibility of continuing on from there. That season is also the first written specifically for a streaming service, which as Bliss points out, means they don't have to write episodes around commercial breaks anymore. "We'll follow up with you on how that feels to us," she joked. And while HBO Max isn't yet confirming how the show's episodes will be released, the Search Party team seems very much onboard with the idea of all eps dropping at once. "It feels like HBO Max is going to have a very binge-y feeling to it because it's going to be such a big streaming platform, and that's always felt like the way the show should be," said Rogers.
While having Search Party as part of its launch roster will give HBO Max a title with an preexisting fan base — always a good thing for a subscription-based service — the decision by WarnerMedia execs to shift the show to streaming was less about bolstering Max and more about finding a better home for Search Party. Despite great buzz and reviews, the series generated decidedly so-so linear ratings during its two seasons on TBS, and even with delayed viewing, still wasn't anything close to a hit. In an April 2018 press release announcing renewals of both Search Party and the Tracy Morgan comedy The Last O.G., TBS hyped the latter's Nielsen and multi-platform numbers, bragging it had reached "nearly 25 million viewers across TBS' linear, digital, mobile and on-demand platforms" and that it ranked as "the largest cable comedy premiere since 2015." The same release, while noting double-digit audience growth between season one and two, talked up how Search Party was the network's "No. 1 series on digital, and became the fastest TBS original to reach one million views on [video on demand] in season one," adding the show had "an on-demand audience as much as 17 years younger than linear."
Translation: Search Party is a much better fit for a subscription-based VOD platform trying to reach cord-cutters and millennials. Moving the show to Max allows WarnerMedia to keep a title with great buzz and a devoted audience without having to worry about selling ad time on a show with such a small audience. "With HBO Max we have the unique opportunity to continue this brilliant, acclaimed series and connect with even more of the younger, digital natives who have worshipped it the most," Kevin Reilly, chief content officer for HBO Max (and president of TBS, TNT and truTV), said in a press release announcing the move.
Another reason it makes sense for Search Party to leave its original home? TBS is evolving from a comedy-focused network to a more general-interest cable channel, meaning Search Party no longer fits the edgy/quirky comedy brand the network had explored in recent years with shows such as Angie Tribeca, Wrecked, and The Detour, all of which have now ended. TBS is still doing comedies, including The O.G., but it has also begun ordering some drama projects as well.