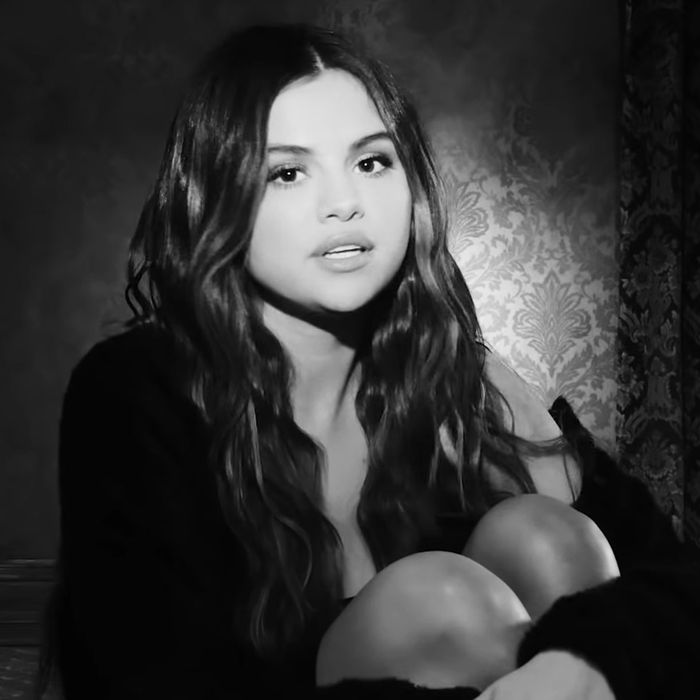 It's a song about the process of figuring out it's time to go, and locating the strength to act on your marching orders.
Photo: Selena Gomez/YouTube
You want everyone you care about to stick around forever, but the universe has other plans. People have other plans. Unexpected hardships happen, faults and failings we could never plan for. People flip, ghost, and flake. People change, and you can either work through your differences or around them. You either decide that your friend, your loved one, or your significant other is worth the trouble they put you through and fight to keep them in your life, or you fight for yourself, insisting that others treat you the way you deserve to be treated, on penalty of never seeing you again. Selena Gomez's new single "Lose You to Love Me" is a song about the process of figuring out that it's time to go, and locating the strength to act on your marching orders. Much will be made of who it's almost certainly about.
That harsh "In two months, you replaced us / Like it was easy" in verse two points to Justin Bieber, who proposed to his ex Hailey Baldwin three months after breaking off his and Gomez's on-again, off-again romance last year. That makes the timing of the new single absolutely brutal. Hailey and Bieber haven't been married a month. All's fair in love and pop songs though: Bieb dropped Purpose during their last break and wrote Selena's name in the scribbles in his arty video for "Where Are Ü Now," a song about lifting someone up and feeling abandoned when they leave.
Getting caught up in the timeline maybe loses sight of her song's quiet strength. It's not your typical accusatory breakup song. It's a rearview assessment of two people drifting apart that assigns blame to both parties: "I saw the signs, and I ignored them." "Lose You to Love Me" is also a noteworthy change of pace for Gomez's music. Recent singles like "Wolves" and "Back to You" tried folk-pop on for size, and this year's killer musica urbana jam "I Can't Get Enough" paired her with Benny Blanco, Tainy, and J. Balvin. "Lose You to Love Me" is naked honesty, lyrically and musically.
Both the song and the video seat the singer up close at center stage with little else to distract from her truth. The production teams her up with singer-songwriters Justin Tranter and Julia Michaels and producer duo Mattman and Robin, the same squad she worked with on Revival's "Hands to Myself." ("Lose You" also features a noteworthy co-producer credit for Finneas O'Connell, who mostly only produces for himself and his sister, Billie Eilish. It won't be long before you see his name on everything.) The credits are crowded, but the song is spare. The loudest it gets is the choir of Selenas that back the second and final choruses. Accompanying her unbridled truth with echos of her own voice is a nifty way to make the sound of the song mirror the words. It was a gamble trusting that the lyrics to this song would sell it on their own, but it was a wise one.