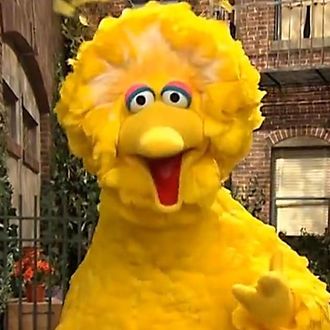 Sesame Street is cutting the cord. HBO Max, WarnerMedia's upcoming streaming platform, will be the exclusive home for new episodes of the iconic children's series, starting next year with the show's 51st season. Elmo and pals have called HBO home since 2015, but under the new five-year agreement, first-run episodes will shift to the digital-only HBO Max. Reruns from recent seasons will continue to air on free TV via PBS — they currently air on PBS nine months after they debut on HBO — but the new deal with Sesame Workshop will be much more expansive than the current HBO agreement, with HBO Max planning to make Sesame-branded content a cornerstone of its kids and family programming. HBO Max says the new programming will also be made available to PBS at some point.
Beyond five 35-episode seasons of the flagship Sesame Street, HBO Max has ordered four new shows from the Sesame universe — including a live-action late-night parody show hosted by Elmo — and has committed to annual specials. What's more, the service has snagged streaming rights to Sesame Street's 50-season catalogue, including episodes which have never been available for on-demand streaming. While HBO Max will almost certainly include a ton of kid-friendly programming from the Warner Bros. library (two words: Bugs Bunny), this Sesame Workshop deal will allow the new streamer to pitch itself to parents looking for premium educational programming for their kids. Competitors Netflix and Amazon Prime Video both made kiddie fare tentpoles of their early offerings to consumers.
In a statement announcing the deal Thursday, WarnerMedia Entertainment chairman Robert Greenblatt said the Sesame Workshop brand is "synonymous with quality and integrity, not to mention that nothing is more important than educating young new minds," while HBO Max chief content officer Kevin Reilly said the "scope of our partnership with Sesame Workshop is unprecedented," calling it "the cornerstone of HBO Max's extensive kids' offering."
Among the new projects greenlit with the new deal:
• The aforementioned comedy/variety parody series, dubbed The Not Too Late Show With Elmo, which will feature Sesame Street characters and "celebrity friends."
• An animated spin-off of Sesame Street called Mecha Builders (working title), where well-known Sesame Street characters are reimagined as "heroes in a robot-animation style," as well as another animateds to be announced at a later date.
• A docuseries exploring the challenges of childhood, "building off Sesame Workshop's expertise in tackling difficult issues from a child's perspective."
• A second season of the animated series Esme & Roy.
• The Monster at the End of This Show, an animated special based on The Monster at the End of This Book.