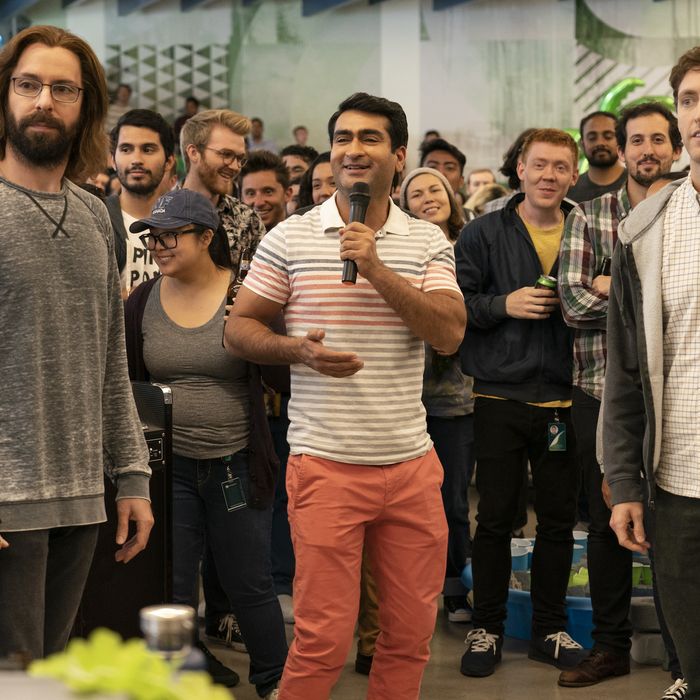 Photo: Ali Paige Goldstein/HBO
When we last left Richard Hendricks, CEO of Pied Piper and architect of PiperNet, the world's first decentralized internet platform, he had vanquished his constant foe, Gavin Belson, and taken over four floors of space once owned by Gavin's company, Hooli. As the camera panned back to reveal the scope of Richard's success, longtime viewers of Silicon Valley were treated to a satisfying ending to the show. Finally, after five seasons of trials, tribulations, and pettiness, our protagonist had finally reached the upper echelon of success, and the series had made an institution out of mocking programmers like your humble recapper. Who could ask for anything more?
Apparently, HBO could, and so we now have a sixth and final season for the Pied Piper crew. The probability of jumping the shark rises, but the season opener, "Artificial Lack of Intelligence," manages to keep Jaws at bay. One of the things I love about this show is its sense of timeliness vis-à-vis events in the real world of technology. Somehow, it always manages to speak to current events in the snarky, detailed way they deserve. So it's fitting that, on the same week Mark Zuckerberg appeared before Congress in the real world, Richard Hendricks appears for similar reasons in the Mike Judge universe.
Whenever Zuckerberg testifies, he should be studied by communication and psychology majors. Different elements of the IT/coder personality are interspersed throughout the characters on Silicon Valley, but Zuckerberg is a concise, perfect storm of everything. He's snide, like Gilfoyle; his constant need to be right regardless of logic can be found in Dinesh; he's ruthless in a mechanical way like professional badass Laurie Bream, and he can be as tongue-tied as Richard when forced to deal in layman's terms rather than technical ones.
Most importantly, he wears a thick air of condescension whenever speaking with someone outside the tech sphere. It's not pettiness — that's reserved for internal communications with other techies — it's a snobby sense of elevated mental entitlement. Readers of these recaps know I've put myself on blast here many times, so I will plead guilty to all these charges as well. If you think I'm picking on poor Marky Z., however, might I suggest you listen to the way he says "congresswoman" or "congressman" before every answer. It's like he's a Southerner saying "bless your heart."
By comparison, Richard is the anti-Zuckerberg because PiperNet rights the wrongs Facebook and Twitter are doing in regards to data collection. He's as clumsy as Zuckerberg's haircut, but he speaks to Congress with an inspirational passion rather than a defensive pose. This is unusual, for Richard is rarely able to speak so eloquently. "Can I pace?" he asks after initially stumbling over his words. I laughed because any of my past and current co-workers will tell you that I pace around in my socks whenever I'm trying to figure something out. Richard keeps his shoes on, but he damages government property by yanking the recording device off the table so he can move more freely. The flying wire almost hits Gavin, who's there representing the impending Hooli merger with Amazon.
"He looks like a child at a custody hearing," says Gilfoyle, before Richard makes a scary case for the evils of our current internet world. "Facebook owns 80 percent of mobile social traffic," he says. "Google owns 92 percent of search. They exploit our data for profit. They won! We lost!"
When asked why he'd even testify if he already considers the battle lost, Richard draws an analogy between the "tech kings" like Amazon and Google and King George III, who managed to get suckered out of some land back in 1776. PiperNet is the tech representation of those scruffy colonists who scored victory against an all-powerful monarch. It was founded on the notion that they would not collect any user data, setting it apart from the evil empires whose logos pepper this show's opening credits sequence.
Back at Pied Piper HQ, a party awaits their CEO upon his return from D.C. "Way to punch Big Tech in the dick!" screams one employee as Richard navigates his way through the crowd of cheering co-workers. Director Mike Judge employs tight framing for the office scenes, but in a few quick wide shots, he establishes just how much Richard's company has grown since its inception at Erlich Bachman's Hacker Hostel 46 episodes ago. The increased employee tally shows Richard's success. It's a bit scary as well because I wonder if the show can maintain the close-knit intimacy of its main characters with all these other people to consider.
The show speaks to this concern through Jared. The claustrophobia inherent in Judge's framing seems to mimic Jared's emotional state. Jared misses his old role as Richard's right-hand man, and as Richard gets pulled away more and more, Jared feels lost. I've noted many times that, despite the often horrific things Silicon Valley subjects Jared to, he's the only character in touch with his feelings, good and bad. "Our resident empath," I often call him, and though I playfully tease about the sexy Jared/Richard fanfiction out there on the internet, this episode really cements what I've alluded to across five seasons: Richard and Jared are as close to a love story as this show will ever have. Zach Woods, this episode's MVP, really makes you feel Jared's anguish over "losing" Richard. These feelings will eventually lead Richard's right-hand man down the dreaded "left-hand path."
Remember Colin, the baseball-cap-wearing gamer douche bro whose users helped save Pied Piper? Well, not only is he still in Richard's employ, his department is what's keeping Pied Piper HQ afloat monetarily. So it's a major problem when he reveals to Richard that he is collecting data from all his customers via their gamer headsets. He's recording everything they say, even if they're not playing a game. "I'm not using this to sell ads," he says, alluding to what Facebook, Twitter, and your favorite gossip girls Alexa and Siri are doing. Regardless, this goes against PiperNet's defining principle. But fellow board members Monica, Gilfoyle, and Dinesh are willing to let it slide because, without Colin, PiperNet goes bankrupt.
Speaking of bankrupt, Hooli will most certainly go under if it doesn't accept Amazon's offer to merge. Gavin is fine with this arrangement despite his undying hatred for Jeff Bezos. But when Bezos wants to retire the Hooli name, Gavin has one of his usual freak-outs and decides to go private. Unfortunately, his budget won't allow it, something he'd have known had he bothered to look at the agreement made by his soon-to-be-ex business partner. Hooli is so broke now that it has to sublet space from restaurant El Pollo Loco, whose enormous new sign does to their building's Hooli logo what El Pollo Loco does to your colon.
Meanwhile, this week's Gilfoyle versus Dinesh subplot features deception by artificial intelligence. Dinesh is happily chatting away with Gilfoyle on Slack, complaining about Gabe, a weird new guy on Dinesh's team. Gabe likes padding around barefoot, has a seat attached to his ass so he can sit down anywhere, and is so lazy he asks Dinesh to resend him emails so he doesn't have to look for their originals in his in-box. (I cop to doing that last one myself.) He's Über-needy — kinda like Dinesh! "I hate him," types Dinesh to Gilfoyle. "I hate you," responds Gilfoyle expectedly.
Or is it Gilfoyle? While Slacking with him, Dinesh notices Gilfoyle's magical ability to simultaneously be typing at his desk and at the pantry. Slack Gilfoyle is a bot! When Dinesh complains that Gilfoyle needs to create an AI version of himself because he hates human interaction, Gilfoyle asks, "Do you need the real me for this conversation?" Suddenly, Dinesh gets the idea to have a fake version of him created to deal with obnoxious, barefoot, seat-on-butt Gabe. Much to our surprise, Gilfoyle creates one for him using his new compression and inference API, Son of Anton. "It's an homage to an old friend," says Gilfoyle of the name, alluding to the server that sadly gave its life in season four's finale. Unfortunately, Dinesh decides to use AI Dinesh to communicate with everybody, including AI Gilfoyle. Fun with endless loops ensues!
Son of Anton also plays a big part in Richard's attempt to blackmail Colin, an attempt warily approved by a Jared desperate for Richard's approval. In two hours, Son of Anton indexes all of Colin's own recordings, especially the ones where you can hear him jerking off, snorting cocaine, swindling Pied Piper, and sleeping with one of his board members' wives. This makes Gilfoyle's API a fantastic tool for data mining. Unfortunately, Colin reveals this to his board members, all of whom are excited about how great PiperNet's new data-collection feature will be. As usual, walking the left-hand path backfires for Richard.